2019 Blue Diamond Prel-C&G Group 3 February 9 - Caulfield
I Am Immortal wins Blue Diamond Prel-C&G Group 3 $200,000 at Caulfield, 1100m.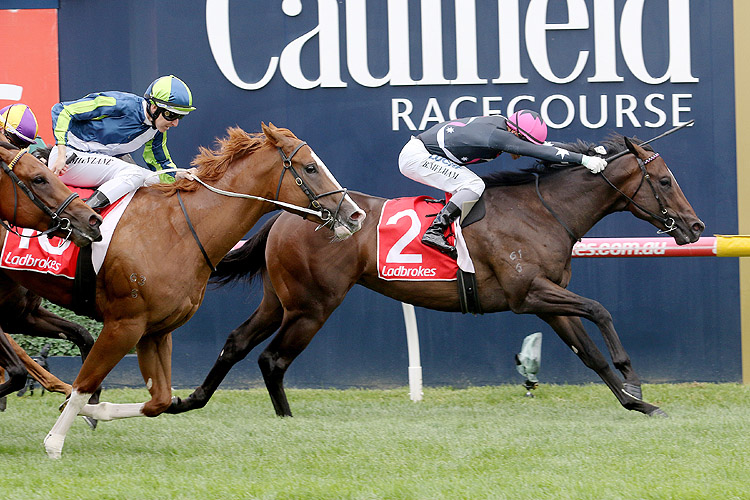 I Am Immortal
maintained his unbeaten record, following his debut victory in the Blue Diamond Stakes, C&G Preview (Listed, 1000m) here on January 26 with another all-the-way win.

He showed his pace to lead from his inside barrier (1), ran along at a quick tempo. He was challenged nearing the 200m but he kept fighting back well, holding on to score by a long neck. Mick Price-trained colt Shotmaker
staged a smart effort here on debut.

He settled in fifth place (wide with cover), but in a good run from the 200m and kept finishing well for a really promising second. Hawker Hurricane
raced back in seventh place, wide with cover, was deep at the home turn and then ran on nicely to take third. Groot
raced in third place, but wide without cover. He moved up at the home turn and battled strongly for a very good (0.8 lengths) fourth on debut, Aussie
held on for (1.2 lengths) fifth after being handy all the way, while Brazen Brando
again made late ground from the tail of the field after slow beginning for (2.2 lengths) sixth.

R5 CAULFIELD

9 February 2019

Blue Diamond Prel-C&G 2CG , 1100m
Race Synopsis: I Am Immortal maintained his unbeaten record, following his debut victory in the Blue Diamond Stakes, C&G Preview (Listed, 1000m) here on January 26 with another all-the-way win. He showed his pace to lead from his inside barrier (1), ran along at a quick tempo. He was challenged nearing the 200m but he kept fighting back well, holding on to score by a long neck. Mick Price-trained colt Shotmaker staged a smart effort here on debut. He settled in fifth place (wide with cover), but in a good run from the 200m and kept finishing well for a really promising second. Hawker Hurricane raced back in seventh place, wide with cover, was deep at the home turn and then ran on nicely to take third. Groot raced in third place, but wide without cover. He moved up at the home turn and battled strongly for a very good (0.8 lengths) fourth on debut, Aussie held on for (1.2 lengths) fifth after being handy all the way, while Brazen Brando again made late ground from the tail of the field after slow beginning for (2.2 lengths) sixth.


FP

Horse
Age & Sex
Trainer
Jockey
WT
SP
2. I AM IMMORTAL (AUS)
2yo Colt
ANTHONY FREEDMAN
BEN MELHAM
55.5
$2.50
I AM INVINCIBLE (AUS) - MELIORA (AUS)

D Azzopardi, Dream Thoroughbreds Immortal (Mgr: T Dimitriadis), Yarraman Park Stud (Mgr: A Mitchell), Em & Jb Rea (Mgr: E Rea), M Kelly, T Gogos-Wilson, P Halfhyde, P Stellini, I Zanardo, S Davey, G Karisson, C Harris, A Mitchell, R Ganino, G Melideo, P Henry, E Henry, M Hinkley, T Carey & P Mulady

10. SHOTMAKER (AUS)
2yo Colt
MICK PRICE
DAMIAN LANE
55.5
$8.50
SHOOTING TO WIN (AUS) - MAROON BAY (AUS)

L A Wilkinson, Seymour Bloodstock Syndicate, Dynasty No 38 Syndicate, W J Ouston, Mrs D P Ouston, T J Harry, Mrs K W Harry, All Cast Syndicate, D F M Syndicate, C S Hughes, Mrs S J Hughes, A W Bruhn, Mrs L J Bruhn, S L Walter, Mrs K M Walter, R J Taylor & J W Sneddon

1. HAWKER HURRICANE (AUS)
2yo Colt
MICHAEL MORONEY
MARK ZAHRA
55.5
$11.00
DEEP FIELD (AUS) - BERNARSINI (AUS)

Ballymore Stables (Aust) Pty Ltd (Mgr: M D Moroney), R & C Legh Racing Pty Ltd (Mgr: R P Legh), B & C Thoroughbreds Pty Ltd (Mgr: B Dorman) & Kariba Racing (Mgr: C Dziedzic)

4th
8. GROOT (AUS)
2yo Colt
C MAHER & D EUSTACE
LINDA MEECH
55.5
$21.00
5th
3. AUSSIE (AUS)
2yo Colt
P & P SNOWDEN
KERRIN MCEVOY
55.5
$7.50
6th
6. BRAZEN BRANDO (AUS)
2yo Colt
PHILLIP STOKES
CRAIG WILLIAMS
55.5
$6.50
7th
4. AUXIN (AUS)
2yo Colt
JAMES CUMMINGS
JAMES MCDONALD
55.5
$13.00
8th
7. EXETER (AUS)
2yo Colt
D & B HAYES & T DABERNIG
DAMIEN OLIVER
55.5
$17.00
9th
5. HULK (AUS)
2yo Colt
CHRIS WALLER
MICHAEL WALKER
55.5
$13.00
10th
9. LANGUISHING (AUS)
2yo Colt
ROBBIE GRIFFITHS
ANDREW MALLYON
55.5
$51.00