2019 Cambridge Stud Sir Tristram Group 2 February 09 - Te Rapa
Imelda Mary wins Cambridge Stud Sir Tristram Group 2 NZ$100000 at Te Rapa, 2000m.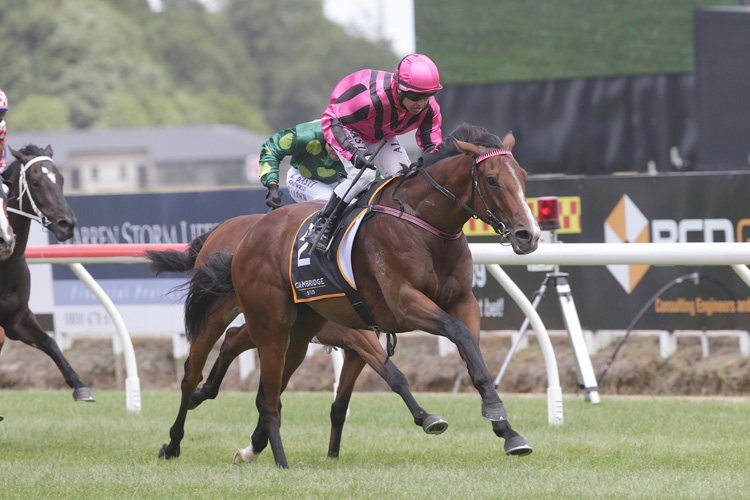 Imelda Mary
has struck great form, winning three of her last four which also included a Group 2 at Ellerslie last month. She began well to take up a lovely spot, one out and one back with a round to go.

Rider Cameron Lammas kept her in that position down the back and past the 600m, inching closer as they approached the last corner. Into the straight she was three wide but just a half length from the lead, took over at the 250m and was too strong to the line by three quarters of a length and a solid win.

A super run from Sentimental Miss
who was second last down the back, last at the 800m and last turning in. She kept up a strong run the length of the straight, finishing fast late to nab second.

From well back Queen Of Diamonds
made her run from the 800m, turned in seven wide but took a long time to wind up, doing her best work late for third. Sunny Rose
looked a chance at the 150m but was out-finished yet a tidy fourth.

| | |
| --- | --- |
| R4 TE RAPA | 9 February 2019 |
| Sir Tristram 3F , 2000m | PLAY REPLAY |
Race Synopsis: This G2 2000m for 3yo fillies only drew a modest only line up and saw a Listed Mile for both sexes of this age two weeks earlier provide the winner Imelda Mary (second favourite) and the third finisher Queen Of Diamonds (favourite). The Te Rapa track looked and raced very scruffy plus when on a hot dry day all runners are steered well away from the inside lanes and headed towards the middle on a Good 3 surface then you have not just a visually damning problem but a track issue. Remember this is the only dual G1 and dual G2 raceday at Te Rapa so to have the Rail out 5m foretold a problem and then the inside lanes were total quicksand plus a track the stipes released as a Dead4 was upgraded to a Good3 from R3 to perplex the picture even more. The winners and where they turned for home in race order were seventh (last angled six-wide and four lengths from the leader), third (three-wide and a length from the leader), eighth (eight-wide and three lengths from the leader), third (three-wide and half a length from the leader), third (four-wide and a length from the leader), fourth (eight-wide and half a length from the leader), fifth (four-wide and three lengths from the leader), seventh (six-wide and two and a half lengths from the leader) and third (seven-wide and half a length from the leader). The track was toxic and biased beyond belief whereby no leader won (this is usually one of if not the most leader manmade biased track in all of New Zealand) and today the pendulum swung too far to the other extreme. The manmade bias today saw on a Good3 track every winner came three-wide and more so up to eight-wide turning for home and the jockeys steering well off the inside lanes near and on the home turn tells you everything. This raceday has had massive problems before with disastrously presented tracks and manmade bias and even had one year when the track rating officially released locally and Internationally in the morning by the Chief Stipe and Trackman was totally false by an enormous amount. Imelda Mary sat fourth the outer in a great spot and moved up third across the top and then came three-wide turning for home ready to strike. She notably was five-off the inside when taking the lead at the 300m and was clear at the 150m holding on to win by just under a length in 2:04.71. The time was not very impressive but two lengths faster than the G2 Guineas that included the male 3yo's in a race that followed this tellingly. The G1 WFA 2000m event held later today ran an ordinary 2:03.24 but that was still nine lengths superior to these 3yo fillies. It was the third win in fifteen starts for Imelda Mary and her second win at G2 plus the filly cost only 3.5K so is one of the bargain buys for the season so far with more to come. Her sire the ill-fated Ferlax won four of his nine starts and that included a win in the G1 Australian Guineas (1600m) over a very mediocre field that has since proven to be well below par. He did however finish a distant second in the G1 Memsie (1400) as a 4yo at WFA behind the star mare Atlantic Jewel and some of the names behind him make for good reading such as Dundeel, Green Moon, Fiorente, Happy Trails and Silent Achiever. Sentimental Miss ran home very strongly from last and wide with the filly still seventh 100m out only to really unleash and grab second on the post. Queen Of Diamonds has been ridden of late against the track bias or race pattern and it must be frustrating for connections as her record should be so much better. She has pace and could have come over early for a handy spot and been maybe ahead of the winner on settling or at worst one spot behind but was deliberately eased back and settled down ninth or tenth the outer. It was a massive tactical blunder by the rider Matt Cameron and/or the trainers Murray Baker and Andrew Scott as she was wide across the top with cover but not getting that closer. She turned for home eighth and deep then was unleashed from seventh at the 200m to be third at the 100m before being beaten less than a length with a good finish. There is no doubt she wins if put in the race early using her best tactical weapon of speed and the track misread has cost her a G2 win. The filly was settled back in her prior start in a rich Listed 3yo mile and ran home well for fourth beaten just over a length and she could have been a couple of spots closer on settling then too. Also the winner today Imelda Mary ran in that Listed 3yo mile and ran strongly for eighth beaten over three lengths so her two length deficit was today an almost three length turnaround. Race tactics matter and to let Imelda Mary settle ahead of her was a mistake but the bigger faux pas was to give that filly coming out of the same prior race such a big start on settling. Sunny Rose raced fifth the inner and worked off across the top and surged through to reach third at the 200m before losing that G2 placing the final 5m. Savy Yong Blonk was an eyecatcher running on stoutly deeper late from well back and was beaten just under two and a half lengths. The Real Beel, which had in her prior start run a close second paying $162 in the Listed 3yo mile that saw Imelda Mary finish eighth (she won this today) and Queen of Diamonds finish fourth (she ran third in this today), settled down last again The filly made a sharp move wide across the top and came up deeper to be fourth turning in and fought on for sixth beaten just over two and a half lengths. If she could not settle so far away that looping run wide would be so much easier to achieve and sustain. Secret Allure fought on from sixth on settling but had her chance though she has been a bit hit and miss this season. Standing Ovation was not too bad from well back once into clear air considering it was her first left-handed outing and first try at Blacktype. Nerve Not Verse a maiden trailed the leader and never kicked on but was in the wrong part of the track so adopt the best betting rule and always forgive a miss at Te Rapa once back to a real soil and grass surface. The rest were battling or outclassed and that included the leader and outside the leader. This race result looks to have relevance for the G1 NZ Oaks (2400) on March 16 at Trentham but a lot can happen between now and then and most of these fillies are not really stamina breeds. The awful track and bias presented makes all results today clouded due to the inside lanes being no go areas and leaders unable to win and the middle lanes were the faster pathways on a supposed Good3 track. It is worth noting the G1 2000 Guineas (1600m) winner at Riccarton easily last November ran a magma hot favourite here at Te Rapa in a 3yo event prior and ran a distant third on a day the absurd manmade basis towards leaders snuffed out any win hope he had. That runner Madison County has since been sold to Hong Kong.


FP

Horse
Age & Sex
Trainer
Jockey
WT
SP
2. IMELDA MARY (NZ)
3yo Filly
VANESSA HILLIS
CAMERON LAMMAS
56.5
$5.80
FERLAX (NZ) - ELEESHA (AUS)

C M Delamore, W P Hillis & R M Robertson

6. SENTIMENTAL MISS (NZ)
3yo Filly
MS L LATTA
JOHNATHON PARKES
56.5
$23.40
RELIABLE MAN (GB) - NOSTALGIC (AUS)

Go Racing Yesteryear Syndicate

3. QUEEN OF DIAMONDS (NZ)
3yo Filly
MURRAY BAKER
MATTHEW CAMERON
56.5
$2.00
SAVABEEL (AUS) - LOVE DIAMONDS (AUS)

China Horse Club Racing Pty Ltd

4th
7. SUNNY ROSE (NZ)
3yo Filly
STEPHEN AUTRIDGE
A CALDER
56.5
$26.80
5th
5. SAVY YONG BLONK (NZ)
3yo Filly
JAMIE RICHARDS
MICHAEL RODD
56.5
$14.80
6th
1. THE REAL BEEL (NZ)
3yo Filly
J C PENDER
SAMANTHA COLLETT
56.5
$12.30
7th
4. SECRET ALLURE (NZ)
3yo Filly
MS L LATTA
JONATHAN RIDDELL
56.5
$5.90
8th
9. STANDING OVATION (NZ)
3yo Filly
N W TILEY
SAM SPRATT
56.5
$36.60
9th
12. NERVE NOT VERVE (NZ)
3yo Filly
MICHAEL MORONEY & PAM GERARD
JASON WADDELL
56.5
$18.30
10th
11. NASHA RIVA (NZ)
3yo Filly
J C PENDER
LYNSEY SATHERLEY
56.5
$104.40
11th
8. DARE TO COMPARE (NZ)
3yo Filly
ROBERT PRISCOTT
CRAIG GRYLLS
56.5
$85.60
12th
10. STAR KAREN (AUS)
3yo Filly
PETER & DAWN WILLIAMS
CHRIS JOHNSON
56.5
$35.50
13th
13. KIWIANNA (NZ)
3yo Filly
STEPHEN MARSH
TROY HARRIS
56.5
$98.80