2019 Gallagher Marton Cup Listed January 06 - Awapuni
Sampson wins 2019 Gallagher Marton Cup Listed NZ$55.000 at Awapuni (NZ), 2200m.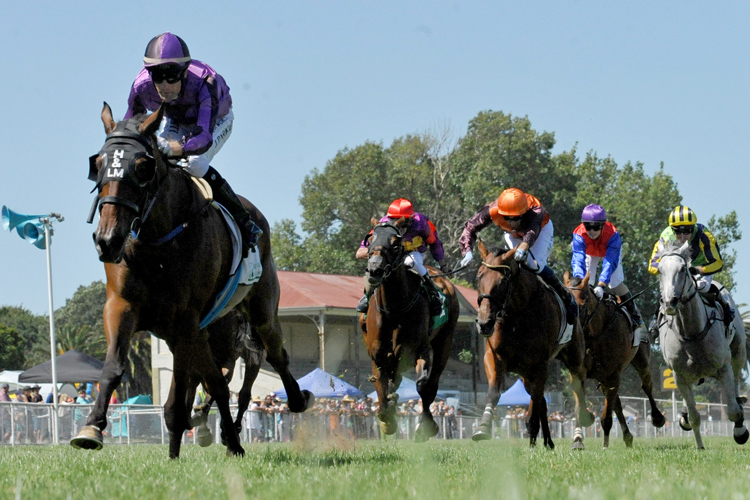 Careering away by three and three quarter lengths for his tenth win (third stakes), Sampson
belied his nine years with a big win here, taking his earnings beyond $400,000 in the process.

Jockey Johnathan Parkes found the fence in fourth with a circuit to run. Starting the back straight he was now sixth yet handy enough and at the 800m within four lengths of the lead.

When the pace increased at the 600m he was shuffled back to third last, locked away on the fence turning in. Parkes rode for luck, hugged the rail and pushed forward where space opened one out at the 250m.

Full of running, he dashed up alongside the leader then surged into the lead and ran to the line well clear. China Star
took up the pace soon after the start and had an easy time to the 500m where she was tackled yet fought back to lead again at the 300m then did well to hold second.

Jacksstar
made his run from the 600m to be three wide fifth turning in then kept up a solid run for third, a half neck back. Petite En Jeu tackled the leader turning in and looked a chance but dropped away then barely held on for fourth.

| | |
| --- | --- |
| R7 AWAPUNI | 5 January 2019 |
| Gallagher Marton Cup , 2200m | PLAY REPLAY |
Race Synopsis: This Listed 2200m Open Handicap drew a weak field of many old gallopers that have been going around for many years and one of them bolted in namely the 9yo Sampson, the oldest in the line up. The rail was out 5m at Awapuni today and you could not be too far away turning for home with the manmade track bias created plus they were running decent times so then it becomes mathematically impossible. The winners and where they turned for home in race order were second (the outer and half a length from the leader), led, (length and a half clear), fourth (on inner and one and a half lengths from the leader), fourth (six-off the fence and two lengths from the leader), third (on inner and two lengths from the leader), led (a neck and four-off the fence), fifth (on inner and three lengths from the leader) and led (one-off the fence and a length ahead turning in). The ten-horse field had one 9yo, three 8yo's, two 7yo's, three 6yo's and a single 5yo. The oldest horse in the race Sampson absolutely humiliated this lot after racing fifth or sixth the inner not spending a penny more in the running. Once he got through and off early the run home the gelding was third at the 250m then picked up the pair ahead and dropped them in a few strides. Sampson led at the 100m and then put a hole in them to score by almost four lengths in 2:16.82 to record his tenth win in sixty-one starts. The fact he could blow away this lot at his age when he had not won a race since April Fools Day 2017 is jaw-dropping and says more about the calibre and depth of the opposition. He has run twenty-seven times in Group or Listed races for a single G2, G3 and Listed win and two placings at both G2 and G3 and one Listed placing. China Star (an 8yo mare so the equal second oldest in the field) was ridden the way she should be today and led up setting a solid enough clip and though kicking hard she was run past at the 100m to get windburn but held second at the line. Jacksstar got back but moved wide to improve across the top and then after turning in sixth and deeper sustained his run to get third at the 20m. Petite En Jeu sat second the outer was still right there in the fight with 200m to go before wilting a tad and finishing fourth. Duplicity settled too far back and was in the rear duo on settling then tried to improve wide across the top and turned for home eighth and the deepest runner. He ran on late okay but was never a win chance from where he was on settling or near the home turn. Alinko Prince was ditto running on late from ninth turning for home but never really looked a hope on settling. Mental Telepathy was just a fair seventh while Maygrove the 8yo, after trailing the leaders never kicked on under topweight of 6okg and has been retired. He would make a super jumper as can stay and swim and has dash but that does not seem to have been a consideration at this point. Balham race handy the outer and stopped with the 8yo very disappointing having run second at G3 in his prior outing. Porcelain Princess was tardy and settled down last then never ever got into the race at any stage. This was an appalling field and not really Blacktype standard and the amount of Awapuni meetings at this time of the year is overkill and diluting the field depths quite markedly. The stayer depth has collapsed in this decade especially and is currently at the lowest ever seen with so many old horses still going around because no waves of replenishing younger stayers are coming through in any numbers of note. When a 9yo that has not won a race for twenty months absolutely demolishes a field like today then that encourages all really older horses connections that the stayer ranks are so weak that there is a very Blacktype winnable race out there somewhere for you too. Sampson has run in two Wellington Cups over 3200m for a third in 2016 (when a G2 race) and a second last year (when a G3 race) and he will be back for a third throw at the stumps. He has had six goes at 3200m for those two placings only but the field is looking very shallow again this year indeed.


FP

Horse
Age & Sex
Trainer
Jockey
WT
SP
3. SAMPSON (NZ)
9yo Gelding
H W MATHEWS
JOHNATHON PARKES
56.0
$7.10
DUBAI DESTINATION (USA) - MAGIC STAR (AUS)

Mrs L A Mathews & Mrs J L Street

7. CHINA STAR (NZ)
8yo Mare
MS L LATTA
ROBERT HANNAM
53.0
$31.00
CHINESE DRAGON (USA) - VENUS BAY (NZ)

Victor Osborne & Audrey Margaret Mary Seeto

4. JACKSSTAR (NZ)
7yo Gelding
G VILE
LEITH INNES
55.0
$7.90
ZED (NZ) - STAR GUEST (NZ)

Mrs C A & P M Algie, Mrs C & R Wilkie

4th
8. PETITE EN JEU (NZ)
6yo Mare
NIGEL AURET
LEAH HEMI
53.0
$28.40
5th
6. DUPLICITY (NZ)
6yo Gelding
ASHLEY MEADOWS
RYAN ELLIOT
54.5
$4.20
6th
2. ALINKO PRINCE (NZ)
7yo Gelding
FRASER AURET
CHRIS JOHNSON
57.0
$8.60
7th
10. MENTAL TELEPATHY (NZ)
5yo Gelding
MURRAY BAKER
LISA ALLPRESS
53.0
$3.20
8th
1. MAYGROVE (AUS)
8yo Gelding
MURRAY BAKER
JONATHAN RIDDELL
60.0
$19.00
9th
5. BALHAM (NZ)
8yo Gelding
DAVID & EMMA HAWORTH
BRIDGET GRYLLS
54.5
$11.00
10th
9. PORCELAIN PRINCESS (NZ)
6yo Mare
FRASER AURET
MADAN SINGH
53.0
$21.60