2019 Seppelt Wines Newmarket Hcp Group 1 March 09 - Flemington
Sunlight wins 2019 Seppelt Wines Newmarket Hcp Group 1 $1250,000 at Flemington, 1200m.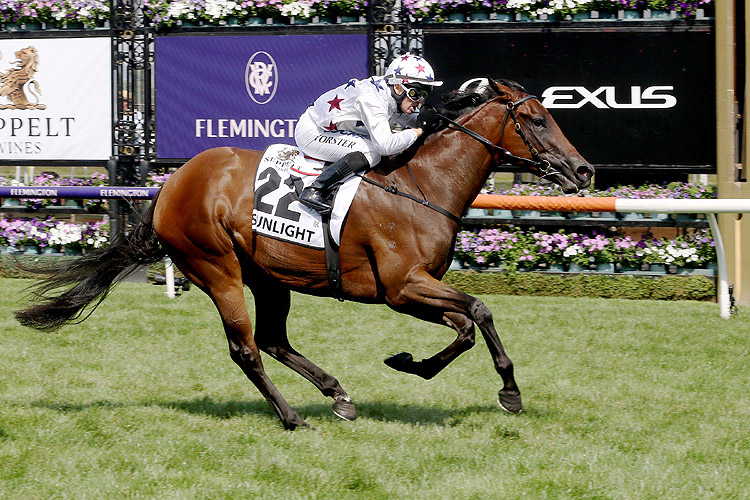 Sunlight
loves Flemington, proved to be the best sprinter of her age here last November in the Coolmore Stud Stakes (registered as Ascot Vale Stakes) (Gr 1, 1200m) and stepped up with a decisive win against all-comers.

She was one of the first away and shared the lead early and at the crossing. Jockey Barend Vorster looked over his shoulder hoping for cover but they were left in front at the 500m.

She was headed briefly at the 300m but kicked to take the lead back at the 150m and had too much pace to the line, scoring comfortably by a length and a super win, her ninth in 14 starts, taking her earnings beyond $3.8 million.

Osborne Bulls
was buried among the last three at the crossing, started to tack on to the bunch at the 350m, saw daylight at the 200m then flew home to grab second a stride off the line.

Brave Smash
was wide and back at the crossing, sprinted hard from the 350m to be third at the 100m and kept going strongly to hold third. Graff
joined in at the 300m, led briefly and kept going gamely to hold fourth.

R6 FLEMINGTON

9 March 2019

Seppelt Wines Newmarket Hcp , 1200m
Race Synopsis: Sunlight loves Flemington, proved to be the best sprinter of her age here last November in the Coolmore Stud Stakes (registered as Ascot Vale Stakes) (Gr 1, 1200m) and stepped up with a decisive win against all-comers. She was one of the first away and shared the lead early and at the crossing. Jockey Barend Vorster looked over his shoulder hoping for cover but they were left in front at the 500m. She was headed briefly at the 300m but kicked to take the lead back at the 150m and had too much pace to the line, scoring comfortably by a length and a super win, her ninth in 14 starts, taking her earnings beyond $3.8 million. Osborne Bulls was buried among the last three at the crossing, started to tack on to the bunch at the 350m, saw daylight at the 200m then flew home to grab second a stride off the line. Brave Smash was wide and back at the crossing, sprinted hard from the 350m to be third at the 100m and kept going strongly to hold third. Graff joined in at the 300m, led briefly and kept going gamely to hold fourth.


FP

Horse
Age & Sex
Trainer
Jockey
WT
SP
22. SUNLIGHT (AUS)
3yo Filly
TONY MCEVOY
BAREND VORSTER
50.5
$13.00
ZOUSTAR (AUS) - SOLAR CHARGED (AUS)

Mrs L Fung, Ms R C Parker, Mrs I E Mitchell, Mrs K L Thompson, Mrs R J Fletcher, Miss S R Fletcher, Miss J R Fletcher, Qatar Bloodstock (Mgr D Redvers) & G1g Racing & Breeding (Mgr: Mrs T L Vogel)

4. OSBORNE BULLS (AUS)
5yo Gelding
JAMES CUMMINGS
HUGH BOWMAN
56.0
$4.25
STREET CRY (IRE) - JEREZANA (AUS)

Godolphin

3. BRAVE SMASH (JPN)
6yo H
KRIS LEES
DAMIEN OLIVER
57.0
$26.00
TOSEN PHANTOM (JPN) - TOSEN SMASH (JPN)

AQUIS FARM (MGR: S MCGRATH), GLENLOGAN PARK, G1G RACING & BREEDING, K CHANG, T LAU, P KWOK WAH, AUSTRALIAN BLOODSTOCK, POWER THOROUGHBREDS, A BROGAN, PLATINUM BREEDING & RACING, CARTY RACING, WALKER RACING & BLOODSTOCK, MOUNT HALLOWELL, D BUTCHER, G KAIROUZ, T BATES, DR GOEL, K DAVIS & BRAVE SMASH

4th
20. GRAFF (AUS)
3yo Colt
KRIS LEES
WILLIAM PIKE
51.0
$7.00
5th
2. SANTA ANA LANE (AUS)
6yo Gelding
ANTHONY FREEDMAN
BEN MELHAM
58.5
$12.00
6th
6. IN HER TIME (AUS)
6yo Mare
KRIS LEES
COREY BROWN
55.5
$9.00
7th
19. ENCRYPTION (AUS)
3yo Colt
JAMES CUMMINGS
MS RACHEL KING
51.0
$21.00
8th
12. CHAMPAGNE CUDDLES (AUS)
4yo Mare
BJORN BAKER
JAMIE KAH
52.0
$61.00
9th
9. BOOKER (AUS)
4yo Mare
MATHEW ELLERTON & SIMON ZAHRA
DEAN YENDALL
53.0
$26.00
10th
8. DOTHRAKI (AUS)
8yo Gelding
P & P SNOWDEN
DAMIAN LANE
54.5
$101.00
11th
16. I'LL HAVE A BIT (AUS)
4yo Mare
JOHN MCARDLE
BEN THOMPSON
52.0
$151.00
12th
11. BONS AWAY (AUS)
5yo Gelding
C MAHER & D EUSTACE
LINDA MEECH
52.0
$51.00
13th
15. GLENALL (AUS)
5yo H
MICHAEL & WAYNE & JOHN HAWKES
DEAN HOLLAND
52.0
$201.00
14th
17. MISSROCK (AUS)
5yo Mare
ROBBIE LAING
STEPHEN BASTER
52.0
$101.00
15th
18. USAIN BOWLER (AUS)
4yo Gelding
JOHN SADLER
PATRICK MOLONEY
52.0
$101.00
16th
14. EDUARDO (AUS)
5yo Gelding
SARAH ZSCHOKE
BRIAN PARK
52.0
$6.00
17th
21. ZOUSAIN (AUS)
3yo Colt
CHRIS WALLER
CRAIG WILLIAMS
51.0
$15.00
18th
5. VOODOO LAD (AUS)
7yo Gelding
C MAHER & D EUSTACE
MARK ZAHRA
56.0
$101.00
19th
13. DIVINE QUALITY (AUS)
5yo Mare
ROBBIE GRIFFITHS
BEAU MERTENS
52.0
$101.00
20th
10. WHISPERING BROOK (AUS)
5yo Mare
SIMON A MILLER
JYE MC NEIL
52.5
$51.00
21st
1. REDKIRK WARRIOR (GB)
8yo Gelding
D & B HAYES & T DABERNIG
LUKE NOLEN
58.5
$41.00
22nd
23. LEAN MEAN MACHINE (AUS)
3yo Colt
CHRIS WALLER
MICHAEL DEE
50.0
$41.00