2019 Sistema Stakes Group 1 March 09 - Ellerslie
Yourdeel wins 2019 Sistema Stakes Group 1 NZ$200,000 at Ellerslie, 1200m.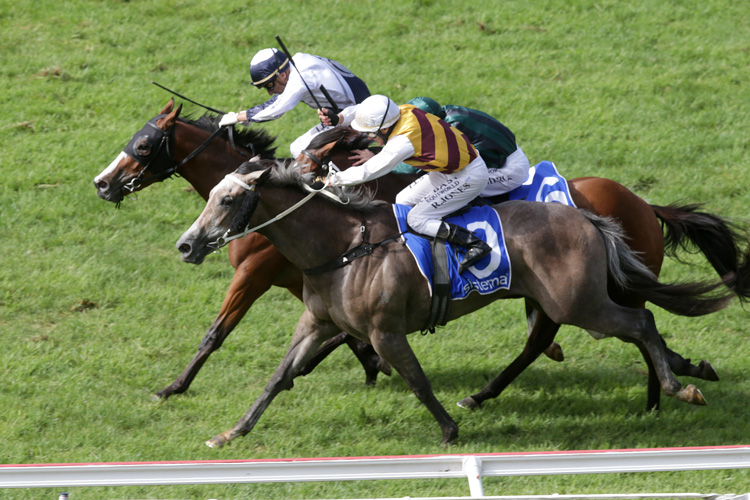 Yourdeel
had to fight much harder than in his previous start when winning the Matamata Slipper (Gr 3, 1200m) but got the job done here to edge into the lead just short of the line for win three at start five.

He sat midfield early and four deep after a slowish start but jockey Opie Bosson kept him moving forward to sit just back of the leader past the 800m. Still wide, he shared the lead just before straightening then put his head in front at the top of the straight.

Challenged by three runners wider out Bosson held him together then asked for a last effort, edging into the lead a few strides short of the line but only a half head in front. Aalaalune
sat third last at the 800m, lost a spot at the 600m in a packed field then improved quickly to be very handy at the top of the straight.

She was one of three to challenge the winner from the 250m and never gave in to the post to take second. Aretha
was fourth turning in, also one of three to challenge and fought hard all the way to the line to be only another long head back in a gritty third. Bavella
pulled to the outside at the top of the straight, also challenged but came to the end of her run at the 50m.

| | |
| --- | --- |
| R7 ELLERSLIE | 9 March 2019 |
| Sistema Stakes 2 , 1200m | PLAY REPLAY |
Race Synopsis: This G1 2yo over 1200m saw three babies have a battle royal in the very testing footing presented and a short head and a head separated them at the line. The track at Ellerslie was dreadful and a sodden Heavy10 plus the draining never really worked as it got worse and worse throughout the day and some of the beaten margins in G1 races were absolutely astounding. The race winners and where they turned for home in race order were third (four-off and a length and a half from the leader), sixth (four-off and two and a half lengths from the leader), ninth (twelve-wide and five lengths from the leader), third (ten-wide and a length from the leader), seventh (seven-off and three lengths from the leader), fifth (twelve-off and a length and a half from the leader), led (ten-wide and a head in front), led (fifteen-wide and a neck in front), second (twenty-wide and a neck from the leader) and fourth (sixteen-wide and a length from then leader). Yourdeel was probably the worst ridden runner in the race tactically but on the footing presented today overland piloting was rewarded deluxe. The odds on gelding was back and wide then sent up early second and others kicked up so was left out on a limb thereafter. Yourdeel challenged again across the top and led narrowly turning for home deeper but was not pulling away at all for one at such a short price. After being marginally headed at the 300m he came back to lead at the 200m and then in a deadest ding donger fell in at the line to win by a short head in 1:12.61 It was his third win in five starts and he now has a G1 to go with the G3 success prior but also all his wins have come on rain-affected or very wet footing, so swimming is a strength for the youngster. The maiden Aalaalune was handily away but then drifted back as usual and was eighth on settling before unleashing the run home and got to fifth at the 300m and third at the 200m. The filly looked the winner when second at the 20m and still coming in the atrocious footing but just missed and is still yet to finish first across the line but she has recorded a G1, G2 and Listed placings. Aretha, a G2 winner fresh up this year raced fifth then fourth before going up ominously on the home turn and actually led at the 300m narrowly before the winner fought back and headed her at the 200m. The filly fought tooth and nail to the line and handled the awful footing well. Bavella was better today and after racing sixth then fifth turned for home fourth and the widest runner out. She tried hard and finished fourth beaten just over a length and a half. Just Zerene, a maiden filly trained in Australia having the audacity to tackle G1 in New Zealand showed she was more than up to the task with a very good fifth beaten just over two lengths. The filly was worked up and running her race before loading with a bridle replacement not helping matters and then became unbalanced early when bumping with another before settling seventh the inside and in the slowest lanes. She was worked off and sixth across the top then kept coming gamely the run home closer in than the four that beat her home it should be noted. Just Zerene clearly has ability but would never have expected to strike such appalling footing when this G1 attack was planned. Rainbow Dash was hampered at the start and then sped up fast to lead before being headed turning for home and her rider stayed closer in than anything else and that was a mistake. The fact she still finished sixth beaten just over five lengths speaks volumes about her ability and will to compete. Aotea Lad was slow out and last away by a length clearly so completely disregard the commentator saying the start was 'a perfect start' as it was most certainly not and can be seen so by all that watched the race live and later view the replay, so unfortunately that falsehood stays for eternity. The gelding never really got into the race or copped the footing despite being wide and in better lanes across the top. Enjoy The Show was one of two that became unbalanced early after a bumping incident but the colt still kicked though to settle third in the trail. He worked off before the home turn and went wider like almost all but weakened quickly and was second last halfway up the run home and floundering in the footing. Qiji Sword was crowded early when fifth and went out to last on settling and was in a gap across the top to the home turn never looking a possibility, He can be forgiven as this race was anything but a perfect start for many and was downright messy early on. The winner Yourdeel can swim that is certain and his sire Dundeel is leaving runners that need cut in the ground at least. This gelding should have been beaten today the way he was ridden so kudos there but got away with it due to an awful track presented that saw bad rides and overland piloting rewarded. Fillies ran second, third, fourth, fifth and sixth and two of them (second and fifth) are maidens so that puts an asterisk of doubt on the race result that was already in place due to the biased track conditions. A lot of forgives in this race and also the fillies look to have very good scope for next season on decent footing because testing wet ground like today proves nothing bar mudlark status.


FP

Horse
Age & Sex
Trainer
Jockey
WT
SP
1. YOURDEEL (NZ)
2yo Gelding
JAMIE RICHARDS
OPIE BOSSON
56.5
$1.70
DUNDEEL (NZ) - MISS ZAPPER (AUS)

C A Rutten, C J B Norwood & R N Preston

9. AALAALUNE (NZ)
2yo Filly
JACOB MC KAY
BARRY JONES
54.5
$13.80
RELIABLE MAN (GB) - VEVA GIRL (AUS)

Te Keeti Bloodstock Ltd & Mrs V D Gates

6. ARETHA (NZ)
2yo Filly
MURRAY BAKER
MATTHEW CAMERON
54.5
$9.80
CHARM SPIRIT (IRE) - TSIKORY (NZ)

G J McCarthy

4th
7. BAVELLA (AUS)
2yo Filly
L NOBLE
LEITH INNES
54.5
$8.40
5th
11. JUST ZERENE (AUS)
2yo Filly
TONY MCEVOY
SAM SPRATT
54.5
$10.90
6th
8. RAINBOW DASH (NZ)
2yo Filly
JENNA MAHONEY
JAKE BAYLISS
54.5
$26.30
7th
2. AOTEA LAD (NZ)
2yo Gelding
JAMIE RICHARDS
M MCNAB
56.5
$7.40
8th
3. ENJOY THE SHOW (NZ)
2yo Colt
MURRAY BAKER
JONATHAN RIDDELL
56.5
$40.80
9th
5. QIJI SWORDSMAN (NZ)
2yo Gelding
N W TILEY
SAMANTHA COLLETT
56.5
$26.90