2019 Warren Storm Waikato Guineas Group 2 February 09 - Te Rapa
Sponge Bob wins Warren Storm Waikato Guineas Group 2 NZ$100000 at Te Rapa, 2000m.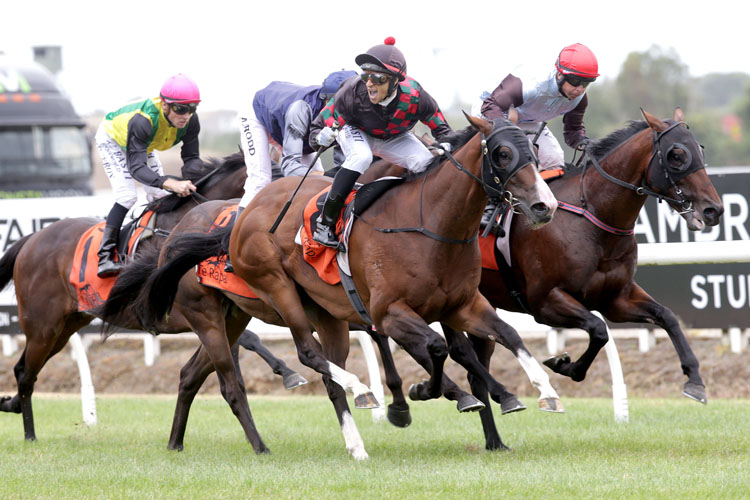 A 1600m maiden winner here on January 20, Sponge Bob
made it back to back wins and his maiden stakes win at just his fourth start.

He was a handy fifth, one out, with a circuit to run, maintaining his position down the back and past the 800m. Jockey Troy Harris pushed him between runners near the last corner and was third into the straight.

Easing out three wide he ran up to the leaders at the 300m, took over at the 200m and kept going gamely to get the nod by a short neck. Arrogant
led by two at the 800m, was caught at the straight entrance but never gave in to the line, taking ground off the winner late for a tough second.

Sword In Stone
was second at the 800m, caught the leader at the 400m then battled gamely to the line a long head back in third. The Chosen One
turned in fourth and battled away to hold fourth, the first four well clear.

| | |
| --- | --- |
| R5 TE RAPA | 9 February 2019 |
| Waikato Guineas 3 , 2000m | PLAY REPLAY |
Race Synopsis: This G2 3yo over 2000m of modest only depth was run two lengths slower than the G2 3yo filly only event held the race prior and the male winner here was the upsetter Sponge Bob at $34 that had narrowly won his maiden in the lead up. The Te Rapa track looked and raced very scruffy plus when on a hot dry day all runners are steered well away from the inside lanes and head towards the middle on a Good 3 surface then you have not just a visually damning problem but a track issue. Remember this is the only dual G1 and dual G2 raceday at Te Rapa so to have the Rail out 5m foretold a problem and then the inside lanes were total quicksand plus a track the stipes released as a Dead4 was upgraded to a Good3 from R3 to perplex the picture even more. The winners and where they turned for home in race order were seventh (last angled six-wide and four lengths from the leader), third (three-wide and a length from the leader), eighth (eight-wide and three lengths from the leader), third (three-wide and half a length from the leader), third (four-wide and a length from the leader), fourth (eight-wide and half a length from the leader), fifth (four-wide and three lengths from the leader), seventh (six-wide and two and a half lengths from the leader) and third (seven-wide and half a length from the leader). The track was toxic and biased beyond belief whereby no leader won (this is usually one of if not the most leader manmade biased track in all of New Zealand) and today the pendulum swung too far to the other extreme. The manmade bias today saw on a Good3 track every winner came three-wide and more so up to eight-wide turning for home and the jockeys steering well off the inside lanes near and on the home turn tells you everything. This raceday has had massive problems before with disastrously presented tracks and manmade bias and even had one year when the track rating officially released locally and Internationally in the morning by the Chief Stipe and Trackman was totally false by an enormous amount. Sponge Bob had a good run fifth the outer and moved up third turning for home then grabbed the lead at the 200m and held on grimly to score by a short neck in 2:05.03. It was his second win from four starts and obviously his first Blacktype success Arrogant set the pace and fought hard to the line and was actually three-off the rail soon after straightening while the winner came up four-wide turning in and ended up seven or eight-off the inside soon after. Bettors after the Sponge Bob upset may need to bring back their flair pants as they certainly did their shirt in a plunge of Sword In Stone, which ran a good third. He was wide early and sent up second the outer and in a sedate affair looked to be under double wraps near the home turn. The last start maiden winner incredibly started $2.70 in a G2 event to show you the field lacked any serious depth and almost got the job done going down a short neck and a long head. The Chosen One fought well for fourth after racing third mostly and he kept coming the closing stages. Lincoln Falls was tardy and settled back and wide but ran on okay late albeit he was in a gap being just under five lengths from the winner. He has been a money muncher for bettors of late being well backed in his last three runs for a fourth at Listed level and a fifth at G1 and a fifth today at G2. His stablemate Lincoln Sky raced fifth or sixth the inner and fought on okay a lip behind. Ocean Glo, also a last start maiden winner, was noticed running home okay late from well back. Mighty Connor at $60 was not too bad late while Crown Prosecutor ran on late after getting back on the inner. The rest got beaten nine lengths and up to almost sixteen lengths and were all maidens but one. The manmade track bias mars the results today as being credible or trustworthy as the footing was not up to standard at all plus this was not a pressure contest at all. The lack of stamina bred runners in this and so many maidens or just out of the dunce class, which saw them win and finish third screams this was not a G2 strength event and even borderline G3. The 3yo depth this season so far has been poor and suspect and too many having turns and flops galore happening plus even the fillies are below par but still ahead of the males overall. The 2019 NZ Derby and NZ Oaks are wide open still due to a lack of serious depth as the staying breed is very hard to see sadly in the classic races anymore.


FP

Horse
Age & Sex
Trainer
Jockey
WT
SP
8. SPONGE BOB (NZ)
3yo Gelding
GRAHAM RICHARDSON
TROY HARRIS
56.5
$34.80
KEEPER (AUS) - CHIHENNE (NZ)

The Wrinkly Tin Syndicate

6. ARROGANT (NZ)
3yo Colt
MICHAEL MORONEY & PAM GERARD
CAMERON LAMMAS
56.5
$7.90
OCEAN PARK (NZ) - CHARMEUSE (NZ)

Ballymore Stables (Aust) Pty Ltd (Mgr: M D Moroney), R & C Legh Racing Pty Ltd (Mgr: R P Legh), Pulitano Thoroughbreds Pty Ltd (Mgr: G Pulitano), Gee Gee Equine Ltd (Mgr: G Peterson), W Campbell, J Bartolo, A Fairbairn & R Dando

9. SWORD IN STONE (NZ)
3yo Gelding
LAUREN BRENNAN
MICHAEL RODD
56.5
$2.70
REDWOOD (GB) - SPIRIT OF SANDFORD (NZ)

P J Hickman

4th
1. THE CHOSEN ONE (NZ)
3yo Colt
MURRAY BAKER
MATTHEW CAMERON
56.5
$6.80
5th
3. LINCOLN FALLS (AUS)
3yo Colt
MS L LATTA
JOHNATHON PARKES
56.5
$4.80
6th
5. LINCOLN SKY (NZ)
3yo Gelding
MS L LATTA
JONATHAN RIDDELL
56.5
$22.20
7th
7. OCEAN GO (NZ)
3yo Gelding
LANCE O'SULLIVAN & ANDREW SCOTT
CRAIG GRYLLS
56.5
$16.90
8th
10. MIGHTY CONNOR (AUS)
3yo Gelding
JACOB MC KAY
LYNSEY SATHERLEY
56.5
$60.30
9th
2. CROWN PROSECUTOR (AUS)
3yo Colt
STEPHEN MARSH
JASON WADDELL
56.5
$18.00
10th
4. LANGKAWI (NZ)
3yo Gelding
PETER MCKAY
SHAUN M MC KAY
56.5
$26.10
11th
11. MONKEY SHOULDER (NZ)
3yo Gelding
A SHARROCK
VIN COLGAN
56.5
$14.30
12th
13. JAGUARY (NZ)
3yo Gelding
GUY LOWRY & GRANT CULLEN
SAMANTHA COLLETT
56.5
$48.40
13th
12. CHARRED (NZ)
3yo Gelding
P P MIRABELLI
C DELL
56.5
$106.60