Canterbury Gold Cup, Group 3 : Riccarton Park -13th April 2019
Who Dares Wins wins Canterbury Gold Cup Group 3 $100,000 at Riccarton Park, 2000m.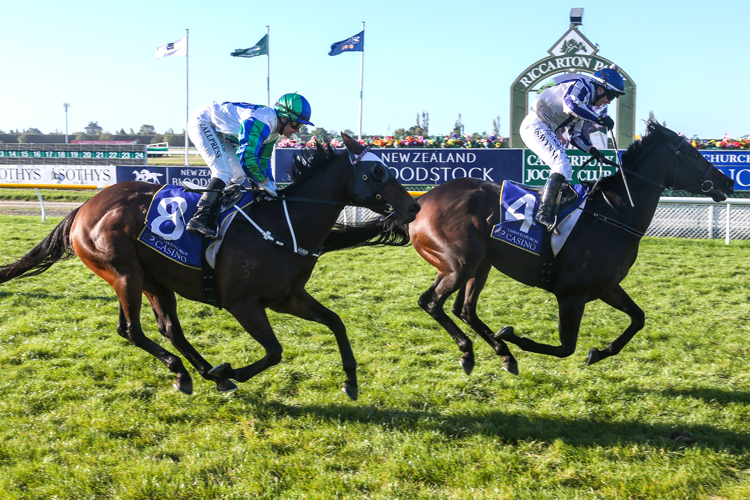 Second in this race a year ago, Who Dares Wins
backed up from his maiden stakes stakes win a week ago, taking his win record to eight.

He began quickly to settle a handy fourth early (rails) and maintained that position down the back straight and past the 1400m where he improved to third.

Jockey Samantha Wynne pushed him closer at the 800m then took over before straightening for the run home. Into the straight he led narrowly but although challenged never gave up the lead and kept going gamely to the line, out by three quarters of a length.

Residential sat sixth past the 800m, tracked the winner into the straight and tried hard to level up but could not get past, holding on well for second, the first two well clear.

After being clear by four lengths Dee And Gee was caught inside the 800m and was headed at the top of the straight, yet fought well the length of the straight for third from Authentic Paddy, who was handy enough turning in (wide) but could only battle away for fourth.

| | |
| --- | --- |
| R8 RICCARTON PARK | 13 April 2019 |
| Canterbury Gold Cup , 2000m | PLAY REPLAY |
Race Synopsis: This G3 Open at 2000m under WFA drew a mostly old and well tried field that lacked genuine depth and many of these are handicappers including the winner Who Dares Wins that scored comfortably enough. The rising 7yo had won fresh up here last week in a Listed mile with 53kg, a trip he had never been able to score at before, so was in good order and today rose in grade and trip plus carried 59kg to deliver. The winners and where they turned for home in race order were sixth (six-off the inside and two lengths from the leader), led (five-off the inside and head in front), fifth (six-off the inside and length and a half from the leader), led (three-off the inside and length in front), led (four-off the inside and a neck in front), fourth (ten-off the inside and length and a half from the leader), fifth (twelve-off the inside and three and a half lengths from the leader), led (ten-off the inside and half a length in front) and led (eleven-off the inside and neck in front). Who Dares Wins was North Island trained originally with and had thirteen starts and looked to be struggling to break through then was sent to the South Island and for a new yard immediately found things so much easier. He has in twenty-five starts more since won eight races and seven of them have come at 1800m to 2100m. Today he won by just under a length in 2:03.18, so the Listed winning filly in the race prior to this ran better time tellingly. Who Dares Wins trailed the inner and worked off across the top and challenged before the home turn and took the lead then kept going to repel all threats. Residential is an in form 5yo mare and at her first try at 2000m has a G3 second against allcomers under the WFA scale. She raced fifth or sixth the outer and came through near the home turn to be second and chased the winner in vain thereafter. Dee And Gee, a handicapper through and through that has only won four races and last time out finished a distant fourth at G1 over 3200m with 53.5kg, came back 1200m in this and rose 3.5kg. The fact she could do so after being second the outer then challenged and leading midrace and going clear only to be headed and fourth before the home turn says more about the rest. She fought back to get third at the 200m and was just under four lengths from the winner but she out-toughed for this position the favourite, a rising 10yo in Authentic Paddy that has led and won a G1 at WFA at Ellerslie over 2000m. Authentic Paddy in fact has not won a race since December of 2017 (a G1 at WFA over 2000m at Ellerslie) and if any horse shows the lack of WFA depth in New Zealand over a longer period then it is this old warhorse. He led today then got headed by Dee And Gee and was second then third wide across the top and fifth turning for home and he ground away to be fourth at the 25m but had his chance. Post race he was found to be in mild distress and tying up so the old fella gave it his all and clearly felt the trouble for his efforts. Tommy Tucker ran on from the rear duo and the rising 11yo is a deep South evergreen it seems. His stablemate Gallant Boy, a rising 9yo, raced seven or eighth then came up sixth turning for home and battled away thereafter to be sixth at the line beaten five and a half lengths. Atlanta Peach, an easy winner here last week in Benchmark 72 (five grades inferior to this on paper at least), could not rise this far and go up 1kg when a lightly tried 4yo mare having her first try at Blacktype. She raced fifth the inner mostly then came off across the top to fourth and into third turning for home but she could not sustain it and weakened but she has it all ahead still. The handicapper Gorbachev raced ninth and just battled to finish eighth beaten almost seven lengths. Anythingcouldhappn, Flying Sardine and Koxinga got back and never looked a possibility while Bloodstream finished a clear last and has not come up this campaign it seems. This was not a G3 and was Listed at best and the result proved it with handicappers running first and third and a mare splitting them was having her first try at 2000m. When a rising 10yo in Authentic Paddy that has not won for ages starts favourite in this and cannot even make the top three then that alone says it all about the race depth.


FP

Horse
Age & Sex
Trainer
Jockey
WT
SP
4. WHO DARES WINS (NZ)
6yo Gelding
TONY & LYN PRENDERGAST
SAMANTHA WYNNE
59.0
$7.00
IFFRAAJ (GB) - WEE TIPPLE (NZ)

J & D Lory, G Dawson, L Power, P Ross, N Sikma, C & K Norton-Taylor, B Fuller, B Hollands, S Rush, B Agnew, M & S Wells, L Allan, A Tallott & S Cunningham

8. RESIDENTIAL (NZ)
5yo Mare
J F PARSONS
LISA ALLPRESS
57.0
$5.00
PINS (AUS) - METROPOLITAN (NZ)

Mark Ritchie, Jason Wardle, Michael Piaggi, Henry & Ron Williamson, Leslie & Ann Seaton, John & David Nixon & Waikato Stud Ltd

10. DEE AND GEE (NZ)
5yo Mare
TRACEY CHARLES
TANYA JONKER
57.0
$21.00
DARCI BRAHMA (NZ) - GABANA (NZ)

Peter R Corbett & Terrill T Charles

4th
2. AUTHENTIC PADDY (NZ)
9yo Gelding
MS L LATTA
ROBERT HANNAM
59.0
$4.50
5th
3. TOMMY TUCKER (NZ)
10yo Gelding
BRIAN & SHANE ANDERTON
J R LOWRY
59.0
$12.00
6th
1. GALLANT BOY (NZ)
8yo Gelding
BRIAN & SHANE ANDERTON
TERRY MOSELEY
59.0
$10.00
7th
12. ATLANTA PEACH (NZ)
4yo Mare
GUY LOWRY & GRANT CULLEN
JASON LAKING
57.0
$6.00
8th
6. GORBACHEV (NZ)
5yo Gelding
BRYCE NEWMAN
DYLAN TURNER
59.0
$9.00
9th
11. ANYTHINGCOULDHAPPN (NZ)
4yo Mare
S WOODSFORD
KRISHNA MUDHOO
57.0
$31.00
10th
9. FLYING SARDINE (NZ)
6yo Mare
K & A TYLER
LEAH HEMI
57.0
$31.00
11th
7. KOXINGA (NZ)
8yo Gelding
JACKIE BURROWS
LANCE CALLAWAY
59.0
$67.00
12th
5. BLOODSTREAM (NZ)
7yo Gelding
TERRI RAE
DONI PRASTIYOU
59.0
$26.00