Easter Hcp, Group 2 : Ellerslie - 20th April 2019
Endless Drama wins Easter Hcp Group 2 NZ$100,000 at Ellerslie, 1600m.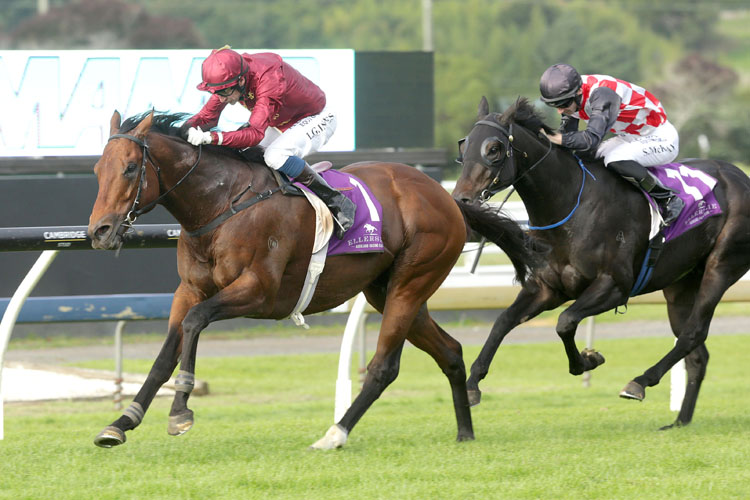 Backing up from a bold finish and Listed second at Hastings a week ago, Endless Drama
, a former Group 2 winner in Sydney and second in the Irish 2,000 Guineas (Gr 1, 1600m) at three, got his first win in New Zealand.

He began well (rails) early but drifted a little to be seventh at the 1200m, then gained ground and turning in was in behind a group of six.

Rider Leith Innes gave him time to balance, found a gap three out at the 250m then drove him up to lead at the 100m.

Innes kept him going and was able to hold off a late challenge from wide out by a neck. Watch This Space
sat sixth past the 1000m, was in behind the leading group turning in then pulled out into the centre of the track from the 300m.

He took a long time to wind up but came hard over the last 100m in another solid effort. Yearn
was midfield at the 800m, was widest turning in and kept going doggedly all the way to the line for third from Demonetization
, who weaved his way between runners the length of the straight to grab fourth on the line.

| | |
| --- | --- |
| R7 ELLERSLIE | 20 April 2019 |
| Easter Hcp , 1600m | PLAY REPLAY |
Race Synopsis: This G2 Open Handicap mile drew only a reasonable field with many older horses and infrequent winners and lots of out of their depth types so no surprise that the topweight Endless Drama won carrying 59kg. The rising 8yo entire had only won three races prior to today and his last win came fourteen months ago, also at G2, with his first two wins coming in Ireland as a juvenile on debut in 2014 and as a late season 3yo in 2016. Alarmingly for local breeders of the three Blacktype races held at Ellerslie today two were won by Australian breds (notably the 2yo mile and the 3yo 2100m) and this G2 Open Handicap mile and Irish bred. The winners and where they turned for home in race order were co-leader (one-off the inside), led (three-off the inside and two lengths ahead), co-leader (three-off the inside), second (three-off the inside and half a length from the leader), led (two-off the inside and a neck ahead), tenth (ten-off the inside and four lengths from the leader), seventh (one-off the inside and three lengths from the leader) and led (one-off the inside and a length ahead). So of the eight races today five leaders won and one winner turned for home a close second so manmade track bias was most definitely in play as some of the times were fast and some slow therefore a sprint home only cannot be put up as an excuse. Endless Drama was no longer competitive in Sydney on the bigger stages so was sent to New Zealand to get a softer G1 or at least some Group form and today he ticked off the G2 box for his stallion career. He raced seventh the inner and then when worked off at the 300m speared through third at the 200m and led at the 100m then held on by a neck in 1:33.45. Today was just his fourth career win in twenty-three starts and his second at the mile. Watch This Space, a rising 8yo, ran on from seventh surrounded to get second and came with a strong surge and carried 55kg so gave the winner 4kg. Yearn ran on powerfully the widest out for third and came from twelfth on settling and carried the minimum of 52kg but the most significant thing was she had tried a mile four times prior for absolutely nothing. Today she got a G2 placing beaten just over a length after fourths and fifths as a maiden at Makaraka and Te Aroha and a tenth and twelfth at Ellerslie. Demonetization fresh up ran on well for fourth after settling down ninth and carried the minimum of 52kg while Beefeater the Central Districts visitor fought hard to the line for fifth beaten a length and a half. Mongolianconqueror got well back on the inner and was hanging outwards throughout but found the line well to finish sixth to be beaten under a length and three-quarters. The Mitigator was taken on in front brutally (the attacker Big Mike finished last beaten almost a dozen lengths so that tactic failed miserably) and it cost him too as got run over the final 100m and then swamped near the line to finish seventh. The fact he was beaten less than two lengths in a 1:33.45 run mile it is safe to assume he likely wins this if not attacked so hard for so long by Big Mike. Le Castile raced fifth in a good spot and fought on fairly to be beaten less than three lengths. Dama Zorro settled well back but ran on okay for ninth, also beaten less than three lengths. Rangipo at $38 was midfield and wide then loomed up wider and reached fourth at the 200m then fought on to finish tenth beaten just over three lengths. Nicholas at $49 also fought on after settling down tenth and coming wider the home turn. Kingsguard was in the early drag race for the lead then settled third or fourth the outer and made a wide run near the home turn and in fact challenged for the lead at the 300m before wilting. Ronchi was awkwardly away as usual but battled on closer in from last turning for home, while Megablast settled down third last and also battled on to be beaten just over four and a half lengths and needed a wetter track. Sultan Of Swing got back on the inner and turned for home fourteenth only to have a wall ahead the final 200m and not really room to pierce through but whether he was going good enough at the time to bring it on is debatable Tomellila showed no dash and was disappointing and On The Rocks flopped and never got into the race. Big Mike gassed itself and the chances of The Mitigator with a tactically flawed attack for the lead four wide early and then three-wide and still kept the heat on fully one-off at the 800m. It is safe to assume a riding change will occur for next time Big Mike is seen out as he was second up today and had his tank emptied with a torrid assault for the lead for the first half of the race and a fraction more before being a neck away across the top. The bunched nature of the finish of this race showed the depth is dubious indeed with less than two lengths covering the first seven over the line and three and a half lengths covering the first dozen at the post. The race was run at a fast clip and it put many under pressure but the first runner home that was part of that on speed crazy heatwave was The Mitigator and therefore it was the best unplaced effort big picture. Lots of winners will come out of the race back to the grades they belong in but also many will have felt the burn today as the race was run at a searing clip. Endless Drama carried the equal topweight of 59kg and had not won a race in fourteen months but took this out while the other carrier of 59kg, On The Rocks, a G1 winner at WFA in February, ran second last. That above says it all about actual race depth and a dose of reality actual form worth and remember this is a G2 handicap nowadays.


FP

Horse
Age & Sex
Trainer
Jockey
WT
SP
1. ENDLESS DRAMA (IRE)
7yo H
TONY PIKE
LEITH INNES
59.0
$11.00
LOPE DE VEGA (IRE) - DESERT DRAMA (IRE)

Qatar Bloodstock Ltd (Mgr: D Redvers)

6. WATCH THIS SPACE (NZ)
7yo Gelding
VANESSA HILLIS
VIN COLGAN
55.0
$26.00
ELUSIVE CITY (USA) - MULTI TASKER (NZ)

Mrs M E A Evans

12. YEARN (NZ)
5yo Mare
MS K FURSDON
DONAVAN MANSOUR
52.0
$41.00
SAVABEEL (AUS) - PRINCESS UNO (AUS)

M & Mrs C R Lupton

4th
17. DEMONETIZATION (AUS)
4yo Gelding
N W TILEY
R J MYERS
52.0
$6.50
5th
8. BEEFEATER (NZ)
6yo Gelding
R BERGERSON
CHRIS JOHNSON
54.0
$21.00
6th
15. MONGOLIANCONQUEROR (NZ)
4yo Gelding
JAMIE RICHARDS
CRAIG GRYLLS
52.0
$12.00
7th
11. THE MITIGATOR (AUS)
4yo Gelding
PETER MCKAY
SHAUN M MC KAY
52.5
$4.50
8th
13. LE CASTILE (NZ)
4yo Mare
MARK BLACKIE
C DELL
52.0
$11.00
9th
16. DAMA ZORRO (AUS)
4yo Mare
DAVID GREENE
KELLY MC CULLOCH
52.0
$12.00
10th
10. RANGIPO (AUS)
6yo Gelding
TONY PIKE
SAMANTHA COLLETT
52.0
$41.00
11th
18. GO NICHOLAS (NZ)
7yo Gelding
S HALE
TRUDY THORNTON
52.0
$51.00
12th
4. KINGSGUARD (NZ)
6yo Gelding
JAMIE RICHARDS
MATTHEW CAMERON
56.0
$26.00
13th
14. RONCHI (NZ)
6yo Gelding
BRUCE WALLACE & GRANT COOKSLEY
LYNSEY SATHERLEY
52.0
$51.00
14th
3. MEGABLAST (NZ)
7yo Gelding
N W TILEY
JONATHAN RIDDELL
57.5
$51.00
15th
9. SULTAN OF SWING (NZ)
6yo Gelding
SHAUNE RITCHIE
SAM SPRATT
53.5
$31.00
16th
5. TOMELILLA (NZ)
6yo Mare
MURRAY BAKER
RYAN ELLIOT
55.5
$26.00
17th
2. ON THE ROCKS (NZ)
4yo H
MICHAEL MORONEY & PAM GERARD
JAKE BAYLISS
59.0
$9.00
18th
7. BIG MIKE (NZ)
6yo Gelding
CRAIG AND SHAUN PHELAN
ROBERT HANNAM
54.5
$15.00