Japan Racing Association Plate, Group 3 : Randwick - 20th April 2019
Grey Lion wins Japan Racing Association Plate Group 3 $160,000 at Randwick, 2000m.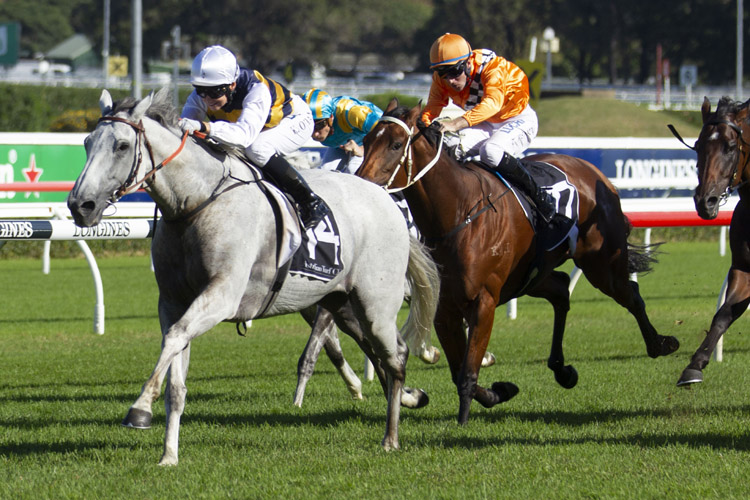 In a surprise result, the Matthew Smith
-trained import Grey Lion
broke through for his first stakes success in 31 starts in scoring here at odds of $41.

He settled in last place in the 14-horse field, saved ground along the rails at the home turn, got a split at the 200m, hit the front at the 100m and then went on to win well under a good ride from Kathy O'Hara.

Emperor's Way had a good trip in fifth place on the rails from his inside barrier (1), got along the inner and into clear running on straightening and then kept battling on well for second.

All Too Soon
settled near the tail of the field but made a quick move when the pace slackened to take the lead at the 600m. She then did well in holding on nicely to take the minor placing.

Taikomochi
went to the front as expected, slowed the place mid-race, was overtaken coming to the home turn, challenged again at the 200m and then kept battling on for (3.1 lengths) fourth.

R5 RANDWICK

20 April 2019

Japan Racing Association Plate 3U , 2000m
Race Synopsis: In a surprise result, the Matthew Smith-trained import Grey Lion broke through for his first stakes success in 31 starts in scoring here at odds of $41. He settled in last place in the 14-horse field, saved ground along the rails at the home turn, got a split at the 200m, hit the front at the 100m and then went on to win well under a good ride from Kathy O'Hara. Emperor's Way had a good trip in fifth place on the rails from his inside barrier (1), got along the inner and into clear running on straightening and then kept battling on well for second. All Too Soon settled near the tail of the field but made a quick move when the pace slackened to take the lead at the 600m. She then did well in holding on nicely to take the minor placing. Taikomochi went to the front as expected, slowed the place mid-race, was overtaken coming to the home turn, challenged again at the 200m and then kept battling on for (3.1 lengths) fourth.


FP

Horse
Age & Sex
Trainer
Jockey
WT
SP
14. GREY LION (IRE)
7yo Gelding
MATTHEW SMITH
KATHY O'HARA
53.0
$41.00
GALILEO (IRE) - GREY LILAS (IRE)

Oti Racing (Mgr: T Henderson), Gisburn Trading, Dr Ek Attebo, A Cree, J Higgins, P Bartholomew, D & Mrs D Miller, L Webb, Ms D McKeown, Ms M Webb, R Hanmer, W Bowker, B Danaher, J Spence, P McGrath, Three Hand Racing, Extreme Lion Synd (Mgr: Dm Foley) & Uthmeyer Racing

13. EMPEROR'S WAY (AUS)
5yo Gelding
P & P SNOWDEN
JAY FORD
53.0
$9.00
ROMAN EMPEROR (NZ) - LAYLIA (AUS)

G B Clark, V P Chau, R L Humberston, J M Saunders, J H Hezlett, M J McGrath, M J Watt, A Montebello, T R Moon & Triple Crown Syndications (Mgr: C H Ward)

17. ALL TOO SOON (AUS)
4yo Mare
DAVID PAYNE
TOMMY BERRY
53.0
$51.00
ALL TOO HARD (AUS) - GALLANT TESS (AUS)

J Cordina

4th
6. TAIKOMOCHI (AUS)
5yo Gelding
G WATERHOUSE & A BOTT
A HYERONIMUS
56.0
$21.00
5th
11. ABDON (GB)
6yo Gelding
CHRIS WALLER
COREY BROWN
53.0
$11.00
6th
9. OUR LIBRETTO (NZ)
5yo Mare
GRAHAME BEGG
DAMIAN LANE
54.0
$10.00
7th
3. MY NORDIC HERO (GB)
7yo Gelding
CHRIS WALLER
BLAKE SHINN
56.5
$15.00
8th
5. HARIPOUR (IRE)
5yo Gelding
CHRIS WALLER
HUGH BOWMAN
56.0
$3.50
9th
1. MOSS 'N' DALE (NZ)
6yo Gelding
PETER GELAGOTIS
KERRIN MCEVOY
59.0
$21.00
10th
2. LIBRAN (IRE)
8yo Gelding
CHRIS WALLER
BRENTON AVDULLA
58.0
$12.00
11th
7. MCCREERY (GB)
7yo Gelding
CHRIS WALLER
JAMES MCDONALD
55.5
$6.50
12th
15. GOATHLAND (IRE)
7yo Gelding
KIM WAUGH
JASON COLLETT
54.0
$13.00
13th
4. SEDANZER (AUS)
5yo Mare
G WATERHOUSE & A BOTT
TIM CLARK
56.0
$13.00
14th
10. I'M A PRINCESS (AUS)
5yo Mare
TONY MCEVOY
SAM CLIPPERTON
53.0
$26.00