Rotorua Cup, Group 3 : Arawa Park - 11th May 2019
Zacada wins Rotorua Cup Group 03 NZ$75,000 at Arawa Park, 2200m.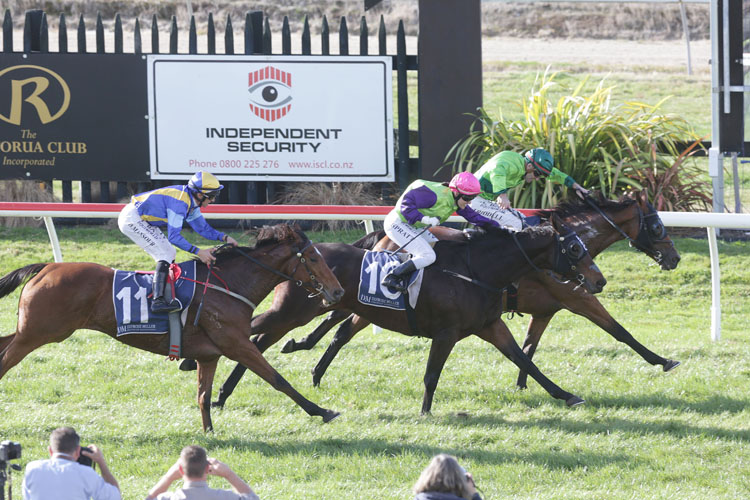 Zacada
bounced back from three indifferent runs in Sydney to land his fifth career win in dour fashion here. From an early last he improved to be midfield (rails) with a circuit to run, maintaining that position past the 1000m.

He gained on the leaders from the 600m and turning in switched back to the fence to narrowly take over the pace at the 250m. In a good battle, he gradually got the upper hand near the line, edging into the lead by a head for his second stakes win.

Gobstopper
sat second from the 1200m, took over at the 600m and led them in. He and the winner duked it out to just short of the line and was game in defeat.

Artiste
sat fourth (rails) at the 600m, was third at the top of the straight and kept trying the length of the straight for third from Roger That
, who was wide turning in and ran on fairly for a distant fourth.

| | |
| --- | --- |
| R5 ARAWA PARK | 11 May 2019 |
| Rotorua Cup , 2200m | PLAY REPLAY |
Race Synopsis: This G3 Open Handicap over 2200m drew a poor field and contained a lot of out of form runners too so was Listed level at best in reality. The winner Zacada had been outclassed badly in Australia prior for three runs in Sydney and had been outclassed in four runs last Spring in Melbourne too so he had not won a race all season until today. In fact Zacada last won a race in January of 2018 so today was a very long time between drinks and in ten runs this season had nine big flops and one second placing at Ellerslie to show. The track was a very tacky Slow8 and no winner came from too far away turning for home and too wide on the track with that clear bias staying in place all day. The inside lane or two was not a winning strip but a sweet spot of three-off to six-off maximum provided all the winners on a track that when it gets wetter always sees a mass migration to the outside fence lanes. The winners and where they turned for home in race order were led (one-off the inside and four lengths clear), fourth (five-off the inside and length and a half from the leader), third (four-off the inside and two lengths from the leader), third (six-off the inside and a length from the leader), fourth (one-off the inside and two lengths from the leader), second (three-off the inside and half a length from the leader), led (four-off the inside and a length ahead) and led (three-off and two lengths ahead). Zacada carrying topweight of 60kg settled back on the inner but kept improving closer in throughout the race to be seventh at the half way point then fifth across the top The rising 7yo turned for home fourth and came through one-off and was second at the 300m a width or so wider at this point before leading at the 100m. He has not won for so long the post would not come up it seemed as the rival he had headed, also a non-winner for a very long time, fought .back gamely. At the line Zacada won by a head in 2:17.35 to record just his fifth win from forty-three starts so he has never been a regular saluter at all with thirteen placings showing so and the fact he has been top five in almost half his career. Gobstopper ran a game race after sitting outside the leader and taking the front before the home turn then fighting tooth and nail to the line although to be fair he carried 6kg less than the winner. The rising 7yo also had last won a race in November of 2017 (the G3 NZ Cup over 3200m) and had missed badly and distantly in eight runs since then. Jumping g seems to have woken up this on pacer and he has a good leaping earn ahead if that is the path his stable chooses but that argument can be applied to Zacada too eventually as jumping may well be his final destination on the track regards paying his keep. Artiste had a soft run in the trail on the inner and worked off and through near the home turn to be second then fought on well from third at the 300m. She got her first piece of Blacktype so mission accomplished by her yard in that respect plus she has been super busy so is very durable. Today since December last year was staggeringly her twelfth run in basically six months and in that time she has won four times. Roger That ran a distant fourth and he has been there or thereabouts most of this season in Open Handicaps and since resuming in October to his credit has not finished worse that fourth in eight runs (including one win a Benchmark82). Another gap then came to Lady Shabeel noticed running on for fifth from ninth or tenth on settling, while Etah James at $42 was an unheralded big effort for sixth beaten just under seven lengths. The mare was wide third or fourth the entire race and should have dropped out distantly but kept boxing away in a show of one-paced stamina. Etah James was badly out of form and had last won a race in March of last year over 2600m in Adelaide with no placings or anywhere near it since. Giovanni Canaletto ran a better race when seventh but was beaten almost eleven lengths after getting well back and improving through near the home turn to be sixth as they straightened up. Hattie Bee the outsider at almost $50 ran on from last and is just a one-win mare so she showed the depth of this field was very poor indeed. ' The rest came home beaten thirteen lengths and up to almost twenty-one lengths. This was a race that saw some astounding flops like Jacksstar beating one home having won a G2 three starts ago but he clearly did not like the footing one iota and like many horses as they get older the wet ground becomes a pain bringer. Listed grade at best was this field and result and certainly a lot of future jumpers went around today based on performance and form.


FP

Horse
Age & Sex
Trainer
Jockey
WT
SP
1. ZACADA (NZ)
6yo Gelding
MURRAY BAKER
JONATHAN RIDDELL
60.0
$11.00
ZABEEL (NZ) - LACADA (AUS)

Andari Ltd, Sir Patrick & Lady Hogan

10. GOBSTOPPER (NZ)
6yo Gelding
ANDREW R CAMPBELL
SAM SPRATT
54.0
$17.00
TAVISTOCK (NZ) - BAGALOLLIES (AUS)

C D Allison, C V & J A Barnao, A R Campbell, T G Heptinstall, T M Pivac & D R Platt

11. ARTISTE (NZ)
5yo Mare
MURRAY BAKER
DONAVAN MANSOUR
53.0
$6.00
MASTERCRAFTSMAN (IRE) - MAIDJEU (NZ)

Est Late L I Redshaw

4th
7. ROGER THAT (NZ)
6yo Gelding
ANTONY FULLER
TRUDY THORNTON
55.0
$8.00
5th
13. LADY SHABEEL (NZ)
5yo Mare
IAIN KENNEDY
SAMANTHA COLLETT
53.0
$21.00
6th
9. ETAH JAMES (NZ)
6yo Mare
MARK LUPTON
SHAUN M MC KAY
54.0
$41.00
7th
4. GIOVANNI CANALETTO (IRE)
7yo Gelding
LANCE O'SULLIVAN & ANDREW SCOTT
CRAIG GRYLLS
58.0
$13.00
8th
14. HATTIE BEE (AUS)
3yo Filly
EMMA-LEE & DAVID BROWNE
C DELL
53.0
$51.00
9th
8. AZABOY (NZ)
4yo Gelding
RICHARD COLLETT
A CALDER
54.5
$4.00
10th
2. HIGHLAD (AUS)
5yo Gelding
MURRAY BAKER
OPIE BOSSON
59.0
$7.50
11th
12. BALHAM (NZ)
8yo Gelding
DAVID & EMMA HAWORTH
LYNSEY SATHERLEY
53.0
$51.00
12th
6. WOODSMAN (NZ)
7yo Gelding
TONY GILLIES
ANNA JONES
55.5
$41.00
13th
3. JACKSSTAR (NZ)
7yo Gelding
G VILE
CHRIS JOHNSON
58.5
$9.00
14th
5. HE'S CAVALIER (NZ)
7yo H
JAMES HATTON
REBECCA SCOTT
56.5
$26.00