Yulonginvest.Com.Au Bel Esprit, Listed : Caulfield - 13th April 2019
Miss Leonidas wins Yulonginvest.Com.Au Bel Esprit Listed $140,000 at Caulfield, 1100m.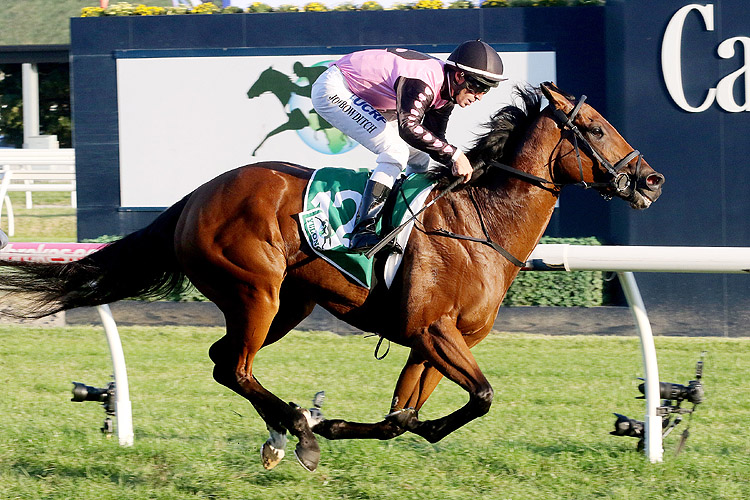 Miss Leonidas
was somewhat of a surprise winner but it was a good effort nevertheless.

She showed very good pace to lead, set quite a good tempo and then fought back strongly under her minimum weight (54kg) to win well, her first stakes success and her fourth win in 11 starts.

I Am Someone
enjoyed a good trip in fourth place on the rails, moved up nicely at the home turn and kept battling on well to take second nearing the post.

The favourite Eduardo
began well and settled outside the leader and eventual winner. He challenged on straightening and kept fighting for third after seeming to have had every chance.

R8 CAULFIELD

13 April 2019

Yulonginvest.Com.Au Bel Esprit , 1100m
FP

Horse
Age & Sex
Trainer
Jockey
WT
SP
12. MISS LEONIDAS (AUS)
4yo Mare
SHAUN DWYER
JOE BOWDITCH
54.0
$21.00
I AM INVINCIBLE (AUS) - HAPPY PLAY (AUS)

P E McLean, A E McLean, Mrs S L Lichti, M A Fletcher, T C Eddy, N W Humphreys, M A Weaver, V B Delahunty, T D Horsley, D J Lewis, S Hyatt, D Spedding, Est D R Patterson, P M Dearaugo, R J Wild, M Stubbings & J P Gallagher

10. I AM SOMEONE (AUS)
4yo Gelding
PAUL PREUSKER
DEAN HOLLAND
54.0
$17.00
ONEMORENOMORE (AUS) - VANITY SKY (AUS)

B N Scott, R Vinci, G Pittorini, R Bavcevic & A Werjuntina

3. EDUARDO (AUS)
5yo Gelding
SARAH ZSCHOKE
BRIAN PARK
59.0
$1.90
HOST (CHI) - BLUSHING (AUS)

N Cresci & Miss J Kaufmann

4th
9. CREATIVITY (AUS)
5yo Mare
CRAIG WIDDISON
STEPHANIE THORNTON
54.0
$21.00
5th
2. BONS AWAY (AUS)
5yo Gelding
C MAHER & D EUSTACE
LINDA MEECH
59.5
$4.25
6th
11. REDCORE (AUS)
4yo Gelding
GREG EURELL
MICHAEL POY
54.0
$51.00
7th
1. MALIBU STYLE (AUS)
7yo Gelding
NEVILLE PARNHAM
BEN ALLEN
60.0
$26.00
8th
8. MILWAUKEE (AUS)
5yo Gelding
MICHAEL MORONEY
MS NIKITA BERIMAN
54.0
$13.00
9th
7. DEMONSTRATE (AUS)
6yo Gelding
A & J WILLIAMS
CRAIG NEWITT
54.0
$61.00
10th
4. THERMAL CURRENT (AUS)
8yo Gelding
MATHEW ELLERTON & SIMON ZAHRA
ANDREW MALLYON
58.0
$26.00
11th
6. DESERT LASHES (AUS)
5yo Mare
TONY MCEVOY
LUKE CURRIE
55.5
$11.00
12th
5. INTELLIGENCE CROSS (USA)
5yo H
MATTHEW WILLIAMS
DAMIEN THORNTON
57.5
$101.00