2017 King's Stand Stakes: Race History and Market
The 2017 King's Stand Stakes run at Royal Ascot on Tuesday is a race which only became a Group One recently.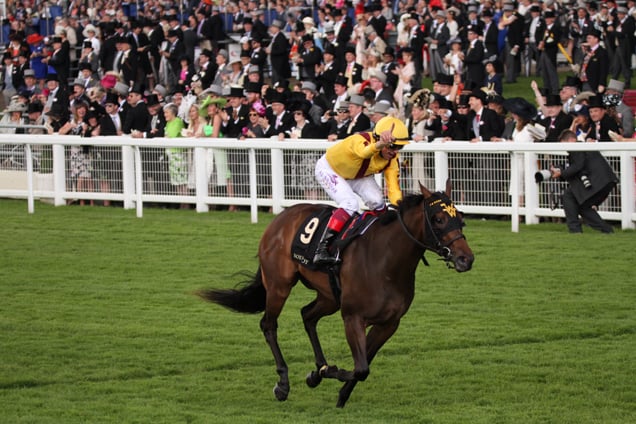 Lady Aurelia
won at Royal Ascot last year by seven lengths so will be well liked at $4 in the 2017 King's Stand Stakes (1000m) at Royal Ascot on Tuesday.
2017 KING'S STAND STAKES – MARKET
$4: Lady Aurelia
$4: Marsha
$7: Signs Of Blessing
$10: Goldream
$15: Priceless
*All others quoted at $15 or greater in full market.
2017 KING'S STAND STAKES - RACE HISTORY AND BACKGROUND
Royal Ascot's short course sprint was first run in 1860. After some name changes and regradings it was put back in as the King's Stand Stakes and was once again a Group One in 2008.
In 2005 it became part of the Global Sprint Challenge for races run around the world open to horses of all countries. Some famous winners that Australian breeding will recall include Godswalk, Last Tycoon, Bluebird, Piccolo and Pivotal.
However Australia's interest in the race probably really began in 2003 when the SARS virus stopped Newcastle colt Choisir running in the Krisflyer Sprint in Singapore.
So he diverted to England and was set for the two major sprints over the Royal meeting. Running in both is not that usual these days leave alone winning them.
Ridden by Johnny Murtagh and forced to carry the penalty for being a G1 winner, he was sent out 25-1 and showed tremendous pace early. He crossed to the stands rail and got many off the bit from the beginning.
Despite some of the main chances like Acclamation and Oasis Dream (who would conquer him in the July Cup at Newmarket) making late ground, he scored a famous win, surprising many including BBC commentator Willie Carson who couldn't believe it.
Four days later he would come from a wide gate and gradually work down to the stands rail again for Murtagh to hold off talented filly Airwave in the Golden Jubilee.
The Aussies struck again in 2006. Joe Janiak was a taxi driver from Queanbeyan who bought a Celtic Swing gelding from the sales for about $1,500.
Previously with John Morish, Takeover Target rushed through the grades, winning a Salinger, Lightning and Newmarket Hcp at G1 over an 18 month period before heading to England in fine form.
With regular rider Jay Ford up he sat just off the pace and was produced at the right time to just hold off Benbaun, creating mayhem at Ascot.
Only 12 months later Lee Freedman realized a dream when his wonder mare Miss Andretti hurtled up the middle of Ascot to score a devastating win. She was in as good a form as Takeover Target was leading into 2006 coming off three straight G1 wins.
Craig Newitt knew he was on the right horse but importantly she was drawn wide and the far side rail was the better place to come down.
She took off at the 500m and surged away to break the then course record as Dandy Man rattled down the near side.
Miss Andretti was an ex Western Australian mare but Scenic Blast was trained there full time. He was placed in a famous Caulfield Guineas to Weekend Hussler but after some issues came right at four.
He used the Lightning Stks and Newmarket Hcp as others before him did and was equally as impressive in them.
Being so good fresh this was set up for him and he dazzled under top rider Steve Arnold. Sitting worse than midfield, Arnold brought him widest and from the 600 to the 200 he made up possibly eight lengths to hit the front.
That mid race pace is something the European horses aren't used to as they traditionally like to 'stay on', hitting the line hard whereas Antipodean horses sprint hard to establish a lead and hang on.
2016 saw Profitable sit near the speed much of the way and continue his grand sprinting form that summer. It was a battle up the straight but he held on.
PROFILING THE RACE OVER RECENT YEARS
o Race became a Group One in 2008.
o Australia has had 17 runners since 2003 for 4 x wins, 2 x seconds, 1 x third and 3 x fourths.
o Vincent O'Brien holds the record with five wins as a trainer.
o Lester Piggott has the jockey's history with seven wins.
o Winners have come from all ages from 7yo to 3yo.
o Not that many favourites have saluted with Miss Andretti the shortest at 3-1.
o Winner's Lead Up Races - Prix Du Gros-Chene (2), Sha Tin Sprinters Cup (1), Temple Stks (4), Spell (2), Palace House Stks (1)
R3 GB - ASCOT

20 June 2017

King's Stand Stakes (Group 1) (British Champions Series) 3U C1, 1005m