2018 Australian Derby Group 1 April 7 - Randwick
Levendi wins 2018 Australian Derby Group 1 $2,000,000 at Randwick (NSW), 2400m.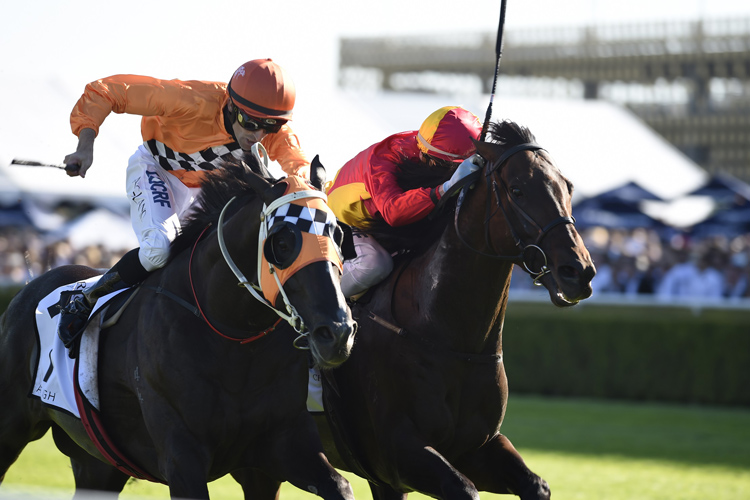 Peter Galagotis-trained colt Levendi
followed his game winlast week in the Tulloch Stakes (Gr 2, 2000m) at Rosehill when havinghis first start in Sydney, to take out this highly regarded race in similargutsy fashion.

He settled in eighth place, one off the rails, fanned deeprounding the home turn, challenged strongly on passing the 200m andfought best to score by the barest of margins. He then also survived aprotest from the runner-up.

The Victoria Derby (Gr 1, 2500m) winner Ace High
had a good trip in sixth place, moved up well approaching the hometurn, got to the front at the 200m and then battled gamely for a closesecond, subsequently protesting unsuccessfully against the winner.

Chris Waller-trained colt Tangled
raced near the tail of the 18-horsefield, saved ground between runners rounding the home turn, got to fifthat the 200m and kept battling on well along the inner to take a good third,albeit beaten almost six lengths.

R7 RANDWICK

7 April 2018

Australian Derby 3 , 2400m
Race Synopsis: Peter Galagotis-trained colt Levendi followed his game win last week in the Tulloch Stakes (Gr 2, 2000m) at Rosehill when having his first start in Sydney, to take out this highly regarded race in similar gutsy fashion. He settled in eighth place, one off the rails, fanned deep rounding the home turn, challenged strongly on passing the 200m and fought best to score by the barest of margins. He then also survived a protest from the runner-up. The Victoria Derby (Gr 1, 2500m) winner Ace High had a good trip in sixth place, moved up well approaching the home turn, got to the front at the 200m and then battled gamely for a close second, subsequently protesting unsuccessfully against the winner. Chris Waller-trained colt Tangled raced near the tail of the 18-horse field, saved ground between runners rounding the home turn, got to fifth at the 200m and kept battling on well along the inner to take a good third, albeit beaten almost six lengths.


FP

Horse
Age & Sex
Trainer
Jockey
WT
SP
6. LEVENDI (AUS)
4yo H
PETER GELAGOTIS
MARK ZAHRA
56.5
$6.00
PIERRO (AUS) - LIPARI (AUS)

E Gelagotis, B M & W Racing, Grants Racing, B Micalizzi, S Lewin, M Howell, L Howell, Superfly Syndicate, L Osman, R Osman, Dr P Stevens, M Answerth, D Barbuto, W Morris, B Carter, Ms K Brown, D Cacciola & M Stevens

1. ACE HIGH (AUS)
4yo H
DAVID PAYNE
TYE ANGLAND
56.5
$5.00
HIGH CHAPARRAL (IRE) - COME SUNDAY (AUS)

Summertime Thoroughbreds (Mgr: J Cordina)

Jan 16, 2016 Gold Coast Yearling Sale, Wellington NSW, $130000, PAYNE RACING, new south wales

3. TANGLED (AUS)
4yo Gelding
CHRIS WALLER
MICHAEL WALKER
56.5
$26.00
SNITZEL (AUS) - BRAMBLE ROSE (NZ)

N A Greenhalgh, Mrs M T Greenhalgh, R Smith, I Bruce, F W Mitchell, I M Lilburne, Ms E M Weston, R L McKay, Henry Field Bloodstock Pty Ltd (Mgr: H A Field), Horse Ventures (Mgr: M B Sandblom) & McEnnis Racing Pty Ltd (Mgr: M Ennis)

4th
2. VIN DE DANCE (NZ)
4yo Gelding
MURRAY BAKER & ANDREW FORSMAN
JASON WADDELL
56.5
$9.00
5th
16. MAIN STAGE (NZ)
4yo Gelding
TRENT BUSUTTIN & NATALIE YOUNG
BLAKE SHINN
56.5
$26.00
6th
8. FURORE (NZ)
4yo Gelding
KRIS LEES
BRENTON AVDULLA
56.5
$5.00
7th
4. MONGOLIANCONQUEROR (NZ)
4yo Gelding
S AUTRIDGE & J RICHARDS
OPIE BOSSON
56.5
$12.00
8th
15. MONGOLIAN MARSHAL (NZ)
4yo Gelding
MURRAY BAKER & ANDREW FORSMAN
CRAIG WILLIAMS
56.5
$51.00
9th
10. WEATHER WITH YOU (AUS)
4yo Gelding
MURRAY BAKER & ANDREW FORSMAN
JASON COLLETT
56.5
$21.00
10th
17. CONDOR (AUS)
4yo H
PAUL PERRY
CRAIG NEWITT
56.5
$151.00
11th
13. ENDOWMENT (NZ)
4yo Gelding
C W GIBBS
DAMIEN OLIVER
56.5
$67.00
12th
14. ENRICHMENT (AUS)
4yo Gelding
TRENT BUSUTTIN & NATALIE YOUNG
KERRIN MCEVOY
56.5
$13.00
13th
12. MISSION HILL (AUS)
4yo Gelding
MURRAY BAKER & ANDREW FORSMAN
DAMIAN LANE
56.5
$12.00
14th
5. CAPITAL GAIN (AUS)
4yo Gelding
PAUL BUTTERWORTH
BEN MELHAM
56.5
$101.00
15th
9. SALSAMOR (NZ)
4yo H
TRENT BUSUTTIN & NATALIE YOUNG
ZAC PURTON
56.5
$21.00
16th
18. PISSARO (AUS)
4yo Gelding
ROBBIE LAING
SAM CLIPPERTON
56.5
$301.00
17th
7. ASTORIA (AUS)
4yo Gelding
JAMES CUMMINGS
GLYN SCHOFIELD
56.5
$21.00
18th
11. THE LORD MAYOR (NZ)
4yo Gelding
CHRIS WALLER
COREY BROWN
56.5
$101.00