2018 Grafton Cup: First home for First Crush
Confirming his run of form in Queensland, First Crush toughed it out to score in the 2018 Grafton Cup at Grafton on Thursday.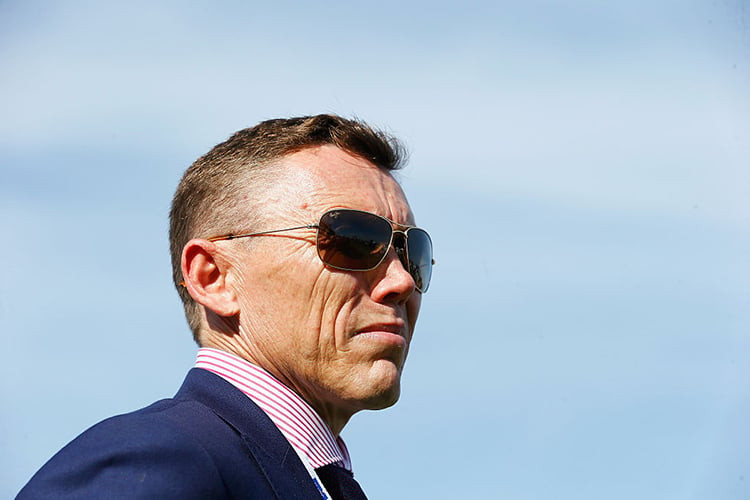 First Crush
had to make a long run, come wide and still had the temerity to draw away late.
Chris Munce joined Maurice McCarten as a jockey and trainer winner of the Grafton Cup.
"First Crush in front, First Crush wins the Cup!"
After sustaining a tough run, First Crush keeps lifting under @plessis_mark and gives @MunceC his first Grafton Cup as a trainer after winning it twice a jockey. @clarenceriverjc pic.twitter.com/JyvbNFK40o

— Sky Racing (@SkyRacingAU) July 12, 2018
An emotional win for @MunceC as he adds to his Grafton Cup's as a jockey with a Cup as a trainer. Greg Radley caught up with him after the win of First Crush and he paid tribute to owner Max Whitby and his hard working stable. pic.twitter.com/ZrP82F4OfJ

— Sky Racing (@SkyRacingAU) July 12, 2018
R7 GRAFTON

12 July 2018

Grafton Cup 3U , 2350m
Race Synopsis: Chris Munce-trained stayer First Crush followed recent seconds in the Ipswich Cup (Listed, 2150m) and the Caloundra Cup (Listed, 2400m) with a good win here. He settled well back in 12th place in the 16-horse field before commencing a wide move from the 600 metres. He hit the front (wide out) at the 100m before going on to score well by a length at the post. The $101 outsider Winkler raced in eighth place, moved up deep rounding the home turn, challenged at the 100m and battled on to take second in a photo from the late-closing favourite Reneged who came from tenth at the home turn with a wide run to grab third in the final strides.


FP

Horse
Age & Sex
Trainer
Jockey
WT
SP
4. FIRST CRUSH (AUS)
7yo Gelding
CHRIS MUNCE
MARK DU PLESSIS
55.5
$4.25
HUSSON (ARG) - LOVING NEW (BRZ)

Whitby Bloodstock (Mgr: M J Whitby) & Mrs J Moses

19. WINKLER (NZ)
5yo Gelding
JOHN EVERSON
JASON TAYLOR
55.0
$101.00
RIP VAN WINKLE (IRE) - ANNE CARINA (NZ)

Mrs V J Everson & Mrs S E Logan

11. RENEGED (AUS)
6yo Gelding
JOHN P THOMPSON
CRAIG NEWITT
55.0
$3.50
MOSSMAN (AUS) - HUSSYANNA (AUS)

J O'Neill, N Rance, Power Thoroughbreds (Mgr: W Power), Chow Bella (Mgr: G Harding), G Zuker, G Schlecht, H Gibson, G Delane, O Symonds, G Symonds & J Thompson

4th
10. MISS DUBOIS (NZ)
8yo Mare
MATTHEW DUNN
JIM BYRNE
55.0
$13.00
5th
13. FUERZA (AUS)
8yo Gelding
TRACY TIMBERY
BEAU APPO
55.0
$101.00
6th
1. MONTAUK (AUS)
6yo Gelding
CHRIS WALLER
M MCNAB
58.0
$10.00
7th
8. CHILLIN WITH DYLAN (AUS)
7yo Gelding
BEN AHRENS
MICHAEL CAHILL
55.0
$13.00
8th
7. TUMULTUOUS (AUS)
5yo Gelding
CHRIS WALLER
GLEN COLLESS
55.0
$21.00
9th
18. LATINO LOVER (AUS)
5yo Gelding
ETHAN ENSBY
ROBERT THOMPSON
55.0
$101.00
10th
9. LOVING HOME (GB)
8yo Gelding
TESS WILKES
M MCGUREN
55.0
$61.00
11th
6. ALL IN VOGUE (NZ)
6yo Mare
BARRY LOCKWOOD
ANTHONY ALLEN
55.0
$21.00
12th
17. HUSONIQUE (AUS)
7yo Gelding
LESLEY JEFFRIESS
PETER GRAHAM
55.0
$101.00
13th
12. COLLABORATION (GB)
8yo Gelding
MS J HARDY
LAURA CHESHIRE
55.0
$101.00
14th
2. JUMBO PRINCE (AUS)
7yo H
MICHAEL NOLAN
RON STEWART
57.5
$5.00
15th
15. JACK STRIKES BACK (AUS)
8yo Gelding
NEVILLE STEWART
OLIVIA PICKERING
55.0
$61.00
16th
16. CUT THE MUSTARD (AUS)
5yo Mare
MELANIE O'GORMAN
MS R MURRAY
55.0
$31.00