2018 Irresistible Pools Sheraco Stk Group 2 September 8 - Rosehill
Invincibella wins 2018 Irresistible Pools Sheraco Stk Group 2 $200,000 at Rosehill (NSW), 1200m.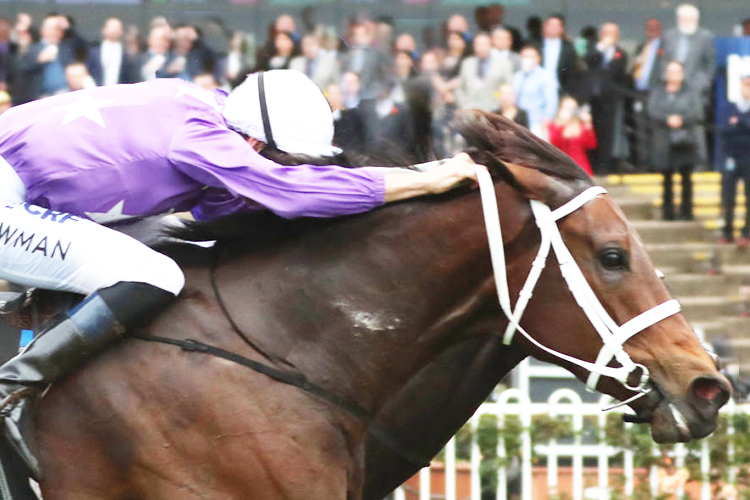 Winner of the Dane Ripper Stakes (Gr 2, 1350m) at Doomben in June, Invincibella
scored a very narrow but good first-up win here. She settled back in ninth place, before improving (wide with cover) from the 600m. She moved up well coming to the 200m and then fought best to score by a short-half-head at the post.

Noire
settled back in third last place in the 12-horse field, commenced a wide move at the 200m and ran on strongly for a close second in a smart first-up effort.

The favourite Champagne Cuddles
was quickly away, settled in second place on the rails, moved up coming to the 600m, took the lead at the 300m, looking the winner, only to be overhauled in the closing stages to dead-heat for third in a good first-up run.

Magic Alibi
had a good trip in fifth place on the rails, was in a challenging position at the 200m and then battled on well to dead-heat for third.

Perizada
raced in eighth place on the rails, made ground to be handily placed at the 200m and did well in running (2.7 lengths) fifth, resuming here.

The top weight (58kg) Daysee Doom
began well but was caught wide from her outside barrier (14) racing in fourth place and she did very well in holding on for (4.2 lengths) sixth after a difficult trip.

R7 ROSEHILL

8 September 2018

Sheraco Stakes 3UFM , 1200m
Race Synopsis: Winner of the Dane Ripper Stakes (Gr 2, 1350m) at Doomben in June, Invincibella scored a very narrow but good first-up win here. She settled back in ninth place, before improving (wide with cover) from the 600m. She moved up well coming to the 200m and then fought best to score by a short-half-head at the post. Noire settled back in third last place in the 12-horse field, commenced a wide move at the 200m and ran on strongly for a close second in a smart first-up effort. The favourite Champagne Cuddles was quickly away, settled in second place on the rails, moved up coming to the 600m, took the lead at the 300m, looking the winner, only to be overhauled in the closing stages to dead-heat for third in a good first-up run. Magic Alibi had a good trip in fifth place on the rails, was in a challenging position at the 200m and then battled on well to dead-heat for third. Perizada raced in eighth place on the rails, made ground to be handily placed at the 200m and did well in running (2.7 lengths) fifth, resuming here. The top weight (58kg) Daysee Doom began well but was caught wide from her outside barrier (14) racing in fourth place and she did very well in holding on for (4.2 lengths) sixth after a difficult trip.


FP

Horse
Age & Sex
Trainer
Jockey
WT
SP
3. INVINCIBELLA (AUS)
5yo Mare
CHRIS WALLER
HUGH BOWMAN
56.0
$9.00
I AM INVINCIBLE (AUS) - ABSCOND (AUS)

F A Kennedy, Mrs B Kennedy, Paramount Racing (Mgr: Ms K M Wood), A Grant-Taylor, M Stiff, M A Birchall, Miss C Birchall, R West, P & S Glenney & S McKee Racing (Mgr: Mrs P L Glenney), R B Aurisch, Mrs H Aurisch & Boeara Holdings (Mgr: Ms D A Dunphy)

Jan 15, 2015 Gold Coast Yearling Sale, Scone, $185000, Star Thoroughbreds, NSW

10. NOIRE (AUS)
5yo Mare
CHRIS WALLER
TOMMY BERRY
54.0
$8.00
FOXWEDGE (AUS) - VALADON (AUS)

K B Farrell, Ms L M Farrell, P & S Glenney & S McKee Racing (Mgr: Mrs P L Glenney), A E Richmond, R B T Aurisch, Dr E T Hodgson, D M McLeish, Mrs M M McLeish, Boeara Holdings (Mgr: Ms D A Dunphy) & The Estate Of The Late D K Dong

Apr 15, 2015 Australian Easter Yearling Sale, Darling Downs Qld, $135000, Star Thoroughbreds, NSW

6. CHAMPAGNE CUDDLES (AUS)
4yo Mare
BJORN BAKER
JAMES MCDONALD
55.0
$2.63
NOT A SINGLE DOUBT (AUS) - SKY CUDDLE (AUS)

Champagne Ladies (Mgr: Mrs M J Hardy)

Jan 16, 2016 Gold Coast Yearling Sale, Scone NSW, Psd $180,000 Res $200,000

13. MAGIC ALIBI (AUS)
6yo Mare
GERALD RYAN
JAY FORD
54.0
$51.00
STAR WITNESS (AUS) - THIS MAGIC MOMENT (AUS)

Laing Racing (Mgr: A Laing), M Notaras, B Fotopoulos, K Meier, Ms J A Jensen, B M Hamilton, J Brisco-Hough, A Locantro, S J Cameron, D R Morris, S A Eaton, B N Grant & D R Shepherd

5th
12. PERIZADA (AUS)
7yo Mare
R WESTON & J NISBET
CHRISTIAN REITH
54.0
$21.00
6th
1. DAYSEE DOOM (AUS)
6yo Mare
R J QUINTON
ANDREW ADKINS
58.0
$8.00
7th
11. MEMES (AUS)
5yo Mare
JASON COYLE
MS RACHEL KING
54.0
$41.00
8th
4. EGYPTIAN SYMBOL (AUS)
6yo Mare
BJORN BAKER
JASON COLLETT
55.5
$13.00
9th
8. ECKSTEIN (AUS)
5yo Mare
KURT GOLDMAN
COREY BROWN
55.0
$13.00
10th
5. RAIMENT (AUS)
5yo Mare
JAMES CUMMINGS
GLYN SCHOFIELD
55.5
$21.00
11th
2. FORMALITY (AUS)
4yo Mare
D & B HAYES & T DABERNIG
KERRIN MCEVOY
57.0
$12.00
12th
7. ZESTFUL (AUS)
6yo Mare
KRIS LEES
BRETT PREBBLE
55.0
$26.00