2018 J.J. Atkins Group 1 June 9 - Doomben
The Autumn Sun wins 2018 J.J. Atkins Group 1 $600,000 at Doomben (QLD), 1600m.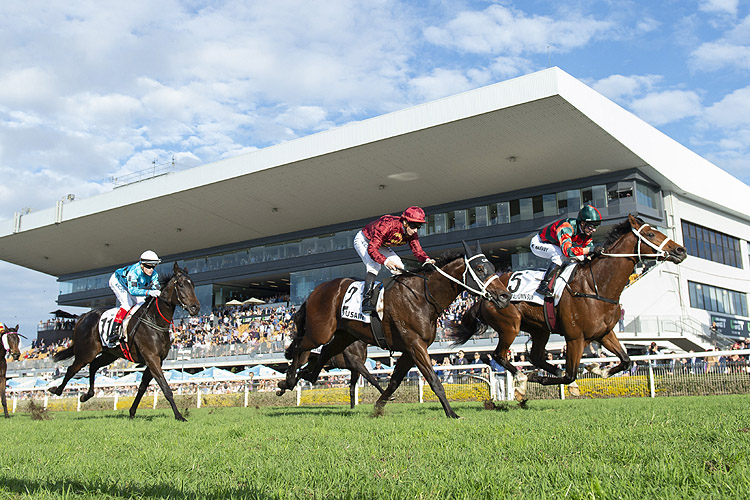 The Autumn Sun
remains unbeaten after three starts, quicklyadvancing to take out this Group One feature impressively. He settledback in ninth place, improved (wide with cover) from the 800m but wasstill conceding the leaders about six lengths as he fanned deep at thehome turn. He then put in strong run (in the centre of the track) andfinished far too well to score by a neck, going away. He is a talented coltwith a very bright future.

His Chris Waller-trained stablemate Zousain
raced in seventh place, tracked up (wide with cover) nearing the 600m,got through to challenge at the 200m and after hitting the front briefly atthe 100m, fought really well for a very good second.

Lindsay Park-trainedfilly Fundamentalist
raced in fifth place (between runners), moved up atthe home turn, challenged at the 200m and did very well in fighting on forthird in a good performance in this class.

Sesar
settled near the tail of the14-horse field, was still well back before going deep on straightening. Hethen kept running on very well to take (2.1 lengths) fourth, in a really goodeffort stepping up to 1600m here.

R6 DOOMBEN

9 June 2018

J.J. Atkins 2 , 1600m
Race Synopsis: The Autumn Sun remains unbeaten after three starts, quickly advancing to take out this Group One feature impressively. He settled back in ninth place, improved (wide with cover) from the 800m but was still conceding the leaders about six lengths as he fanned deep at the home turn. He then put in strong run (in the centre of the track) and finished far too well to score by a neck, going away. He is a talented colt with a very bright future. His Chris Waller-trained stablemate Zousain raced in seventh place, tracked up (wide with cover) nearing the 600m, got through to challenge at the 200m and after hitting the front briefly at the 100m, fought really well for a very good second. Lindsay Park-trained filly Fundamentalist raced in fifth place (between runners), moved up at the home turn, challenged at the 200m and did very well in fighting on for third in a good performance in this class. Sesar settled near the tail of the 14-horse field, was still well back before going deep on straightening. He then kept running on very well to take (2.1 lengths) fourth, in a really good effort stepping up to 1600m here.


FP

Horse
Age & Sex
Trainer
Jockey
WT
SP
5. THE AUTUMN SUN (AUS)
3yo Colt
CHRIS WALLER
KERRIN MCEVOY
57.0
$4.00
REDOUTE'S CHOICE (AUS) - AZMIYNA (IRE)

Arrowfield Pastoral Pty Ltd (Mgr: J Messara) & Hermitage (Mgr: O A Koolman)

2. ZOUSAIN (AUS)
3yo Colt
CHRIS WALLER
JAMES MCDONALD
57.0
$6.00
ZOUSTAR (AUS) - PASAR SILBANO (IRE)

Qatar Bloodstock Ltd (Mgr: D Redvers), J M Simmons, Ms S M Fitzgerald, M Phillips, Mrs L Phillips, Wheninrome6 (R McEvoy), Three Hooks Seafood (F Giuffre), R A Pegum, Widden Stud Pty Ltd (A Thompson), Glenlogan Park (J M Haseler), Supido Pty Ltd (G W Evers) & Rifa Mustang (Ms Y Hu)

11. FUNDAMENTALIST (AUS)
3yo Filly
D & B HAYES & T DABERNIG
CRAIG WILLIAMS
55.0
$5.00
NOT A SINGLE DOUBT (AUS) - CENTAFAITH (AUS)

Aquis Farm (Mgr: S J McGrath), Teahouse (Mgr: W K Heritage), T J Renfrey, Baringo (Mgr: B J Barwick) & Mermen (Mgr: M L Lacy)

4th
4. SESAR (AUS)
3yo Colt
STEVEN O'DEA
DAMIAN LANE
57.0
$13.00
5th
7. HOME GROUND (AUS)
3yo Gelding
J G SARGENT
TRAVIS WOLFGRAM
57.0
$67.00
6th
6. GRIM REAPER (AUS)
3yo Gelding
STEVEN O'DEA
BRENTON AVDULLA
57.0
$51.00
7th
12. PLUMARO (AUS)
3yo Filly
KEVIN KEMP
TIM CLARK
55.0
$9.00
8th
13. MISS SARA (AUS)
3yo Filly
LES ROSS
RYAN WIGGINS
55.0
$151.00
9th
14. SIZZLING ACE (AUS)
3yo Filly
TOBY EDMONDS
GLYN SCHOFIELD
55.0
$9.00
10th
3. BOOMSARA (AUS)
3yo Gelding
CHRIS MUNCE
MATTHEW MC GILLIVRAY
57.0
$17.00
11th
1. LEAN MEAN MACHINE (AUS)
3yo Colt
CHRIS WALLER
COREY BROWN
57.0
$7.00
12th
10. PEPPI LA FEW (AUS)
3yo Gelding
LIAM BIRCHLEY
DAMIAN BROWNE
57.0
$101.00
13th
8. CHAMPAGNE GARDEN (AUS)
3yo Gelding
J W ZIELKE
MS T HARRISON
57.0
$151.00
14th
9. HOME MADE (AUS)
3yo Gelding
J G SARGENT
MARK ZAHRA
57.0
$151.00