2018 Queensland Derby Group 1 June 9 - Doomben
Dark Dream wins 2018 Queensland Derby Group 1 $600,000 at Doomben (QLD), 2200m.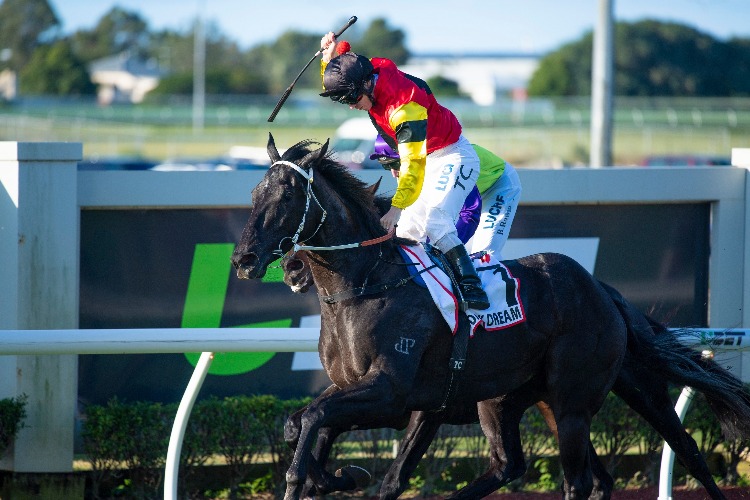 Favourite, the Kerry Parker-trained gelding Dark Dream
Dream, recent winner of the Rough Habit Plate (Gr 3, 2000m) here on 12 May, again staged a strong staying effort in taking this Group One feature. He raced in sixth place, one off the rails, before moving up well (deep) coming to the 600m. He challenged at the 200m and finished a bit too well to score by a short neck at the post.

Darren Weir-trained Heavenly Thought
Thought, winner of the Grand Prix (Gr 3, 2200m) here on 26 May, had a nice trip from his inside barrier (1) in third spot on the rails, got along the inner to hit the front on straightening and then fought gamely for a very good second.

Queensland Oaks (Gr 1, 2200m) winner Youngstar
again settled well back and remained near the tail of the 16-horse field before going deep on turning for home. She then responded with a very late finish for an eye-catching third.

Augustus
raced in seventh place, improved nicely behind the leaders approaching the home turn, was third on straightening and kept battling on nicely for (3.2 lengths) fourth.

R7 DOOMBEN

9 June 2018

Queensland Derby 3 , 2200m
Race Synopsis: Favourite, the Kerry Parker-trained gelding Dark Dream, recent winner of the Rough Habit Plate (Gr 3, 2000m) here on 12 May, again staged a strong staying effort in taking this Group One feature. He raced in sixth place, one off the rails, before moving up well (deep) coming to the 600m. He challenged at the 200m and finished a bit too well to score by a short neck at the post. Darren Weir-trained Heavenly Thought, winner of the Grand Prix (Gr 3, 2200m) here on 26 May, had a nice trip from his inside barrier (1) in third spot on the rails, got along the inner to hit the front on straightening and then fought gamely for a very good second. Queensland Oaks (Gr 1, 2200m) winner Youngstar again settled well back and remained near the tail of the 16-horse field before going deep on turning for home. She then responded with a very late finish for an eye-catching third. Augustus raced in seventh place, improved nicely behind the leaders approaching the home turn, was third on straightening and kept battling on nicely for (3.2 lengths) fourth.


FP

Horse
Age & Sex
Trainer
Jockey
WT
SP
1. DARK DREAM (AUS)
4yo Gelding
KERRY PARKER
TIM CLARK
57.0
$4.25
ALL AMERICAN (AUS) - BUCHANAN GIRL (AUS)

Albert Hung Chao Hong

2. HEAVENLY THOUGHT (AUS)
4yo Gelding
DARREN WEIR
BRAD RAWILLER
57.0
$8.00
SO YOU THINK (NZ) - GOD LOVE IT (AUS)

Mr & Mrs Patrick Lau Tak Wai And William Lau Man Yuen

16. YOUNGSTAR (AUS)
4yo Mare
CHRIS WALLER
KERRIN MCEVOY
55.0
$6.50
HIGH CHAPARRAL (IRE) - STARSPANGLED (IRE)

Unifaith Bloodstock (Mgr: A J Koolman), Archer Racing (Mgr: A A Inglis), Mrs C J Inglis, Mrs J Minahan, G Minahan, R Atra, Mrs C M A Atra, P C Shadbolt, Mrs K J Shadbolt, J K Sheather & Mrs K P Sheather

4th
13. AUGUSTUS (AUS)
4yo Gelding
CHRIS WALLER
BRENTON AVDULLA
57.0
$101.00
5th
4. MAHAMEDEIS (AUS)
4yo Gelding
NICK RYAN
JAMES WINKS
57.0
$21.00
6th
5. REZEALIENT (AUS)
4yo Gelding
D & B HAYES & T DABERNIG
JAMIE KAH
57.0
$51.00
7th
11. LUCKY FOR ALL (NZ)
4yo Gelding
DARREN WEIR
DAMIAN LANE
57.0
$4.50
8th
8. SUN MARSHAL (AUS)
4yo Gelding
G WATERHOUSE & A BOTT
MARK ZAHRA
57.0
$13.00
9th
10. TASHIDELEK (AUS)
4yo Gelding
CHRIS WALLER
BEN MELHAM
57.0
$151.00
10th
12. MEROVEE (AUS)
4yo H
CHRIS WALLER
BLAKE SHINN
57.0
$31.00
11th
14. BANNER SEASON (AUS)
4yo Gelding
KRIS LEES
J LLOYD
57.0
$41.00
12th
15. TURNBERRY (AUS)
4yo Gelding
KRIS LEES
DAMIAN BROWNE
57.0
$151.00
13th
7. LIVE AND FREE (NZ)
4yo Gelding
JOHN O'SHEA
JAMES MCDONALD
57.0
$5.50
14th
17. CAPTIVATOR (AUS)
4yo Gelding
L D KELLY
LEITH INNES
57.0
$201.00
15th
6. CALIFORNIA TURBO (AUS)
4yo Gelding
P & P SNOWDEN
COREY BROWN
57.0
$101.00
16th
9. WON WON TOO (NZ)
4yo Gelding
D & B HAYES & T DABERNIG
JIM BYRNE
57.0
$101.00