2018 Winning Edge 121st Winter Cup Group 3 August 6 - Riccarton Park
Platinum Command wins 2018 Winning Edge 121st Winter Cup Group 3 NZ$100,000 at Riccarton Park (NZ) , 1600m.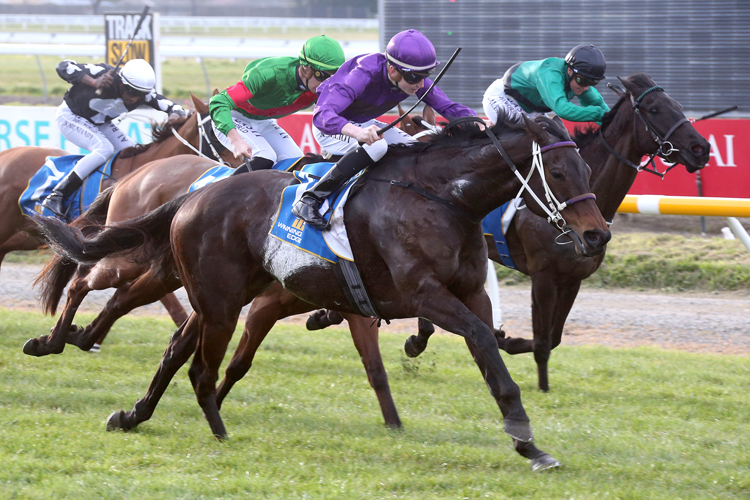 Fourth in this race last year and second two years ago, Platinum Command
enhanced her upcoming breeding career, storming from midfield to win well, her maiden stakes win and tenth in total. She began well enough but soon drifted to be midfield, one off the fence with cover at the 1200m.

Jockey Ryan Elliot edged her a little closer past the 600m but at the top of the straight she lost her position and was showing little.

Elliot kept asking and the mare grabbed the bit at the 250m, accelerated quickly from the ruck to challenge then sprinted clear inside the 100m to have the race sewn up by a convincing length at the line.

She'S Poppy
was alongside the winner into the straight, had a clearer run and surged to the lead at the 150m but was out-finished yet a sound second.

Dez
was sixth turning in, found room nearer the fence late and flashed through for a good third from Shakti
who tracked the winner from the turn and ran on well to nab fourth in the last couple of strides.

| | |
| --- | --- |
| R8 RICCARTON PARK | 4 August 2018 |
| Winning Edge 121st Winter Cup , 1600m | PLAY REPLAY |
Race Synopsis: This G3 1600m Open Class Handicap was run on a holding slow track and a capacity field of 18 runners lined up. North Island prepared runners won all the four main races on the card (this, an Open Handicap 1200m and the two traditional lead up jumps races for Prestige Grand National events on Day Two and Three, namely a Sydenham Hurdle (3100m) that was R1 today and the Koral Steeplechase (4250m) that was R4. Platinum Command was too good in the G3 Winter Cup today and it was the third go in the race by the visiting 7yo mare having been an eyecatching fourth in it last year with 56.5kg and runner up the year prior beaten a short head with 53kg. She raced midfield the outer and was eighth between runners for most of the race and turned for home ninth and surrounded by rivals. Once angled into clear air she unleashed the final 200m strongly and reached second at the 100m before taking the front soon after to go on and score by a length in 1:40.38. It was her tenth win in forty-seven starts and first success at any blacktype level showing the depth is not improving at all over several years. Platinum Command was thrown in on the minimum as she won earlier this year in May an Open Handicap over 1400m at Trentham on a bog as usual carrying 54kg and two of her rivals from today ran in that Strolling Vagabond (third with 51kg after a 3kg claim) and Nashville (last home with 57kg after a 3kg claim). Today saw Strolling Vagabond run an honest sixth with 53kg (on the minimum same as Platinum Command) and Nashville run a better ninth than it can ever read under 60kg. How could they beat her home today when both were 3kg worse off after she beat them fair and square in May? She's Poppy made it a mare quinella, a very common sight in New Zealand racing at all levels, and was deliberately set for this fresh up. The also 7yo mare runs best in this state and after racing tenth the outer was wide but with cover across the top and moved up sixth turning for home. She surged and led briefly at the 100m before being passed easily by the winner with 75m to go that carried 2kg less. Dez started a clear favourite staggeringly and made it a trifecta of 7yos when after racing handy the outer fought on solidly for third but he was the first male home. He was just a four-race winner having his ninth start today and carried the same minimum of 53kg at G3 as the winner, a mare that had won more than double the races he had. Shakti, a 9yo, ran home very well down the outer after being well back the inner early then working off across the top and getting angled wide and thirteenth turning for home. After the first three home were 7yo's and the fourth finisher being a 9yo, Who Dares Wins a 6yo at $41 was the first youngest runner home so to speak. The stayer, which has only won at 1800m or further, ran an eyecatcher finding the line well late after being in the rear duo most of the way and turning for home the widest runner out before unleashing. Strolling Vagabond and Twoznotenough both ran honest races and Flying Sardine found the line okay late from well back. Nashville was a late run and total forgive due to traffic and tactical mistakes while Red Sierra after being last the 200m got going okay too late down the outer. Fascinate was wide the whole way so did well not to drop out and ironically the two leaders both stopped to run second last and last but beaten less than eight lengths. The amazing thing about this race was that the last horse home was only beaten seven and three-quarter lengths, so it was a very bunched finish indeed for 18 runners and this screams much of a muchness about all of these. This was not a deep field at all as the favourite (Dez with nine starts and four wins) and second favourite (Red Sierra with thirteen starts and five wins) were the least experienced runners by far. The top three runners at the weights in this field are all 10yo gallopers and that's says it all really and very much like the jumps fields (e.g. a 14yo won the Koral Steeplechase today at Riccarton), so many very old horses are still going around masking a clear and obvious depth problem. The younger brigade are not coming through or are not there due to a lack of ability/breeding and this can only cause both short term and long term turnover angst. Bettors marvel at very old horses still able to race but when it comes to wagering they go completely turnover cold for runners that have been racing for so long, as they want the new galloping kids on the block to replenish the ranks and replace the old warriors. A new wave of runners creates new wagering and excitement and the more these older or very old horses keeping going around season after season it highlights the fact it must be easy to keep earning and therefore the depth has to be non-existent. Perception is everything in thoroughbred horse racing and the expected Spring wave of 4yo's tackling the older horses and Open Class at WFA or under Handicap conditions has to actually happen to keep interest and turnover ticking over. Field depth is a key measuring tool for the health and wellbeing of thoroughbred horse racing blacktype as a viable turning inducing sport therefore variety and a changing of the guard is crucial. The G3 race today was a vast majority old or very old field of wet trackers and was not deep at all and in fact quite underwhelming with the first four home being three 7yo's and a 9yo.


FP

Horse
Age & Sex
Trainer
Jockey
WT
SP
13. PLATINUM COMMAND (NZ)
7yo Mare
MS L LATTA
RYAN ELLIOT
53.0
$13.40
RED GIANT (USA) - WEDNESDAY ROCKS (NZ)

Ashburn Lane Investments Ltd & N J McAlister

10. SHE'S POPPY (NZ)
7yo Mare
RAYMOND CONNORS
SHAUN M MC KAY
55.0
$7.50
ALAMOSA (NZ) - CASSANDRA (NZ)

Raymond, Mark & Eris Connors

15. DEZ (NZ)
7yo Gelding
S J WILSON
LISA ALLPRESS
53.0
$4.30
ZED (NZ) - BLACK FALCON (NZ)

S G Lennox, P I Mitchell & S J E Wilson

4th
9. SHAKTI (NZ)
9yo Gelding
JACK & JO-ANN GORDON
G A JOGOO
55.5
$47.50
5th
4. WHO DARES WINS (NZ)
6yo Gelding
TONY & LYN PRENDERGAST
K WILLIAMS
57.5
$41.00
6th
14. STROLLING VAGABOND (NZ)
6yo Mare
G INNES
BRIDGET GRYLLS
53.0
$19.00
7th
7. TWOZNOTENOUGH (NZ)
8yo Mare
L DIDHAM
S MUNIANDY
56.0
$64.50
8th
6. FLYING SARDINE (NZ)
6yo Mare
KELVIN TYLER
BRETT MURRAY
56.0
$15.80
9th
1. NASHVILLE (NZ)
10yo Gelding
A BULL
KATE COWAN
60.0
$16.70
10th
8. ELFEE (NZ)
7yo Mare
MICHAEL & MATTHEW PITMAN
CHRIS JOHNSON
55.5
$7.70
11th
16. TIMY TYLER (NZ)
8yo Gelding
KELVIN TYLER
JILLIAN MORRIS
53.0
$61.50
12th
18. RED SIERRA (NZ)
5yo Mare
DAVID & EMMA HAWORTH
R J MYERS
53.0
$6.00
13th
5. FASCINATE (NZ)
8yo Mare
BRIAN & SHANE ANDERTON
J R LOWRY
57.0
$20.00
14th
17. STOKERS ROCK (NZ)
7yo Gelding
MICHAEL & GRAHAM EADE
TERRY MOSELEY
53.0
$14.80
15th
11. LUKE (NZ)
7yo Gelding
NEILL RIDLEY
C L O'BEIRNE
55.0
$51.10
16th
12. LOCHAN ORA (NZ)
7yo Gelding
KELVIN TYLER
C A CAMPBELL
54.5
$77.10
17th
3. THE GORDONIAN (NZ)
10yo Gelding
JACK & JO-ANN GORDON
KRISHNA MUDHOO
58.0
$59.20
18th
2. TAURUS (NZ)
10yo Gelding
J J & E RAYNER
JONATHAN RIDDELL
59.0
$30.20