Early scratchings and track conditions for Rosehill
The fillies and mares get their chance at glory in the Coolmore Classic at Rosehill on a wet track.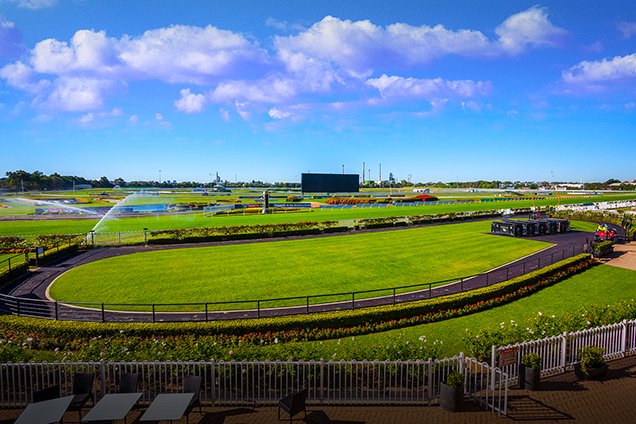 There has been 4mm of irrigation placed on the track along with 17.5mm of rain so far. It is rated a Soft 7 with the rail true.
The scratchings to date are:
Race 3: 3 CATCH ME
Race 6: 8 GALLIC CHIEFTAIN, 9 SINGING
Race 7: 7 COOL PASSION
Race 8: 4 WIDGEE TURF
Race 9:12 FUN FACT
R7 ROSEHILL

16 March 2019

Coolmore Classic 3UFM , 1500m
Race Synopsis: Highly consistent mare Dixie Blossoms broke through for her first Group 1 victory in winning here, her seventh win (13 placings) from 30 starts. She settled in tenth place on the rails from barrier two, made ground on the inner nearing the home turn, got a split to hit the front on passing the 200m and then went on to score a very good win. El Dorado Dreaming settled back in 14th place from her difficult barrier (17), improved between runners at the home turn to be in a challenging position at the 200m. She then kept fighting well for a very good second. Princess Posh settled back in 16th place from her very wide barrier (19). She looked for a run between horses at the home turn, got into clear running at the 200m and then ran on well to gain third in a photo from Mizzy who had been a handy sixth before fighting on gamely for (3.9 lengths) fourth. Aloisia was back in 18th place, improved along the rails halfway down the straight and kept running on well for (4.2 lengths) fifth in a good effort at her second run back, just in advance of Oregon's Day who had been a handy seventh, hit the front at the 200m and battled well for (5.3 lengths) sixth.


FP

Horse
Age & Sex
Trainer
Jockey
WT
SP
2. DIXIE BLOSSOMS (AUS)
6yo Mare
R J QUINTON
CHRISTIAN REITH
56.5
$21.00
STREET SENSE (USA) - WHISTLE DIXIE (NZ)

A S Osburg

15. EL DORADO DREAMING (AUS)
3yo Filly
KRIS LEES
BRENTON AVDULLA
53.5
$21.00
ILOVETHISCITY (AUS) - SOLANAS (NZ)

Ms Y E Pearce

13. PRINCESS POSH (AUS)
5yo Mare
KRIS LEES
KERRIN MCEVOY
55.0
$41.00
CANFORD CLIFFS (IRE) - THE BARONESS (AUS)

Australian Bloodstock (L Murrell), Australian Bloodstock No 2 (J Lovett), G Smith, J Mibus, P Harbrow, K Brian, D Doyle, A Jenkyns, S Humphries, W Cook, T Marczenko, K Milne, J Milne, G Howland, Dr P Jeffery, J Cahill, M Harbrow, Pat-Rick Racing (R Tierney) & Bfp Thoroughbreds (J Fairbanks)

4th
22. MIZZY (AUS)
3yo Filly
ANTHONY CUMMINGS
COREY BROWN
51.0
$17.00
5th
10. ALOISIA (NZ)
4yo Mare
C MAHER & D EUSTACE
JAY FORD
55.0
$31.00
6th
5. OREGON'S DAY (AUS)
5yo Mare
MICK PRICE
MICHAEL WALKER
56.0
$16.00
7th
8. NOIRE (AUS)
5yo Mare
CHRIS WALLER
DAMIAN LANE
55.5
$26.00
8th
12. INVINCIBLE GEM (AUS)
5yo Mare
KRIS LEES
JASON COLLETT
55.0
$21.00
9th
14. SAVATIANO (AUS)
4yo Mare
JAMES CUMMINGS
A HYERONIMUS
54.0
$17.00
10th
19. MANICURE (AUS)
4yo Mare
JAMES CUMMINGS
ROBBIE DOLAN
52.0
$16.00
11th
9. WHITE MOSS (AUS)
5yo Mare
JASON COYLE
KATHY O'HARA
55.5
$51.00
12th
17. JAMAICAN RAIN (AUS)
6yo Mare
RICHARD LAMING
GLEN BOSS
52.5
$5.00
13th
3. SAVVY COUP (NZ)
4yo Mare
CHRIS WALLER
OPIE BOSSON
56.5
$101.00
14th
11. I AM SERIOUS (AUS)
5yo Mare
CHRIS WALLER
JAMES MCDONALD
55.0
$5.00
15th
4. ECKSTEIN (AUS)
5yo Mare
KURT GOLDMAN
SAM CLIPPERTON
56.0
$51.00
16th
21. MANDYLION (AUS)
4yo Mare
GWENDA MARKWELL
ANDREW ADKINS
51.0
$51.00
17th
18. BELLA MARTINI (AUS)
4yo Mare
MICHAEL & WAYNE & JOHN HAWKES
JYE MC NEIL
52.0
$51.00
18th
20. MOSS TRIP (AUS)
4yo Mare
P & P SNOWDEN
TOMMY BERRY
52.5
$11.00
19th
6. ALASSIO (AUS)
5yo Mare
G WATERHOUSE & A BOTT
TIM CLARK
55.5
$17.00
20th
16. FIESTA (AUS)
3yo Filly
CHRIS WALLER
GLYN SCHOFIELD
53.0
$12.00