Earthquake rumbles in G1 Blue Diamond
Earthquake has given the world's biggest racehorse owner Sheikh Mohammed al Maktoum his second Blue Diamond Stakes.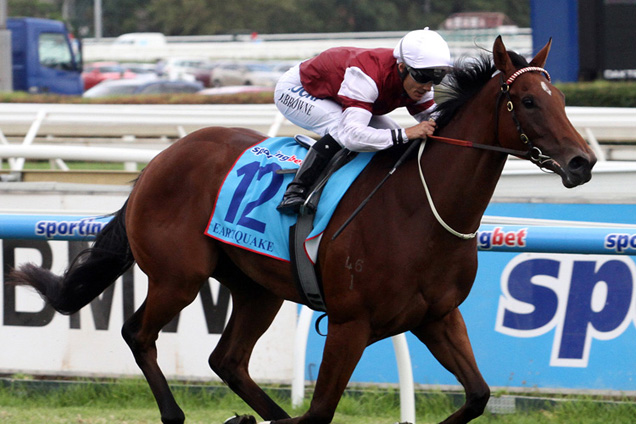 Concern turned to elation in a couple of strides for trainer Peter Snowden as he and Earthquake gave owner Sheikh Mohammed al Maktoum a Blue Diamond Stakes and a Group One farewell gift.
Snowden declared Earthquake the equal of any two-year-old he's trained after she sat four wide for most of the 1200m and then raced clear to score by one and a half lengths.
"I was a bit concerned when she wobbled around the turn, but then she pricked her ears and I though `oh God, her she comes'," Snowden said.
Earthquake unleashed a run over the final 300m that carried her past some of the best two-year-olds in training and into favouritism for the world's richest juvenile race, the $3.5 million Golden Slipper Stakes at Rosehill on April 5.
2014 - Blue Diamond Stakes - Earthquake
As elusive as the double of Melbourne and then Sydney's top two-year-old race has been, Snowden believes Earthquake can emulate his super sprinter Sepoy and add the Slipper to the Blue Diamond in what will be the final weeks of his partnership with Sheikh Mohammed and the world's biggest racing stable.
"To me, it's all there in front of her," Snowden said.
"She might not be the equal of Sepoy yet, but she is doing things that he did."
On numbers alone, Earthquake is slightly ahead of Sepoy who won the Blue Diamond at his fourth start.
She has achieved the victory at her third and will almost certainly be aimed at the Slipper.
"There's still six weeks to go and she's only had three runs ... there's still some more in her," Snowden said.
Earthquake began on terms with the field from her outside gate but jockey Damian Browne couldn't find a spot for her closer than four-wide for the first 800m.
The pair got one horse closer to the fence around the turn before Browne asked the filly to improve.
As she was in her previous start at the same track, Earthquake, the $2.90 favourite, took time to balance, but when she did she produced an electrifying burst of speed that carried her straight past the leading group that included the top colt Rubick.
Browne gave her an easy time over the final 80m as she held off the late finish of Jabali ($15) and Cornrow ($61).
"She's exceptional," Browne said.
"You didn't see the best of her today, but she still picked them up in two strides.
"Then she just loafed to the line. She's incredible."
Rubick finished a creditable fourth after racing outside a speed that trainer Gerald Ryan said was unsustainable, pointing out that the leader Nayeli finished second last of the 16.
Snowden and his son Paul begin their own training operation in May when John O'Shea takes over Sheikh Mohammed's Australian stable.