Living Legends Plays Important Role
Living Legends, the International Home of Rest for Champions Horses, is located in the grounds of the Woodlands Historic Homestead and Park and just across the road from Tullamarine Airport in Melbourne.
The Woodlands Homestead dates from the 1840s and provides a suitably dignified backdrop to the legendary horses at home in the surrounding paddocks.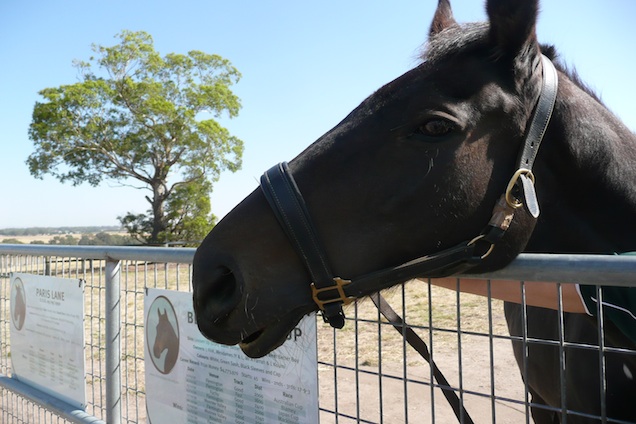 Sixteen horses with amazing careers have come to this pleasant park close to Melbourne Airport, and although there are planes taking off and landing overhead, the horses don't seem to mind this. They are happy to just graze and laze, frequently in the company of one or two mates but some are happy just to enjoy the tranquillity on their own.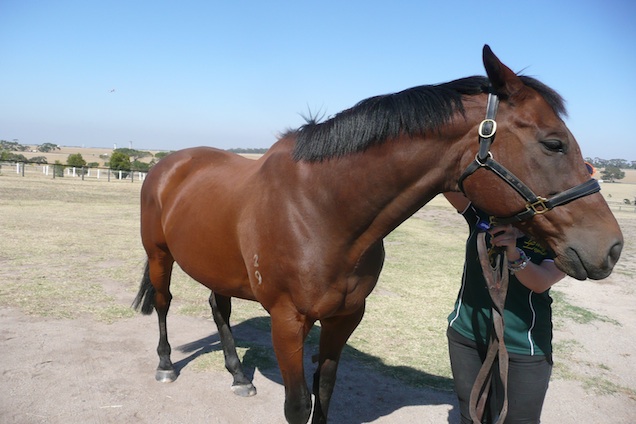 We visited the homestead on a sunny Monday morning and were taken on our tour of the horses by Briony, from Scotland, who had just returned to the park after a year back in her home territory. Our first horse was Better Loosen Up, referred to as BLU, the only Australian horse to win the Japan Cup. He's now 29 and looks amazing. His mates are Paris Lane and Chief de Beers, who had a career as a Police Horse after he finished racing and came to Legends after he retired from the Police Force.
Over to the left we find Silent Witness, a horse who had an incredible career in Hong Kong where he won 17 races in a row until he stepped up in distance to the mile and was defeated by Bullish Luck who is in a nearby paddock. He also won the G1 Sprinters Stakes in Japan.
He's a great eater and is on his own as otherwise he would eat everyone else's food as well as his own.
Some of his former neighbours in Hong Kong are nearby – Zavite, Bullish Luck and Good BaBa. The first two were quite happy about having their photos taken but Good BaBa was more concerned with getting his share of the food.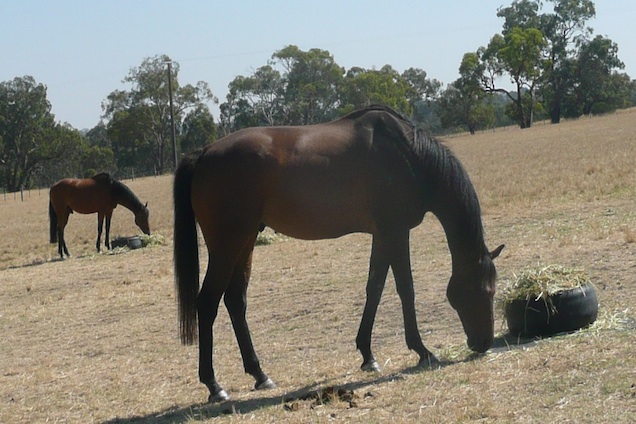 Arguably the most popular horse here is Apache Cat, who has buddied up with Melbourne Cup winner Rogan Josh and the two are very keen to come and have pats and photos, especially Apache Cat who delights in posing.
Next we come to another Melbourne Cup winner, the mighty Might and Power – he's a big boy and very playful so he is on his own as he gets a bit too frisky if he has other horses with him.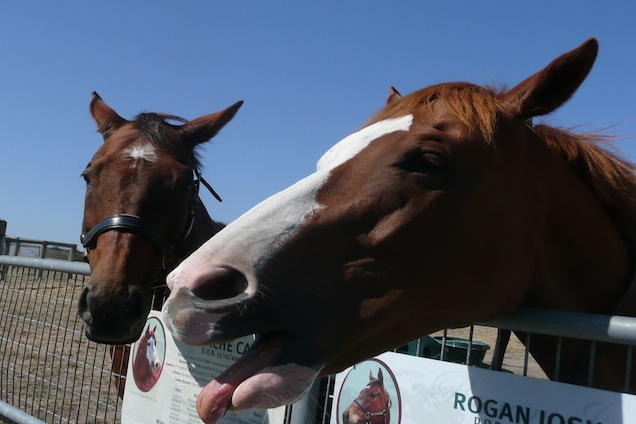 Doriemus and Brew, both Melbourne Cup Winners, have become inseparable and today Doriemus was not happy as Brew had gone off on his own to visit a school in Bendigo. They do everything together including going into their shelter together every afternoon to have a siesta. There's a link to the Japan Cup here as Brew's dam Horlicks also won the Japan Cup and held the record for many years.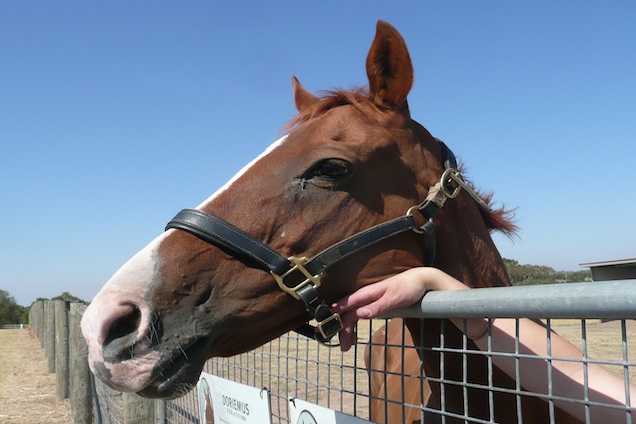 Two of the latest arrivals are Zipping and Efficient, known as Zip and Fish. They are great buddies and recently did the Zip and Fish tour of Tasmania where they made a special appearance at the Hobart Cup. They also visited Salamanca Markets and a retirement home and were a huge hit with everyone they met. They are with Fields of Omagh but Foo didn't feel sociable whereas the other two were delighted to come and pose.
Living Legends was started in 2006. CEO Andrew Clarke explained that it had been a struggle but since the Victorian Government has provided a lifeline in the form of unclaimed monies from the TAB the situation is improved, although they still have to rely on volunteers and casuals to supplement the small staff of dedicated workers on hand. The year has been good for grass and although it looked very dry when I was there it had dried out only recently. Apart from bequests and donations, the horses help to earn their keep by receiving visitors at home and also going out to special race meetings and charity events and increasingly to schools where people get to learn about their careers and their lives in retirement.
Given its proximity to Melbourne Airport, Living Legends is working on developing visitors – and in particular overseas visitor – from that source. There is also a resident kangaroo populations and the beautiful rose gardens around the homestead.
It is a wonderful experience to meet so many of these horses who have given pleasure to so many people enjoying their retirement in such lovely surroundings.