The Best Came Last At Magic Millions Sale
The second foal of Magic Millions 2YO Classic runner-up Oakleigh Girl by record-breaking stallion I Am Invincible has topped the final session of Book 1 of the 2019 Gold Coast Yearling Sale after selling for $1.7 million on Saturday night.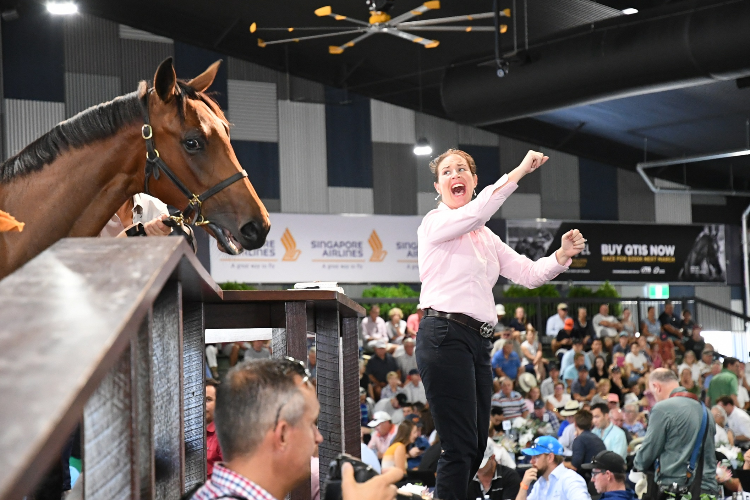 The former Adelaide trainer who moved his stable to Melbourne in August was able to outbid the powerful Godolphin operation to secure the star colt who was offered by Yarraman Park Stud on behalf of the Gillard family.
Kennewell purchased the colt, from the Snitzel mare Oakleigh Girl, in conjunction with Matthew Becker's Group One Bloodstock, Aquis Farm and successful owner Ozzie Kheir.
"We thought he would pass the million, but we didn't know where he would stop," Kennewell said.
"He was clearly the top pick for me. We wanted to go really big with one this year and we put a good crew together to do it - I think it's worked out well.
"I know the breed very well and he's one of the best colts I've seen by I Am Invincible and hopefully we can get the right result with him."
Godolphin, after celebrating their breakthrough win in Saturday's Magic Millions 2YO Classic with Exhilarates, secured the other seven figure seller on the night, going to $1 million for a Medaglia d'Oro filly from Blue Diamond Stakes winner Miracles of Life.
"The dam was a high class filly - two-year-old speed is so important in our market and we thought this filly fits the bill in that regard," said Godolphin bloodstock manager Jason Walsh.
"She's by one of our champion sires and you could see a lot of her mother in her. She impressed us from the first moment we saw her."
The $1.7 million colt and $1 million filly tonight pushed the number of seven figure lots at the 2019 auction to 11 - a record for the Gold Coast Yearling Sale.
Book One closed with a gross of over $169.5 million from 707 lots sold – up $13 million - at a record average price of $239,809 compared to $228 million in 2018.
The clearance rate sat at more than 88 per cent.
"It was an incredible sale," said Magic Millions managing director Barry Bowditch.
"We're thrilled with it. The buyers and vendors have really stepped up and done their jobs well and we couldn't be more pleased as these are results that were beyond our expectations and also the industry's expectation.
"To end with a sales topper at $1.7 million for Steve Gillard is great. He bought Oakleigh Girl here as a yearling, he raced her and he's put her to I Am Invincible. That's a fantastic result for him.
"There is an incredible appetite for blue chip colts. The market is reflecting that and our vendors and Magic Millions have been able to benefit from that."
Gai Waterhouse with co-trainer Adrian Bott were the leading individual buyers with 25 lots for a total of $6.86 million.
However Newgate Farm through partnerships and syndicates bought 18 horses for a total of $8.9 million including five with leading Kentucky stud Winstar Farm.
Newgate was also a leading vendor selling 42 lots for $10.120 million at an average of $240,000.
International buyers were prominent due to the falling value of the Australian dollar. Hong Kong buyers were credited with 33 lots, USA (14) New Zealand (16), China (8), UK (8), Japan (3) Singapore (5) and Malaysia (1).
"The return of Angus Gold, Stonestreet Farm and numerous other international buyers along with a low Australian dollar helped boost the strength of the buying bench," Bowditch said.
"We had all the key players here in our mind. We had Angus Gold, we had Godolphin, a good Hong Kong contingent, we had Barbara Banke, we had WinStar and Jon Kelly.
"There was a great spread. They all got in and played a part without dominating the market."
I Am Invincible was also the sire of last year's top lot, the colt out of Tai Tai Tess, for $2 million and was responsible for four of the 11 seven figure yearlings at this year's sale.
He finished with an aggregate of $24.645 million for 56 lots sold at an average of $440,089 but Medaglia D'Oro topped the sire averages with $633,750 after he had two million dollar yearlings from just four lots sold.
Redoute's Choice was second by average with 15 sold at $549,667.
Vancouver was the leading first-season sire with his progeny making a total of $5,165 milion at an average of $191,296 ahead of Press Statement ($170,000) for sires with three or more lots.
Yarraman Park was leading vendor by total sales with $11,595,000 ahead of Arrowfield on $11.08 milion and Newgate Farm with $10.875 million. All three farms had a better than 95 per cent clearance rate.
Yarraman Park was also the leading vendor by average at $429,444 from Milburn Creek ($401,250) and Segenhoe Stud ($392,105).
Most Read