Trial Watch Reviews for Warwick Farm and Randwick : 12th April 2019 & 15th April 2019
Chris Scholtz reviews Sydney barrier trials at Warwick Farm on April 12 and Randwick on April 15.
RANDWICK April 15
Good 4; Randwick A Grass
16 Heats – 1 x 1200m (Open); 9 x 1050m (3 Open; 4 2YO; 2 Maiden); 6 x 735m (1 Open; 4 2YO; 1 Maiden)
NOTED TRIALS
Most interest at these trials focused on several horses preparing to resume, a new import and a couple of youngsters we noted as trial stars earlier in the season.
Pretty In Pink
, Intuition
and Epidemic
are talented performers who each did enough in their first trials off spells to indicate they are coming up well for campaigns that could take them to Brisbane.
The Snowden stable has a quality sprinting import in Murillo
who was impressive winning his heat from another good type in Tribal Wisdom
. His time (62.37; 34.20) was just a tick outside the quickest (62.05; 33.70) of the 1050m heats recorded by Ready To Prophet
but he was eased down late after giving a good kick off the lead at the 250m. This looks reliable form.
Among the 2YOs, we have been waiting for California Zimbol
, Splintex
and Yitai Synergy
to reappear after impressive early trials and their form here in the juvenile heats over 1050m was confirmation that they have the talent to win races.
In the shorter 735m heats for the 2YOs the Waterhouse/Bott stable produced two sharp unraced winners Mini Boom
and Aeecee Beau
while the stable also has a very nice 3YO maiden prospect in the unraced Sebring colt Embracer
, who won his 1050m heat in professional style. He has now won two of his three trials and is ready to go to the races.
XX Mini Boom; Aeecee Beau
X Pelorus Jack; Intuition; Pretty In Pink; Murillo; Tribal Wisdom; Epidemic; Ready To Prophet; Golden Hits; Jailbreak; Splintex; Yitai Synergy; California Zimbol; Tri Nations; Embracer; Resolving To Win; Colestah; Battle Cry; Duenna; Miss Spiteful; Larson; Discharged; Minted.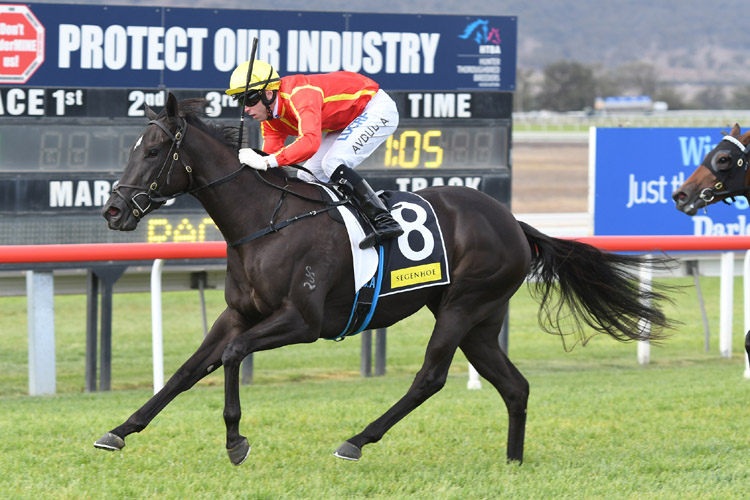 WARWICK FARM April 12

Soft 6; Inside Grass/Pro Ride

17 Heats – Inside Grass 3 x 1200m (3 Open); 6 x 807m (3 Open; 3 2YO); 6 x 803m (2 2YO; 1 3YO; 3 Maiden); Pro Ride 2 x 740m (1 2YO; 1 Open)

NOTED TRIALS

Some classy types turned in strong trials in the soft going including Easy Eddie
, Mccreery
; Tangled
; Top Striker
and Cradle Mountain
but the one to note was the Group winner Deploy
. He didn't come up last prep but his heat win over 807m was dominant in good time and points to him being up for it when he resumes.
A most interesting trial was the 2YO heat on the Pro Ride where leading country-based trainer Matt Dunn sent two youngsters Le Figaro
and Bells Approaching
from his Murwillumbah stable to contest the 740m heat. They finished 1-2 with the unraced filly Le Figaro, a Gold Coast trial winner in December, looking above average. It will be interesting to see where she is produced first time out. Other 2YOs to impress included Disruptor
, Somervell
and Fortress Command
.
The unraced 3YO maiden trio Cherry Pie
, A Room Somewhere
and Aim For Perfection
(unbeaten in four trials) can gallop and are certain to be strongly fancied when they make their debuts.
XX Deploy; A Room Somewhere; Cherry Pie; Le Figaro
X Tangled; Pop Girl; Camdus; Grey Lion; McCreery; Easy Eddie; Buffy; Top Striker; Cradle Mountain; Kibibi; Disruptor; Somervell; Jacquine Reward; Rodrick's Secret; Fortress Command; Lashes; Above And Beyond; Aim For Perfection; Undoubted; Battlers Four; I'm A Legend; More Spice.