Weir Team On Their Way To The Chamnpionships
Darren Weir's big guns Humidor, Brave Smash and Tosen Stardom topped off their preparations for their Sydney carnival targets with workouts at Ballarat on Tuesday morning.
The trio will travel to Sydney later this week to join the team Weir already has based at Newcastle, including last Saturday's G1 Ranvet Stakes winner Gailo Chop.
Gailo Chop
will back on Saturday at Rosehill in the G1 Tancred Stakes over 2400m, the first time he has raced over that distance since he failed in the Sheema Classic in Dubai two years ago.
Humidor
, Brave Smash
and Tosen Stardom
will be racing at Randwick on Saturday week on the first day of The Championships.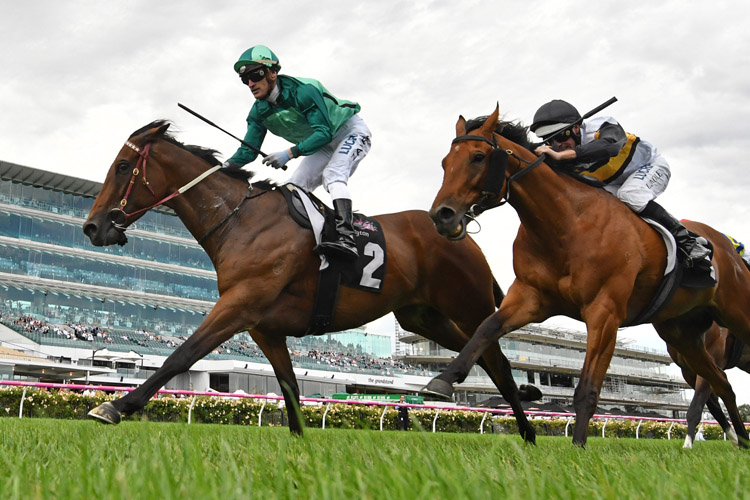 Weir confirmed that Tosen Stardom is back on track to join Humidor in the $3 million Doncaster Mile while the late entry fee wil be paid to run Brave Smash in the $2 million TJ Smith Stakes (1200m).
Tosen Stardom's Sydney trip was up in the air after he failed in the G2 Blamey Stakes (1600m) won by Humidor at Flemington on March 17.
However Weir said Tosen Stardom had come through the race in good order and worked well last week.
"Humidor and Tosen Stardom are going to go up for the Doncaster and we're going to pay the late entry for the TJ Smith Stakes for Brave Smash," Weir reported.
"They had gallops at Ballarat last week and all of them went good.
"They have another gallop on Tuesday morning and then head to Sydney."
Weir said plans for last Friday night's William Reid Stakes winner Hellbent would be resolved this week.
Hellbent
is to start his stud career in the spring at Yarraman Park Stud with a range of options on the table for the sprinter.
"He could be retired immediately, race in Sydney or even head to the Royal Ascot meeting in June," Weir said.
"I've still got to talk to the owners. It'll be a hard decision."