Winx And Her Stablemates - Chris Waller's Worst Nightmare!
Would Chris Waller ever forgive himself if Winx's amazing winning sequence was brought to an end by a stablemate?
It's a scenario that must give him the occasional sleepless night, especially as the majority of opponents lining up against his champion mare in her recent starts are predominantly members of his own team.
Waller no doubt takes comfort from his own confident view that any of Winx's stablemates would come off second best in a one on one contest with his record-breaking mare.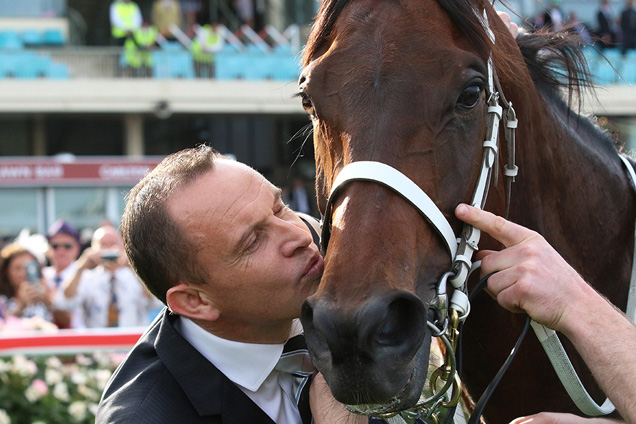 But this is horse racing and Waller lives with the reality that for every win in her now Australian record sequence of 26 successive victories, Winx moves one race closer to that feared defeat.
Heaven forbid that it should ever happen before the curtain finally comes down on her phenomenal career. And worse, should the unthinkable occur, that the defeat is not inflicted by one of her stablemates!
Waller has made a habit of starting stablemates against Winx
since the great one started her winning sequence in the Sunshine Coast Guineas in May of 2015.
So far, to Waller's relief, it's all been so good as apart from one or two concerning moments, he has rarely had to worry about one of his own team upsetting his champion.
In her sequence of 26 wins there have only been eight races when Waller has not lined up at least one stablemate as a rival for Winx.
He has started a total of 47 of his own horses against Winx in 18 of her successive wins. Twice he has lined up five of his team against the mare and in three of her other races he has started four stablemates.
Yet Waller and Winx have been on safe ground.
In those 18 races where Waller has supplied rivals for Winx only five times have her stablemates figured in the minor placings, an interesting statistic considering the high number of rival runners from her own stable in fields that most times have been well short of capacity.
Not that a stablemate hasn't provided the occasional scare. The most notable was the thrilling finish to the 2017 Warwick Stakes at Randwick, when Winx was going for her 18th successive win and appeared to have blown it when she missed the start by four lengths.
Stablemate Foxplay
went for home at the 200m with Winx facing an herculean task to run her down, but run her down she did, producing an amazing surge in the last 30 metres to nail her stablemate in a performance that endorsed all her champion qualities.
Winx wins the 2017 Warwick Stakes
Her relieved rider Hugh Bowman summed up the tension he was feeling during that race:- "I was thinking it could be mathematically impossible to catch them - there was nothing I could do.
"I just had to rely on the engine that I know is in her. I just had to have confidence in her - she's just so much better than them and I had to rely on that to win the race."
Foxplay also finished third to Winx later that spring in the George Main Stakes but did she pay a price for locking horns at close quarters with her champion stablemate? It's telling that Foxplay hasn't won in 11 starts since her narrow loss in the Warwick Stakes!
The only other Waller-trained runners to place against Winx in her 26 wins have been Endless Drama
, third in the 2017 Apollo Stakes; Who Shot TheBarman
, third in the 2017 Chipping Norton Stakes; and D'Argento
, who was third in her most recent win in the race named in her honour at Randwick on August 18.
D'Argento is not among Winx's rivals in Saturday's Colgate Optic White George Main Stakes (1600m) at Randwick, a race she has already won twice.
However Waller still provides four of her seven rivals and coming out of the Winx Stakes – formerly the Warwick Stakes - is Unforgotten, a mare who certainly appears capable of giving her illustrious stablemate a serious race under Saturday's weight-for-age conditions.
Unforgotten
, a classic winner last season of the ATC Oaks at Randwick, was the eye catcher when she resumed with a late closing sixth in the Winx Stakes over 1400 metres on August 18.
While Winx, by design, has had a month between races Unforgotten progressed to easily put away some quality opposition in the G2 Chelmsford Stakes on September 1 over the same course and distance of Saturday's race. She made such an impact that was quickly promoted to up the betting order for the Epsom Handicap and Caulfield Cup.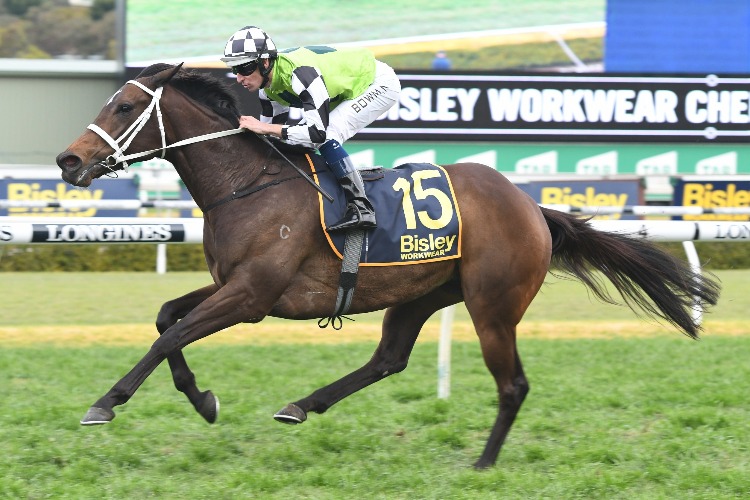 Unforgotten is a classic-winning mare just reaching the peak of her powers and presents on Saturday as arguably the most serious rival Winx has faced from her own stable in her last 26 starts.
It would be unforgivable – certainly unforgettable – if Unforgotten brings Winx's winning sequence to an end on Saturday but Waller says their clash is unavoidable and the outcome, at least in his mind, is beyond question.
"She needs to run - we just have to work out where she is heading," Waller said of Unforgotten, explaining why he is reluctantly sending such a high class in-form rival into battle with Winx.
"She can't beat Winx unless she has an off day and Winx hasn't done that for 26 starts. But saying that, she is a very talented horse and hopefully she can continue on through the spring in some big races in her own right."
Waller has given an insight into the regard he holds for Unforgotten by setting her on a similar spring path to the one Winx took as a 4YO.
"Her weight in the Epsom (52.5kg) suggests she is a winning chance in that race. It's what we did with Winx when she was a four-year-old and it was probably the most important part of her career," he said.
"After the Epsom on September 29 we will consider the options available to her in Melbourne. That's the beauty of the spring, there are so many options with these great horses and we're lucky to have two or three of them in their stable."
Waller's declaration that Unforgotten "can't beat Winx" reflects the confidence the Hall of Fame trainer has in the progress of his champion since her last win.
"She certainly hasn't gone backwards - what more can I say," Waller stated after Winx galloped at Rosehill on Thursday morning.
"She is pleasing us in her general self and that's so important. I'm happy with everything and how it's gone.
"Two weeks ago we took her to Randwick for a jump-out so that was an important part. Since then, her regular maintenance has gone to plan."
Egg Tart, another of Waller's high class mares, is also among Winx's rivals on Saturday.
Egg Tart
also figures prominently in Epsom and Caulfield Cup betting after her impressive first-up fifth in the Tramway Stakes over 1400m at Randwick two weeks ago when she was all over the backs of them without any galloping room in the last 100 metres.
Her natural improvement from that race with the step up to this more suitable distance gives her an excellent chance of rounding out a trifecta for the Waller mares.