Selections and Best Bets for Hawkesbury and Doomben on April 28.
Selections and best bets for racing at Hawkesbury and Doomben on Saturday April 28.
HAWKESBURY April 28
RACE 2 (2) Graff
RACE 3: (4) Philosophy (EW)
RACE 4: (6) Hallelujah Boy (EW)
RACE 6: (4) White Moss (EW)
RACE 8: (4) Sambro
RACE 9: (3) Roman Son
RACE 1: 1-3-7-5
RACE 2: 2-3-4-1
RACE 3: 4-10-2-7
RACE 4: 6-7-12-14
RACE 5: 7-9-11-4
RACE 6: 4-9-2-10
RACE 7: 3-2-5-7
RACE 8: 4-2-3-12
RACE 9: 3-9-15-10
DOOMBEN April 28
RACE 2: (3) Kings Of Leon
RACE 6: (2) Marsupial
RACE 9 (8) Dark Dream
RACE 2 (2) GRAFF: The Kris Lees stable played a patient game with this youngster with promising trials in January and March before he made his debut with an impressive win over 1100m at Rosehill on April 2 when he raced greenly but was still able to come from last and win running away with plenty in hand. Expect him to be much improved by that experience as he has since won another trial at Randwick that ensures he won't be lacking fitness for the step up to 1300m. Has a bright future.
RACE 8 (4) SAMBRO: Quality field for the Hawkesbury Guineas presents the Country Championship winner Victorem with a task from the outside gate. He's good but there is better value in the early odds on offer about Sambro, who followed a strong first-up second over 1400m at Warwick Farm with a luckless run in the classy G3 Carbine Club Stakes over 1600m at Randwick on April 7 when he was held up from the turn before he was stopped in his tracks at the 200m when he had plenty to offer. Confident a subsequent soft trial has him in the right form to add to his consistent record that has seen him placed against the likes of Kementari and Levendi in high rating races.
RACE 9 (3) ROMAN SON: There are high expectations for this emerging stayer after he produced an impressive turn of foot to sprint away from his rivals for a big win over 1800m at Rosehill on April 2 at just his second start since joining the Richard Freedman team. He beat the subsequent winner Lovani by four lengths and a subsequent maintenance trial at Warwick Farm has fitted him well for the step up to 2100m. He won up to 2200m in his last prep (when trained by James Cummings) and has the look of a stayer ready to make a quick rise through the classes.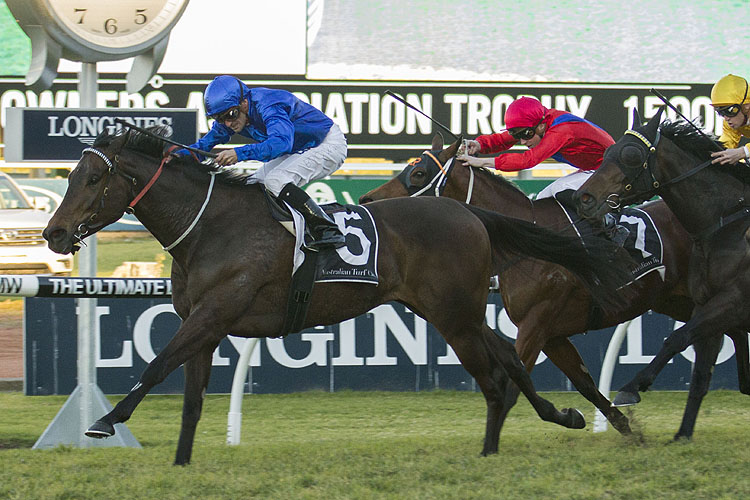 BLACKBOOK UPDATE
Eligible Blackbook Runners – April 28
HAWKESBURY: She Knows (R1); Invincibella (R6); Duca Valentinois (R7); My Nordic Hero (R7); Beau Geste (R8); Sambro (R8)
CAULFIELD: Abdon (R9); Top Of The Range (R9)
DOOMBEN: Ruby Red Heart (R7); Impending (R8); Havasay (R8); Dark Dream (R9)
MORPHETTVILLE: Steel Frost (R6)
TAMWORTH SUNDAY: Royal Tudor (R7)
BLACKBOOKERS - Horses to follow at next three starts. Selected April 28
BEDFORD
: Can win a good race over the Brisbane carnival.
OSBORNE BULLS
: Stay with him. Group class.
RISING RED
: Game effort. Sure to be fitter next time.
LE ROMAIN
: Strong return to form. Can go on with it.
TEMPLE OF BEL
: Should make an impact over the winter.
FIRSTHAND
: Will take a lot of benefit from his first-up effort.
EL DORADO DREAMING
: NO fluke about her form. She's good.
RECENT BLACKBOOK WINNERS: Lofty's Menu; Reach For Heaven; Niccanova; Assimilate; Encryption; Our Mantra; Humidor; Comin' Through; D'Argento; Hiyaam; Cedar Grande; Unforgotten; King River' Seabrook; Tribal Wisdom; River Racer; Miss Siska.
CURRENT BLACKBOOK HORSES: Abdon' Acatour; Acceptile; Aide Memoire; Akkadian; Alegria; Alward; Aristocratic Miss; Beau Geste; Bedford; Belfast; Clever Blaze; Collateral; Consommateur; Dark Dream; Data Point; Dawn Wall; Del Prado; Divine Unicorn; Dubaiinstyle; Dubai Sights; Duca Valentinois; Dyslexic; Egg Tart; El Dorado Dreaming; Elle Lou; Emphasis; English; Eusebio; Firsthand; Fit For Purpose; Fox Swift; Furore; Generalissimo; Happy Hannah; Havasay; Heliosphere; Hopes Eternal; Impending; Inference; In Her Time: Invincibella; Invincible Gem; Invincible Star; Isaurian; It's Somewhat; Jimmy Rea; Johannes Vermeer; Johnny Ge; Kilimanjaro; Kinshachi; Lamborghini; Le Romain; Lean Mean Machine; Mactier; Magnufighter; Man Of His Word; More To Gain; My Nordic Hero; Newsfan; No Doubt; Osborne Bulls; Outback Barbie; Patrick Erin; Perast; Petition; Pinch Passion; Prezado; Raiment; Ravi; Rebellious Lord; Roman Typhoon; Royal Tudor; Ruby Red Heart; Rugenbrau; Samara Dancer; Sambro; Serenely Discreet; She Knows; Shield Wall; Sister Sledge; Sizzleme; Slightly Sweet; Snoopy; Spin; Steel Frost; Stratosphere; Strictly Legit; Sully; Superhard; Tactical Advantage; Tamasa; Templar; Temple Of Bel; Top Of The Range; Torpenhow; Trogir; Trubia; Tsaritsa; Tucanchoo; Vega Magic; Viridine; Virtual Insanity; Wall Of Fire; Wyndspelle; Yogi; Zestful.