Selections and Best Bets for June 16
Selections and best bets for racing on June 16.
ROSEHILL June 16
RACE 2: (14) Touch Of Mink (EW)
RACE 3: (4) Dia De Reyes
RACE 4: (2) So Splendid
RACE 5: (15) Hemmerle (EW)
RACE 7: (2) Invinzabeel (EW)
RACE 8: (6) Ozark (Value)
RACE 9: (8) Irithea (EW)
RACE 1: 1-4-6-3
RACE 2: 14-1-5-8
RACE 3: 4-8-5-1
RACE 4: 2-3-4-10
RACE 5: 15-11-14-5
RACE 6: 6-5-7-4
RACE 7: 2-9-7-5
RACE 8: 6-14-3-8
RACE 9: 8-4-11-14
IPSWICH June 16
RACE 4: (4) Ready For Danger
RACE 5: (9) Envy Of All
RACE 8: (4) Moss 'N' Dale
QUADDIE
RACE 6: 2-9-5-7
RACE 7: 5-2-1-8
RACE 8: 4-7-2-11
RACE 9: 2-7-4-15
ROSEHILL PARLAY
RACE 3 (4) DIA DE REYES
: Murwillumbah trainer Matt Dunn is the master of the Highway races and he clearly has confidence that this smart 4YO can be the first horse to win three of these events by scratching two of his stablemates and electing to send this horse to Sydney rather than start him at Ipswich. Won his first Highway over 1800m at Randwick last spring and picked up his second when successful first-up over 1200m in slow going at this course on May 19. Happy to follow the stable lead as he has won second up in the past and the month between runs sets him up nicely for this more suitable distance under favourable conditions.
RACE 4 (2) SO SPLENDID
: Talented Savabeel mare won first-up over 1400m at Warwick Farm last prep and is clearly set to repeat after two strong trials that have her primed for this average event for her own sex. Handles affected ground confidently and is well placed over this trip fresh after she went out in winning form in January with a victory over 1800m at Sandown.
RACE 8 (6) OZARK
: Ample pace in this field sets up the race for a strong closer and this Godolphin runner fits the bill as he will enjoy a soft run from his kind draw. Produced big finish first-up to win over 1000m at Randwick in April under 60.5kg then never got as crack at them after a slow start when a close fifth over 1100m at this course on June 2. Should be right in the mix in this wide open event with a 2kg drop off his last run.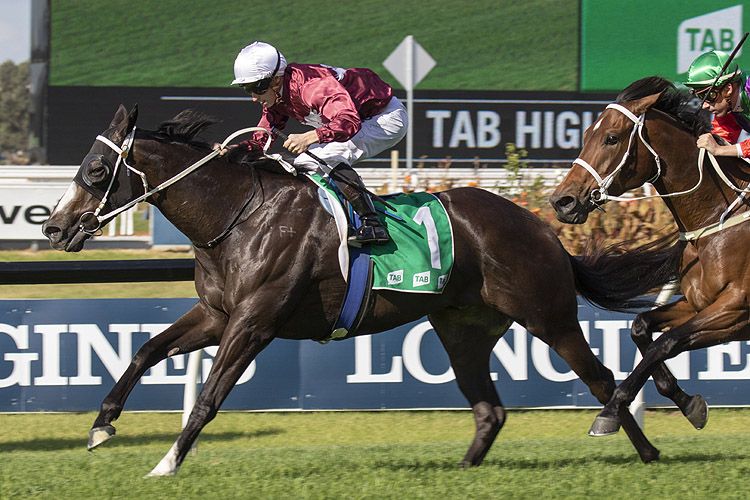 Eligible Blackbook Runners – June 16/17
ROSEHILL: Black On Gold (R6); Well Sprung (R7)
MOONEE VALLEY: Eusebio (R3); My Nordic Hero (R8)
IPSWICH: Envy For All (R5); Miss Dubois (R7); Notonyourlife (R9)
GOLD COLAST: Clever Blaze (R6)
MUSWELLBROOK SUNDAY: Rugenbrau (R7)
RECENT BLACKBOOK WINNERS: River Racer; Miss Siska; She Knows; Sambro; Impending; Steel Frost; Divine Unicorn; Osborne Bulls; Perast; English; Dark Dream; Yogi; Santa Ana Lane; Bastia; Rising Red; Lean Mean Machine; Dagny; Going Gaga; Savanna Amour; Invincibella.
BLACKBOOK UPDATE
BLACKBOOKERS - Horses to follow at next three starts. Selected June 9
DUCIMUS
: Flying finish. Good things ahead.
GOD OF THUNDER
: Will show his real talent on a firm surface.
YOUNGSTAR
: She'll be even better as a 4YO.
CRACK ME UP
: Should be respected in any company.
SESAR
: One to follow next season.
CURRENT BLACKBOOK HORSES: Abdon; Acatour; Akkadian; Araaja; Aristocratic Miss; Axella; Bedford; Belfast; Belflyer; Black On Gold; Care To Think; Charlayne; Clever Blaze; Consommateur; Crack Me Up; Creativity; Creativity; Cruze; Data Point; Dawn Wall; Diplomatico; Ducimus; Dyslexic; El Dorado Dreaming; Elle Lou; Envy For All; Eusebio; Firsthand; Frolic; Fundamentalist; Furore; Generalissimo; Ghisoni; God Of Thunder; Han Xin; Happy Hannah; Heliosphere; Hopes Eternal; In Her Time: Invincible Star; Isaurian; Johannes Vermeer; Kilimanjaro; Kings Of Leon; Kinshachi; Lamborghini; Le Romain; Leather 'N' Lace; Mactier; Magstock; Mickey Blue Eyes; Miss Dubois; More To Gain; Mr Monaco; My Nordic Hero; Newsfan; No Doubt; Notonyourlife; Order Again; Our Beebee; Outback Barbie; Patrick Erin; Perizada; Petition; Pinch Passion; Prezado; Raiment; Ravi; Rebellious Lord; Roman Typhoon; Rugenbrau; Satono Rasen; Serenely Discreet; Sesar; Sister Sledge; Sizzleme; Slightly Sweet; Sony Legend; Spin; Stratosphere; Strictly Legit; Sully; Super Cash; Tactical Advantage; Tamasa; Temple Of Bel; Torpenhow; Trogir; Trubia; Tsaritsa; Tucanchoo; Virtual Insanity; Wall Of Fire; Well Sprung; Wyndspelle; You've Been Had; Youngstar; Zestful.