Selections and Best Bets for May 12
Selections, best bets and blackbookers for Doomben and Scone on May 12.
SCONE May 12
RACE 3: (5) Invictus Salute
(EW)
RACE 5: (3) Sasso Corbaro
(EW)
RACE 6: (10) Osborne Bulls
RACE 7: (10) Dyslexic
(EW)
RACE 8: (11) Spending To Win
(EW)
RACE 1: 4-6-9-1
RACE 2: 2-4-6-10
RACE 3: 5-2-1-8
RACE 4: 8-7-1-3
RACE 5: 3-2-1-4
RACE 6: 10-11-3-4
RACE 7: 10-1-2-11
RACE 8: 11-3-2-14
DOOMBEN May 12
RACE 1: (13) In Times Of War
(EW)
RACE 4: (12) Goathland
(EW)
RACE 7: (14) Youngstar
(EW)
RACE 8: (2) Higher Ground
QUADDIE
RACE 6: 8-2-4-13
RACE 7: 14-12-5-1
RACE 8: 2-1-12-3
RACE 9: 2-8-1-9
SCONE PARLAY
RACE 6 (10) OSBORNE BULLS: The odds aren't flash for a horse untested in black type company but this rising star has had Group winner written all over him for some time. He's won six of his nine starts and fair to say that record would read even better after luckless placings in his other three starts including his last start second over 1400m at Randwick when he came from an awkward position with big closing sectionals to be beaten only a head. The big Scone track should allow him to make his own luck from his soft inside draw.
RACE 7 (10) DYSLEXIC: Always hard to put a measure on how much improvement a lightly-raced filly can make from one start to the next but if this quality prospect can go on with it from her last start second at Randwick she will take a power of beating under these conditions. Should have won the G3 JB Carr Stakes last time at her first 1400m attempt when she recovered from a mid-race check to be beaten only a nose by the classy Moss Trip. Doubt she has reached her ceiling just yet.
RACE 8 (11): SPENDING TO WIN: Looks a sound each-way play in an open race. Model of consistency in this distance range and will get a lot of on pace favours from good gate. Has weights in his favour from last meeting with Glenall and seems to go well for the girl riders.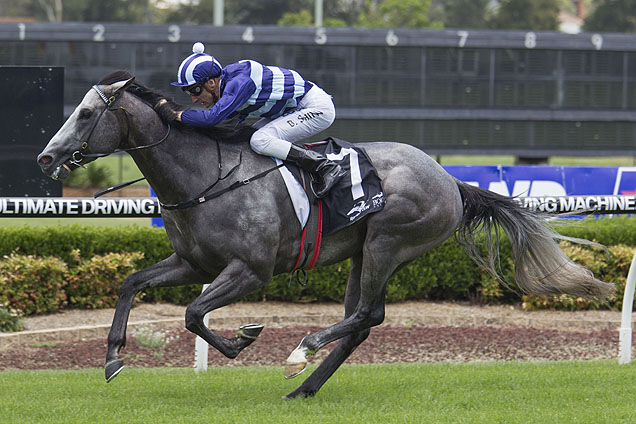 BLACKBOOK UPDATE
BLACKBOOKERS - Horses to follow at next three starts. Selected May 5
SUPER CASH
: No guide first-up. Never got a crack.
SANTA ANA LANE
: Low flying finish. On song.
SATONO RASEN
: Sound effort from Japanese import.
BASTIA
: Wide run cost him a win.
NOTONYOURLIFE
: Genuine mare certain to be fitter.
MY NORDIC HERO
: Past problems look behind him.
Eligible Blackbook Runners – May 12/13
SCONE: Le Romain (R6); Invincible Gem (R6); Osborne Bulls (R6); Firsthand (R6); Ghisoni (R7); Dyslexic (R7)
DOOMBEN: Emphasis (R3); Rising Red (R4); Perast (R6); Cruze (R6); Le Romain (R8); Most Important (R8); In Her Time (R8); English (R8); Dark Dream (R9)
SUNSHINE COAST SUNDAY: Cruze (R4)
BALLARAT SUNDAY: Templar (R3)
RECENT BLACKBOOK WINNERS: Niccanova; Assimilate; Encryption; Our Mantra; Humidor; Comin' Through; D'Argento; Hiyaam; Cedar Grande; Unforgotten; King River' Seabrook; Tribal Wisdom; River Racer; Miss Siska; She Knows; Sambro; Impending; Steel Frost; Divine Unicorn.
CURRENT BLACKBOOK HORSES: Abdon; Acatour; Acceptile; Aide Memoire; Akkadian; Aristocratic Miss; Bastia; Beau Geste; Bedford; Belfast; Clever Blaze; Collateral; Consommateur; Cruze; Dark Dream; Data Point; Dawn Wall; Del Prado; Dubai Sights; Dyslexic; El Dorado Dreaming; Elle Lou; Emphasis; English; Eusebio; Firsthand; Fit For Purpose; Fox Swift; Furore; Generalissimo; Ghisoni; Happy Hannah; Heliosphere; Hopes Eternal; In Her Time: Inference; Invincibella; Invincible Gem; Invincible Star; Isaurian; Jimmy Rea; Johannes Vermeer; Johnny Ge; Kilimanjaro; Kings Of Leon; Kinshachi; Lamborghini; Le Romain; Lean Mean Machine; Leather 'N' Lace; Mactier; Magnufighter; Mickey Blue Eyes; More To Gain; Most Important; My Nordic Hero; Newsfan; No Doubt; Notonyourlife; Osborne Bulls; Outback Barbie; Patrick Erin; Perast; Petition; Pinch Passion; Prezado; Raiment; Ravi; Rebellious Lord; Roman Typhoon; Rugenbrau; Samara Dancer; Santa Ana Lane; Satono Rasen; Serenely Discreet; Shield Wall; Sister Sledge; Sizzleme; Slightly Sweet; Spin; Stratosphere; Strictly Legit; Sully; Super Cash; Superhard; Tactical Advantage; Tamasa; Templar; Temple Of Bel; Torpenhow; Trogir; Trubia; Tsaritsa; Tucanchoo; Vega Magic; Virtual Insanity; Wall Of Fire; Wyndspelle; Yogi; Zestful.