Selections and Best Bets for Randwick - 15th December 2018
Selections and best bets with Trial Watch and Blackbook Reports for racing on December 15.
RANDWICK December 15
RACE 2: (6) Deprive (EW)
RACE 7: (10) Sambro (Value)
RACE 9: (9) Regent
RACE 1: 4-5-9-8
RACE 2: 6-8-13-2
RACE 3: 4-6-3-5
RACE 4: 2-3-1-4
RACE 5: 5-3-7-1
RACE 6: 3-9-6-8
RACE 7: 10-13-14-9
RACE 8: 15-16-7-12
RACE 9: 9-3-4-13
RACE 2 (6) Deprive
: Expecting this promising 4YO to have come on from his first-up third over 1000m at Warwick Farm on November 28 when he struck a heavy track for the first time. Had strong form around him in his first four starts last season up to 1300m that included subsequent Group performers and certain to be more comfortable over this distance. The prospect of an affected track should not be a concern as he handled the wet conditions well when resuming.
RACE 7 (10) Sambro
: Can find ample reasons to fancy the Villiers chances of this honest Chris Waller-trained 4YO at attractive double figure odds when you consider he has missed a place only once in six starts at Randwick and his excellent 1600m form includes a win on a heavy track in the G2 Queensland Guineas (after winning the G3 Hawkesbury Guineas at 1400m) and a close second to Derby winner Levendi in the G3 Carbine Club at Flemington. He won the Queensland Guineas of a six weeks freshen and gets a similar prep for this with the benefit of two easy trials since his last start second over 1400m at this course under 57kg seven weeks ago.
TRIFECTA Race 2 – BOX 2-3-6-7-8-13
FIRST 4 Race 3: 4-6/3-4-5-6-8/3-4-5-6-8-9-11-13/Field
QUAD – 3-6-9/5-9-10-11-12-13-14/7-12-15-16/2-3-4-9-13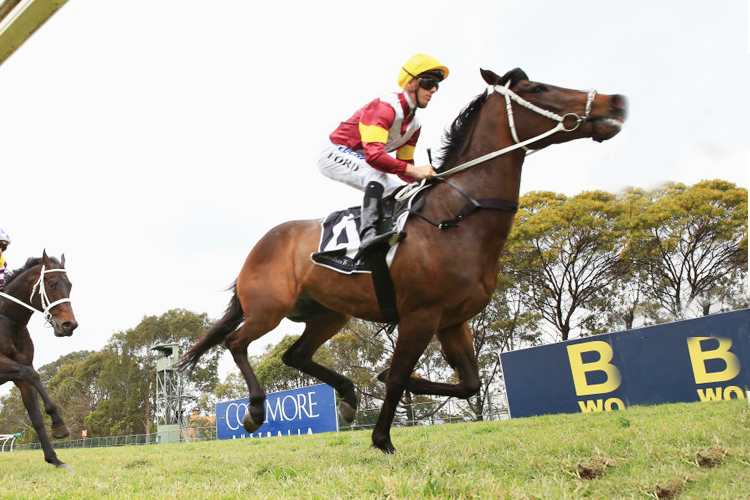 TRIAL WATCH REPORT
Noted trial horses engaged on December 15/16
RANDWICK SATURDAY: Military Zone (R2) Seasons (R3); Alassio (R3): Aeecee Vinco (R5); Enforcement (R5); Sambro (R7); So You Win (R8).
Seasons
(Hawkesbury December 7): The very progressive SEASONS settled sweetly two lengths back in fourth before surging in the last 80 metres to be beaten three quarters of a length with Tim Clark sitting unmoved as she ran through the line in great style. This was a tick over trial for this mare after her last start Rosehill win and showed that she is in the right form to win again.
KEMBLA GRANGE SATURDAY: Hightail (R1); Vulpes (R1); Howra (R1); Mistress Mouse (R1); Paris (R1)
Hightail
(Hawkesbury December 7): Impressed in the quickest of the 2YO heats (44.73) with an eye catching third. He's a member of the Snowden team who looks to have come on well since his first trial in September.
DOOMBEN SATURDAY: Lubuk (R4); Chess Star (R8)
HAWKESBURY SUNDAY: I'm A Legend (R4); Bad Boy For Love (R4); Schnapps (R4).
RECENT TRIAL WATCH WINNERS: Ljungberg; Ninamos; Lancaster Bomber; Unite And Conquer; The Runner; Wonderbabe; Mornay; Skagerrak; Sizzled; Alternative Facts; Kapajack; Athiri; On The Top; Samadoubt; Enjoy Elsie; Regent; Re Edit; Snippetspeed; Demerara; Tassort; Czarson; Hostwin Saturn
>BLACKBOOK REPORT
ELIGIBLE BLACKBOOK RUNNERS - December 15
RANDWICK SATURDAY: Charlayne (R3); Wall Of Fire (R4); My Favorite (R6); Pelethronius (R8); Berdibek (R9); Gresham (R9)
FLEMINGTON SATURDAY: Etymology (R3); Invincible Al (R7); True Excelsior (R9)
DOOMBEN SATURDAY: Bluebrook (R3); Axella (R3)
GOLD COAST SATURDAY: Axella (R8)
RECENT BLACKBOOK WINNERS: Miss Norway; Our Crown Mistress; My Nordic Hero; Kentucky Breeze; Firsthand; Chapter And Verse; Bleu Roche; Shillelagh; Newsfan; Royal Celebration; Verry Elleegant; Ranier; Street Tough; Savacool; Ringerdingding; Sesar
CURRENT BLACKBOOK HORSES: After All That; Amercement; Araaja; Aristocratic Miss; Asterius; Axella; Belfast; Belgravia; Berdibek; Biscara; Black And Tan; Black On Gold; Bons Away; Brimham Rocks; Charlayne; Chaussure; Civil Disobedience; Consommateur; Creedence; Cruze; Dealmaker; Divine Unicorn; Ducimus; Easy Eddie; Eawase; Emperor's Way; Etymology; Finche; Frolic; Futooh; Galaxy Raider; Gresham; Han Xin; Highway Sixtysix; Holy Snow; Hopes Eternal; I Am Coldplay; I'll Have A Bit; In Her Time: Invincible Al; Invincible Gem; Jorda; King Lear; Kings Of Leon; Marmaris; Mishani Vaidra; Montrachet; Multaja; My Favorite; Nahuel; Nakeeta Jane; Ombudsman; Our Venice Beach; Peaceful State; Pelethronius; Performer; Platinum Angel; Pretty In Pink; Proud Wolf; Red Stina; Renewal; Rich Charm; Ruban Bleu; Sangita; Savatiano; Secret Blaze; Secret Vega; See Me Exceed; Sheezdashing Shillelagh; Sir Isaac Newton; Sir John Lavery; Sister Sledge; Slightly Sweet; Slow Burn; Smartedge; Snogging; So Si Bon; So Splendid; Solo MIssion; Spanish Whisper; Spectroscope; Spirit Of Valor; Star Missile; Stealthy Lucas; Stratosphere; Strome; Tosen Basil; True Excelsior; Viceroy; Wall Of Fire; Warranty; Youngstar; Zipp A Dee Doo Dah; Zizzis; Zousain; Zoutori.
Most Read