Selections and Best Bets for September 23
Selections, best bets and blackbookers for Rosehill and Caulfield on September 23.
ROSEHILL September 23
RACE 1: (5) PARET
RACE 3: (6) ONLY CHOICE
(EW)
RACE 5: (9) DAWN WALL
(EW)
RACE 8: (4) DAYSEE DOOM
(EW)
RACE 9: (9) SCREAMARR
(Value)
RACE 1: 5-2-6-4
RACE 2: 3-1-4-2
RACE 3: 6-2-5-4
RACE 4: 3-4-5-2
RACE 5: 9-5-4-11
RACE 6: 1-3-2-8
RACE 7: 2-7-4-11
RACE 8: 4-7-2-1
RACE 9: 9-5-7-10
CAULFIELD September 23
RACE 3: (11) SIN TO WIN
RACE 5: (6) REVOLVING DOOR
(EW)
RACE 7: (10) ABBEY MARIE
(EW)
RACE 8: (6) RAVI
RACE 9: (13) JAMAICAN RAIN
RACE 1: 5-6-7-8
RACE 2: 1-6-3-2
RACE 3: 11-4-8-3
RACE 4: 6-1-4-11
RACE 5: 6-8-2-12
RACE 6: 3-6-1-8
RACE 7: 10-6-8-2
RACE 8: 6-7-1-5
RACE 9: 13-7-9-11
ROSEHILL SATURDAY
RACE 1: (5) PARET: Made an impression on debut when he overcame a poor start and chequered run to come from last on the turn for a strong win over 1250m at Canterbury on September 13. Faces the challenge of jumping from a midweek maiden but his figures were strong, the extra distance on his home track is a good fit and he has Hugh Bowman switching from a stablemate which must be taken as a positive lead to the opinion held of him by the Waller stable.
RACE 8: (4) DAYSEE DOOM: One of Sydney's most consistent mares showed she has come back as a good as ever with an unlucky first-up third over 1200m at this track in the G3 Sheraco Stakes on September 9. Ticks the right boxes as she has an obvious liking for Rosehill, missing a place at this track just once in her six starts, and she boasts a perfect two wins from two starts over 1400m. Should put herself into the race from her awkward gate as she has the tactical speed to cross and race on the pace.
RACE 9 (9) SCREAMARR: Big effort to win first-up from a four months break over 1300m at Warwick Farm on September 6 when he attacked the line despite being taken eight horses deep on the home turn while making a long run from the back. He made an impression in good Group company up to 2000m in the autumn and looks well placed to go on from his first-up win with a handy 3kg drop in weight from a soft barrier draw.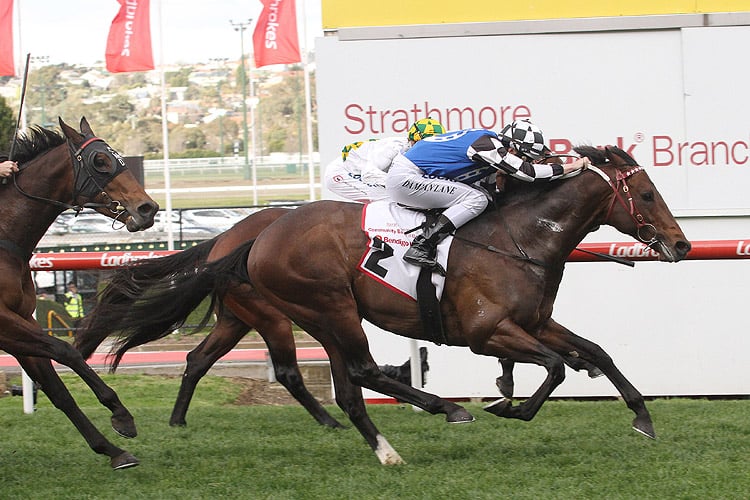 BLACKBOOK UPDATE
Eligible Blackbook Runners – September 23
ROSEHILL: Dawn Wall (R5); Chauffeur (R7); Dixie Blossoms (R8); Danish Twist (R8); Impavido (R9)
CAULFIELD: Aloisia (R1); Sunquest (R2); Sin To Win (R3); So Si Bon (R5); Tally (R7); Boom Time (R7); Harlem (R7); Amelie's Star (R7); Abbey Marie (R7); Selita (R8)
BALLARAT SUNDAY: Riyadh (R7)
BLACKBOOKERS - Horses to follow at next three starts. Selected September 16
CHAUTAUQUA
: The big boy will be bang on for The Everest.
LAND OF PLENTY
: Big run against proven G1 horses.
HAPPY HANNAH
: Watch out for her when she gets over some ground.
GOODFELLA
: Nice first-up effort. Has talent.
CELLARGIRL
: Not out of place against the best fillies.
DIA DA REYES: He will be winning races in Brisbane.
PRIMITIVO
: Could be Sydney's best 3YO maiden.
ELLE LOU
: Hard to beat in a suitable mares event.
RECENT BLACKBOOK WINNERS Kiwia. Chamois Road; Dracarys; Mariquita; Tango Rain; Pariah; Victory Downs; Bergerac; Screamarr; Brave Smash; Almandin; Hardham
CURRENT BLACKBOOK HORSES: Abbey Marie; Acatour; Acceaptile; Alegria; Aloisia; Amelie's Star; Awesome Pluck; Awoke; Bachman; Blackberry; Board Director; Boom Time; Calculated; Cambage; Cellargirl; Chapel Road; Charlevoix; Chauffeur; Chautauqua; Clever Blaze; Concealer; Crooked Blaze; Danish Twist; Dawn Wall; Del Prado; Dia Da Reyes; Dixie Blossoms; Dubaiinstyle; Dubai Sights; Earth Angel; Elle Lou; Endless Drama; Esteban; Etymology; Faraway Town; Flow; Foundation; Foundry; Foxplay; Ghostly; Glenall; Gibraltar Girl; Goodfella; Happy Hannah; Harlem; Harlem Lady; He's Our Rokki; High Mist; I Am Excited; Impavido; Imposing Lass; Inspired Estelle; Interlocuter; Invincible Express; Invincible Knight; Jericho; Jimmy Rea; Johnny Ge; Kanga's Eye; Kilimanjaro; Lady Lee; La Luna Rossa; Land Of Plenty; Life Less Ordinary; Loverboy Charlie; Lucky Liberty; Machinegun Jubs; Mahalangur; Mandalay Bay; Man Of Choice; Mandalong Kiss; Marsupial; Miss Siska; Miss Strathallan; More To Gain; Muraahib; Muraqaba My Nordic Hero; Niccanova; No Doubt; Nurse Kitchen; Oberland; Off The Rails; Oklahoma Girl; Onemorezeta; Our Century; Panno Rosso; Presscott; Primitivo; Rebellious Lord; Reneged; River Racer; Riyadh; Ruby Red Heart; Samara Dancer; Sarrasin; Saxton Rock; Selita; Serenely Discreet; Silverhawk; Sin To Win; Sir Moments; Sir Van Dyke; SoI SI Bon; Sons Of John; St Vaduz; Strictly Legal; Sultan Of Swing; Sunquest; Sylpheed; Tally; Terrorfilo; Tessera; The Virginian; Toga Picta; Tom Melbourne; Top Striker; Tower Of Song; Toy Boy; Tsaritsa; Tucanchoo; Turnitaround; Under The Thumb; Urban Ruler; Wazzenme; William Wallace; Zanteca.