Selections, Best Bets and Blackbokers for March 17
Selections, best bets and blackbookers for Rosehill and Flemington on March 17.
ROSEHILL March 17
RACE 4: (1) Written By
RACE 5: (2) Nieta
RACE 6: (4) Calculated (EW)
RACE 7: (7) Egg Tart (EW)
RACE 9: (14) Lovani (EW)
RACE 1: 8-5-9-6
RACE 2: 2-6-5-3
RACE 3: 1-8-10-2
RACE 4: 1-5-6-9
RACE 5: 2-5-12-6
RACE 6: 4-1-8-5
RACE 7: 7-13-15-18
RACE 8: 3-2-7-1
RACE 9: 14-8-11-5
FLEMINGTON March 17
RACE 1: (3) Quilista
RACE 3: (5) Demerara
RACE 4: (2) Khulaasa
RACE 5: (2) Humidor
RACE 8: (3) Top Of The Range
RACE 5 (2) NIETA
: Classy sprinting mare is perfectly placed to kick of a new campaign after two impressive trials that have shown she is in the right form to add to her excellent fresh record, having won three from four when first-up. Well treated in this field with only 1kg over the limit and there is no issue with her ability to handle any give in the track having won five times on soft ground. Started her spring prep with excellent efforts behind Redzel – must be hard to beat in this company on those form lines.
RACE 7 (7) EGG TART
: She's a dual Oaks winner but is versatile enough to match it in top company over the shorter distances when fresh as she showed first-up last spring and again when she resumed against a classy lot in the Liverpool City Cup (1300m) at Randwick on March 3 with an effort that points to her being set for perhaps her best campaign. Ridden with little urgency at the rear in the first half of that race but warmed to her task in great style to finish fourth, just a length off the winner after getting clear running late. Down 2kg and back to her own sex, she will relish stepping up to 1500m on her home track from a favourable inside gate.
RACE 9 (14) LOVANI
: Looks a good gamble second-up for her new stable after resuming with an eye-catching fourth over 1200m on a slow track at Randwick after striking trouble mid race. The way she ran through the line made it clear that distance was too short and the step to 1350m second up with a 2kg drop to the limit weight should see this former Victorian very competitive in this field considering she has been placed in Group 2 company at Flemington.
Eligible Blackbook Runners – March 17
ROSEHILL: Virtual Insanity (R4); Secret Trail (R5); Octabello (R6); Egg Tart (R7); Aide Memoire (R7); Raiment 9R7); Bring Me Roses (R7); Prized Icon (R8); Comin' Through (R8); Invincible Knight (R9); Generalissimo (R9).
FLEMINGTON: Handsome Thief (R9)
GOLD COAST: Umberto (R7)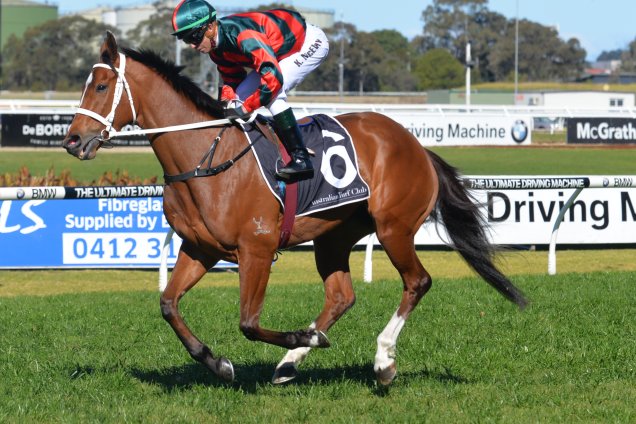 BLACKBOOKERS - Horses to follow at next three starts. Selected March 10
INVINCIBLE GEM
: Class mare best against own sex.
PERAST
: Impressive late. Set for a good campaign.
VIRIDINE
: Hard to beat in 3YO company.
NETTOYER
: Will appreciate a strong rider over 2000m.
SISTER SLEDGE
: Impressive debut. Obviously has a future.
AKKADIAN
: Stepped up in the Sires Produce. Can go on with it.
VENTURA STORM
: Big player in coming staying races.
RECENT BLACKBOOK WINNERS: Faraway Town; Morton's Fork; Show A Star; Awesome Pluck; Fiesta; Peaceful State; Epic Rant; Fickle Folly; Kementari; Outrageous; Endless Drama; El Rada; Kopi Luwak; Overshare; More Energy; Lofty's Menu; Reach For Heaven; Niccanova; Assimilate; Encryption; Our Mantra.
CURRENT BLACKBOOK HORSES: Acatour; Acceptile; Acqume; Aide Memoire; Akkadian; Alegria; Alward; Assimilate; Beau Geste; Board Director; Bravo Tango; Bring Me Roses; Cambage; Cedar Grande; Clever Blaze; Collateral; Comin Through; Consommateur; D'Argento; Data Point; Dawn Wall; Del Prado; Divine Unicorn; Dubaiinstyle; Dubai Sights; Duca Valentinois; Egg Tart; Elle Lou; Eusebio; Fit For Purpose; Generalissimo; Handsome Thief; Happy Hannah; Havasay; Heliosphere; Humidor; Impending; Inference; Insensata; Invincible Gem; Invincible Knight; Invincible Star; It's Somewhat; Jimmy Rea; Johannes Vermeer; Johnny Ge; Kilimanjaro; King River; Kinshachi; Lamborghini; Mactier; Main Stage; Magnufighter; Merchant Navy; Miss Siska; Mister Sea Wolf; More To Gain; Mr So And So; My Country; My Nordic Hero; Nettoyer; No Doubt; Octabello; Oink; Our Century; Palazzo Vecchio; Perast; Petition; Pinch Passion; Prezado; Primitivo; Prized Icon; Problem Solver; Raiment; Ravi; Rebellious Lord; River Racer; Roman Typhoon; Royal Tudor; Ruby Red Heart; Rugenbrau; Samara Dancer; Seberate; Secret Trail; Serenely Discreet; She Knows; Sir Van Dyke; Sister Sledge; Slightly Sweet; Snoopy; Stratosphere; Strictly Legal; Sully; Superhard; Tactical Advantage; Tamasa; Templar; Tessera; Tiara Star; Torpenhow; Touch Of Mink; Trogir; Trubio; Tsaritsa; Tucanchoo; Umberto; Vega Magic; Ventura Storm; Viridine; Virtual Insanity; Wall Of Fire; Zestful.