Selections, Best Bets and Blackbook Update for August 12
Selections, best bets and blackbookers for Rosehill and Flemington on August 12
ROSEHILL August 12
RACE 5: (4) Peacock
RACE 6: (3) Trekking (EW)
RACE 7: (7) Washington Heights
RACE 8: (6) Faith's Encore (EW)
RACE 9: (8) Imanui
RACE 6 (3) TREKKING
: Showed his class last season when he followed a big debut win over this course and distance with a luckless second in Canberra's Black Opal before the heavy track ended his chances in the Golden Slipper. Super trial win in preparation for this and from his draw expecting him to sit on the back of a line of leaders and have the last run at them. Certain to win good races.
RACE 7 (7) WASHINGTON HEIGHTS
: Ran up to expectations at his first start since returning from his time in Hong Kong when he powered home over the top of his rivals for a soft 1200m win at this course on July 15. No doubt he can make further improvement with the break of a month and a strong trial in between a perfect prep for this event. First go at 1400m but should eat it up on his home track.
RACE 8 (6) FAITH'S ENCORE
: Talented mare has made an excellent return from a bleeding ban with two strong efforts over shorter trips and is ready to peak with the step up to 1400m. Nothing went right last time when third behind Suspender over 1200m at this course and with 4kg less this time she has the weights, barrier and extra distance in her favour.
RACE 1: 9-10-1-8
RACE 2: 1-6-3-4
RACE 3: 7-6-3-1
RACE 4: 7-9-4-8
RACE 5: 4-7-5-2
RACE 6: 3-2-4-6
RACE 7: 7-4-10-2
RACE 8: 6-8-11-2
RACE 9: 8-4-12-10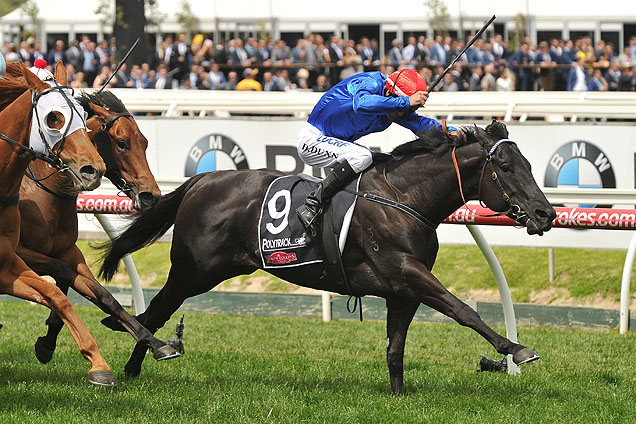 FLEMINGTON August 12
RACE 3: (2) Sovereign Nation
RACE 5: (6) Swampland (EW)
RACE 6: (11) Invictum Domina (Value)
RACE 7: (6) Snitzson (EW)
RACE 8: (9) Galaxy Raider (EW)
RACE 9: (10) Runson (EW)
RACE 1: 6-3-8-2
RACE 2: 3-4-2-1
RACE 3: 2-5-3-1
RACE 4: 9-5-11-3
RACE 5: 6-2-5-7
RACE 6: 11-3-13-9
RACE 7: 6-7-1-5
RACE 8: 9-1-13-16
RACE 9: 10-11-7-1
BLACKBOOK UPDATE
Eligible Blackbook Runners – August 12
ROSEHILL SATURDAY: Sultan Of Swing 9R3); Denpurr (R4); Selita (R4); Sarrasin (R7); Mariquita (R8); Imanui (R9).
FLEMINGTON SATURDAY: Kilimanjaro (R2)
MORPHETTVILLE SATURDAY: Chamois Road (R8)
NEWCASTLE TUESDAY: It's So Obvious
BLACKBOOKERS - Horses to follow at next three starts. Selected August 5
HARPER'S CHOICE
: Strong wfa return. Could win a good race in the spring.
TANGO RAIN
: Wide barrier made the difference. Big effort after 11 months off.
MURAQABA
: Encouraging signs that he's regaining form.
DENARIUS
: Hard to beat when he returns to Brisbane.
SIN TO WIN
: Top stable would be happy with this lightly raced ex-Kiwi.
RECENT BLACKBOOK WINNERS Payroll; Deploy; Royal Tudor, Liapari; Hualalai; Lone Eagle; Leodoro; Pakaya Prince; Irish Constabulary; Pick Me Up; Another Bullseye; Suncraze; Fraternater; Kiwia.
CURRENT BLACKBOOK HORSES: Acatour; Acceptile; Admiral Jello; Alegria; All But Gone; Aloisia; Amelie's Star; Awesome Pluck; Bachman; Bergerac; Blackberry; Board Director; Calculated; Chamois Road; Chapel Road; Charlevoix; Clever Blaze; Concealer; Crooked Blaze; Del Prado; Denarius; Denpurr; Dissolution; Dixie Blossoms; Dracarys; Dubaiinstyle; Dubai Sights; Earth Angel; Endless Drama; Esteban; Faraway Town; Flow; Foundry; Gallante; Ghostly; Glenall; Gibraltar Girl; Groundbreak; Hardham; Harlem Lady; Harper's Choice; High Mist; Imanui; Impavido; Inference; Inspired Estelle; Invincible Express; Invincible Knight; It's So Obvious; Jericho; Jimmy Rea; Johnny Ge; Kanga's Eye; Kilimanjaro; Lady Lee; La Luna Rossa; Loverboy Charlie; Lucky Liberty; Machinegun Jubs; Mandalay Bay; Man Of Choice; Mariqueta; Maurus; McCreery; Memento; Miss Siska; Miss Strathallan; Mogador; More To Gain; Muraqaba; Mystified; Niccanova; Nurse Kitchen; Oberland; Obsidian; Off The Rails; Oklahoma Girl; Onemorezeta; Our Century; Panno Rosso; Pariah; Presscott; Rebellious Lord; Reneged; River Racer; Ruby Red Heart; Samara Dancer; Santa Ana Lane; Sarrasin; Saxton Rock; Screamarr; Selita; SIlverhawk; Sin To Win; Sir Moments; Sir Van Dyke; Smart As You Think; Smooth Landing; Sons Of John; Spoils; St Valduz; Strictty Legal; Sultan Of Swing; Sylpheed; Tango Rain; Terrorfilo; Tessera; Top Striker; Tosen Stardom; Tower Of Song; Toy Boy; Tsaritsa; Tucanchoo; Tulip; Under The Thumb; Urban Ruler; Victory Downs; Walk The Streets; Wazzenme; William Wallace; Zanteca.