Selections, Best Bets and Blackbookers for April 21
Selections, best bets and blackbook update for racing on April 21.
RANDWICK April 21
RACE 1 (1) Nic's Vendetta (EW)
RACE 5: (5) Manicure (EW)
RACE 6: (3) Outrageous (EW)
RACE 8: (6) Interlocuter (EW)
RACE 9: (7) Osborne Bulls
RACE 1: 1-4-5-3
RACE 2: 11-5-4-7
RACE 3: 2-3-7-8
RACE 4: 3-1-6-4
RACE 5: 5-4-6-7
RACE 6: 3-12-6-5
RACE 7: 10-2-8-1
RACE 8: 6-7-10-14
RACE 9: 7-11-13-9
RACE 5 (5) MANICURE: This is a quality fillies race with the impressive Victorian So Far Sokool in for a solid test from strong local opposition. One of those is MANICURE who is primed for a peak performance after two excellent efforts since resuming in hot form races over 1200m. Beaten by a bad barrier and wide run when she just failed to nail Houtzen in the G3 PJ Bell last time and the depth of that form stood up when seventh placed Catchy came out to beat the colts in the G2 Arrowfield Sprint at Randwick last Saturday. Gets her chance this time over the extra trip from a favourable draw.
RACE 6 (3) OUTRAGEOUS: Not sure the ATC Sires' Produce is a reliable form line on face value given the luckless runs behind the upset winner El Dorado Dreaming. That said this impressive youngster from the Team Hawkes stable should have gone close to winning that G1 event after he had little room for most of the straight before bursting through late to claim third place. This has been his target race and he looks the right type to come into his own over the extra 200 metres. Appeals as a strong each-way play in an open race.
RACE 8 (6) INTERLOCUTER: In a wide open race this lightly-raced import is ready to find the form that saw him win three races from 1600m to 1900m last spring before placing in the G2 Villiers Stakes. He has put in two encouraging efforts since resuming in unsuitable shorter events and ticks the right boxes as he boasts a strong Randwick, is unbeaten when third-up and is well drawn to enjoy a soft run. A positive report about his progress in training from the Godolphin stable makes him a sound bet at attractive odds.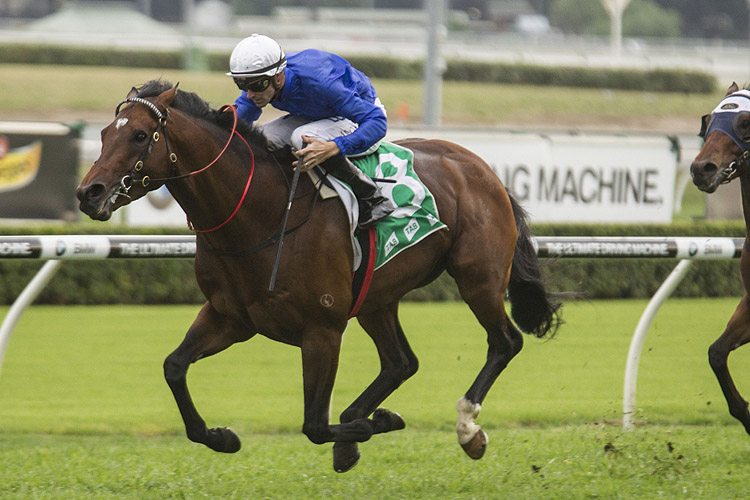 BLACKBOOK UPDATE
BLACKBOOKERS - Horses to follow at next three starts. Selected April 21
DARK DREAM
: Nice horse in the making.
OUTBACK BARBIE
: Will get her chance at the Brisbane carnival.
NEWSFAN
: Better than a provincial performer.
PATRICK ERIN
: Mark him down for the Brisbane Cup.
INVINCIBELLA
: Strong return. Set for another good campaign.
EMPHASIS
: Eye catcher first-up. Good Brisbane class stayer.
ABDON
: Strong Australian debut by another Waller import.
Eligible Blackbook Runners – April 21
RANDWICK: Tessera (R2); Problem Solver (R5); Dyslexic (R5); Seberate (R6); Akkadian (R6); Seabrook (R6); It's Somewhat (R7); Nettoyer (R8); Our Century (R9); Collateral (R9); Tribal Wisdom (R9).
DOOMBEN: Shield Wall (R4); Man Of His Word (R8); Emphasis (R8); Fit For Purpose (R9); Oink (R9); River Racer (R9)
GOLD COAST: Shield Wall (R7)
BALLARAT SUNDAY: Brave Tango (R8); Superhard (R8)
RECENT BLACKBOOK WINNERS: El Rada; Kopi Luwak; Overshare; More Energy; Lofty's Menu; Reach For Heaven; Niccanova; Assimilate; Encryption; Our Mantra; Humidor; Comin' Through; D'Argento; Hiyaam; Cedar Grande; Unforgotten; King River.
CURRENT BLACKBOOK HORSES: Abdon' Acatour; Acceptile; Aide Memoire; Akkadian; Alegria; Alward; Aristocratic Miss; Beau Geste; Belfast; Bravo Tango; Clever Blaze; Collateral; Consommateur; Dark Dream; Data Point; Dawn Wall; Del Prado; Divine Unicorn; Dubaiinstyle; Dubai Sights; Duca Valentinois; Dyslexic; Egg Tart; Elle Lou; Emphasis; English; Eusebio; Fit For Purpose; Fox Swift; Furore; Generalissimo; Happy Hannah; Havasay; Heliosphere; Hopes Eternal; Impending; Inference; In Her Time: Invincibella; Invincible Gem; Invincible Star; Isaurian; It's Somewhat; Jimmy Rea; Johannes Vermeer; Johnny Ge; Kilimanjaro; Kinshachi; Lamborghini; Lean Mean Machine; Mactier; Magnufighter; Man Of His Word; Miss Siska; More To Gain; My Nordic Hero; Nettoyer; Newsfan; No Doubt; Oink; Our Century; Outback Barbie; Patrick Erin; Perast; Petition; Pinch Passion; Prezado; Problem Solver; Raiment; Ravi; Rebellious Lord; River Racer; Roman Typhoon; Royal Tudor; Ruby Red Heart; Rugenbrau; Samara Dancer; Sambro; Seabrook; Seberate; Serenely Discreet; She Knows; Shield Wall; Sister Sledge; Sizzleme; Slightly Sweet; Snoopy; Spin; Steel Frost; Stratosphere; Strictly Legit; Sully; Superhard; Tactical Advantage; Tamasa; Templar; Tessera; Top Of The Range; Torpenhow; Tribal Wisdom; Trogir; Trubia; Tsaritsa; Tucanchoo; Vega Magic; Viridine; Virtual Insanity; Wall Of Fire; Wyndspelle; Yogi; Zestful.