Selections, Best Bets And Blackbookers for Randwick on AUgust 5
Selections, best bets and blackbookers for Randwick on August 5
RANDWICK SATURDAY
RACE 1: (2) Brave Song
RACE 3: (8) Imperial Augustus (EW)
RACE 4: (2) Care To Think
RACE 5 (3) Sayed
RACE 6: (8) Admiral Jello (Value)
RACE 1: 2-4-3-6
RACE 2: 2-3-6-5
RACE 3: 8-7-3-5
RACE 4: 2-4-8-10
RACE 5: 3-10-2-12
RACE 6: 8-10-2-11
RACE 7: 1-7-8-4
RACE 8: 10-3-7-4
RACE 9: 10-14-16-12
RACE 1 (2) BRAVE SONG: Impressed as a young horse going places when he overcame a check to go four wide and easily round up the leaders before racing clear to score by a soft three lengths over 1200m at Canterbury on July 26 after having no luck when placed at that track on debut. Recorded excellent figures last time and no secret his top stable has high aspirations for him. Should relish the bigger stretches of his home track.
RACE 5 (3) SAYED: French import has found his legs as a stayer, recording his third win in Australia at his first 2400m attempt when he outstayed his rivals at Warwick Farm on July 8 under 58.5kg and no severe penalty to be carrying only 1kg more here. Has been compensated for the month between runs with a maintenance trial at Randwick on July 24 where he was very strong running through the line from back in the field. He's won three times with two seconds from his five starts in this campaign and soft track should pose no concerns as he has been placed three times from his four goes on affected tracks. His climb through the classes isn't over yet.
RACE 6 (8) ADMIRAL JELLO: Hard to miss his eye-catching first-up fourth over 1500m at this course on July 22 when luckless over the last 300m at his first outing for five months. Recorded impressive wins up to 2400m last campaign but worth noting that when second up last prep he was an excellent third under 60kg behind the classy Classic Uniform over 1550m at Canterbury and should be capable of something similar over this trip at this stage of his current program. Good value as he appeals as a horse to stick with as his distances increase.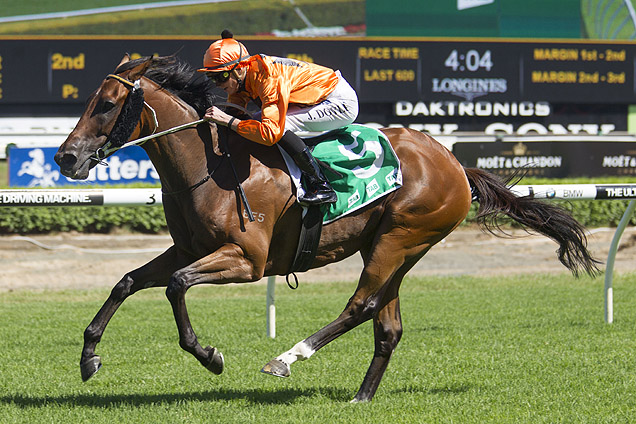 BLACKBOOK UPDATE
Eligible Blackbook Runners – August 5
RANDWICK SATURDAY: Invincible Knight (R6); Admiral Jello (R6); Dubaiinstyle (R6); Denpurr (R9); Ghostly (R9).
FLEMINGTON SATURDAY: Killarney Kid (R4); Rebellious Lord (R7); Here To There (R9); Prescott (R10).
SANDOWN SUNDAY: Presscott (R2); Santa Ana Lane (R7).
BLACKBOOKERS - Horses to follow at next three starts. Selected July 29
CHARLEVOIX
: Would be in everybody's blackbook. Certainty beaten.
CHAPEL ROAD
: Untested behind a wall of horses. Had plenty to offer.
OBERLAND
: Never got a crack. Big improver next time.
MORE TO GAIN
: Excellent first-up. Set for a good campaign.
SULTAN OF SWING
: No luck from wide gate. Talented.
BERGERAC
: Ready to win over a middle distance.
RECENT BLACKBOOK WINNERS Payroll; Deploy; Royal Tudor, Liapari; Hualalai; Lone Eagle; Leodoro; Pakaya Prince; Irish Constabulary; Pick Me Up; Another Bullseye; Suncraze; Fraternater; Kiwia.
CURRENT BLACKBOOK HORSES: Acatour; Acceptile; Admiral Jello; Alegria; All But Gone; Aloisia; Amelie's Star; Awesome Pluck; Bachman; Bergerac; Blackberry; Board Director; Calculated; Chamois Road; Chapel Road; Charlevoix; Clever Blaze; Concealer; Crooked Blaze; Del Prado; Denpurr; Dissolution; Dixie Blossoms; Dracarys; Dubaiinstyle; Dubai Sights; Earth Angel; Endless Drama; Esteban; Faraway Town; Flow; Foundry; Gallante; Ghostly; Glenall; Gibraltar Girl; Groundbreak; Hardham; Harlem Lady; Here To There; High Mist; Imanui; Impavido; Inference; Inspired Estelle; Invincible Express; Invincible Knight; It's So Obvious; Jericho; Jimmy Rea; Johnny Ge; Kanga's Eye; Kilimanjaro; Killarney Kid; Lady Lee; La Luna Rossa; Loverboy Charlie; Lucky Liberty; Machinegun Jubs; Mandalay Bay; Man Of Choice; Mariqueta; Maurus; McCreery; Memento; Miss Siska; Miss Strathallan; Mogador; More To Gain; Mystified; Niccanova; Nurse Kitchen; Oberland; Obsidian; Off The Rails; Oklahoma Girl; Onemorezeta; Our Century; Oxford Poet; Panno Rosso; Pariah; Presscott; Rebellious Lord; Reneged; River Racer; Ruby Red Heart; Samara Dancer; Santa Ana Lane; Sarrasin; Saxton Rock; Screamarr; Selita; SIlverhawk; Sir Moments; Sir Van Dyke; Smart As You Think; Smooth Landing; Sons Of John; Spoils; St Valduz; Strictty Legal; Sultan Of Swing; Sweet Deal; Sylpheed; Terrorfilo; Tessera; Top Striker; Tosen Stardom; Tower Of Song; Toy Boy; Tsaritsa; Tucanchoo; Tulip; Under The Thumb; Urban Ruler; Victory Downs; Walk The Streets; Wazzenme; William Wallace; Zanteca.