Selections, Best Bets and Blackbookers for September 9
Selections, best bets and blackbook horses for racing on September 9.
ROSEHILL September 9
RACE 5: (8) CANNYESCENT
RACE 6: (8) RAVI (Value)
RACE 8: (9) MANA (Value)
RACE 9: (6) PEACOCK (EW)
RACE 1: 5-7-1-4
RACE 2: 1-7-4-2
RACE 3: 3-1-12-11
RACE 4: 7-2-3-1
RACE 5: 8-4-6-2
RACE 6: 8-7-10-2
RACE 7: 5-7-4-10
RACE 8: 9-13-4-8
RACE 9: 6-11-3-5
MOONEE VALLEY September 9
RACE 1: (7) SEA THE SPARKLE (EW)
RACE 4: (4) FOUNDRY (EW)
RACE 6: (1) SHOALS
RACE 9: (9) ETYMOLOGY (EW)
RACE 1: 7-3-9-4
RACE 2: 8-2-6-4
RACE 3: 12-16-3-1
RACE 4: 4-5-7-3
RACE 5: 5-7-1-3
RACE 6: 1-8-10-13
RACE 7: 2-8-1-10
RACE 8: 5-11-6-8
RACE 9: 9-2-3-1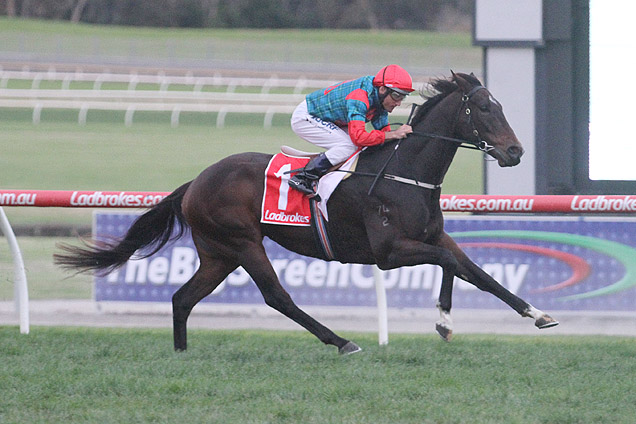 ROSEHILL SATURDAY
RACE 5 (8) CANNYESCENT: Needs good tracks so it looks a smart move by the red hot Lindsay Park stable to switch this highly talented 5YO to Sydney coming off an excellent first-up second down the straight at Flemington when just beaten by the classy G1 winner Hey Doc with subsequent Caulfield winner Grande Rosso third. He can add to that impressive form line here as he is beautifully placed on the limit weight of 53kg, noting that he carried 59.5kg to win over 1350m at Rosehill the last time he visited Sydney in May that preceded two excellent Melbourne wins in strong form races.
RACE 8 (9) MANA: Trainer Craig Ritchie has done a superb job with this gelding to bring him through the classes with three wins and two placings from his last five starts since June. Probably needed the freshen after his latest win over 1200m at Randwick five weeks ago but showed he was in the right form to go on with it here when he cruised to a strong trial win over 1050m at Randwick last week. Gets Bowman and a good draw so he has plenty in his favour to take another step up the ladder.
RACE 9 (6) PEACOCK: Expecting a strong showing from this smart 4YO second up after his pleasing third when resuming over 1350m at this course on August 12 when he looked short of his top despite some good lead-in trials. Expecting his added fitness to make a considerable difference here as meets the winner of that race The Pharaoh 2.5kg better from a favourable draw.
BLACKBOOK UPDATE
Eligible Blackbook Runners – September 9
ROSEHILL: Imanui (R3); Dixie Blossoms (R5); Gibraltar Girl (R6); Chauffeur (R7); Top Striker (R8); Oklahoma Girl (R9).
MOONEE VALLEY: Sunquest (R2); Foundry (R4); Brave Smash (R7); Santa Ana Lane (R7); Gallante (R8); He's Our Rokki (R8); Boom Time (R9); Etymology (R9).
MORPHETTVILLE: Oberland (R7).
BLACKBOOKERS - Horses to follow at next three starts. Selected September 2
MURAAHIB: Excellent prep for the Guineas and beyond.
HARLEM: Fine start towards qualifying for the Cups.
VIOLATE: Can find a suitable race over the spring.
TURNITAROUND: Must be followed if this is taken on face value.
SCHEDULE: Should have gone close first-up. Highway special.
DAWN WALL: Showed her class fresh. Best to come.
I AM EXCITED: Quality filly. Will get better up in distance.
MY NORDIC HERO: Is this the spring sleeper among the Waller imports?
RECENT BLACKBOOK WINNERS Payroll; Deploy; Royal Tudor, Liapari; Hualalai; Lone Eagle; Leodoro; Pakaya Prince; Irish Constabulary; Pick Me Up; Another Bullseye; Suncraze; Fraternater; Kiwia. Chamois Road; Dracarys; Mariquita; Tango Rain; Pariah; Victory Downs; Bergerac; Screamarr
CURRENT BLACKBOOK HORSES: Acatour; Acceaptile; Alegria; Almandin; Aloisia; Amelie's Star; Awesome Pluck; Awoke; Bachman; Blackberry; Board Director; Boom Time; Brave Smash; Calculated; Chapel Road; Charlevoix; Chauffeur; Clever Blaze; Concealer; Crooked Blaze; Dawn Wall; Del Prado; Denarius; Dissolution; Dixie Blossoms; Dubaiinstyle; Dubai Sights; Earth Angel; Endless Drama; Esteban; Etymology; Faraway Town; Flow; Foundry; Foxplay; Gallante; Ghostly; Glenall; Gibraltar Girl; Hardham; Harlem; Harlem Lady; Harper's Choice; He's Our Rokki; High Mist; I Am Excited; Imanui; Impavido; Imposing Lass; Inference; Inspired Estelle; Invincible Express; Invincible Knight; Jericho; Jimmy Rea; Johnny Ge; Kanga's Eye; Kilimanjaro; Lady Lee; La Luna Rossa; Life Less Ordinary; Loverboy Charlie; Lucky Liberty; Machinegun Jubs; Mahalangur; Mandalay Bay; Man Of Choice; Mandalong Kiss; Marsupial; Miss Siska; Miss Strathallan; More To Gain; Muraahib; Muraqaba My Nordic Hero; Niccanova; No Doubt; Nurse Kitchen; Oberland; Off The Rails; Oklahoma Girl; Onemorezeta; Our Century; Panno Rosso; Presscott; Rebellious Lord; Reneged; River Racer; Ruby Red Heart; Samara Dancer; Santa Ana Lane; Sarrasin; Saxton Rock; Selita; Serenely Discreet; Silverhawk; Sin To Win; Sir Moments; Sir Van Dyke; Smart As You Think; Smooth Landing; SoI SI Bon; Sons Of John; St Vaduz; Strictly Legal; Sultan Of Swing; Sunquest; Sylpheed; Tally; Terrorfilo; Tessera; The Virginian; Toga Picta; Tom Melbourne; Top Striker; Tower Of Song; Toy Boy; Tsaritsa; Tucanchoo; Tulip; Turnitaround; Under The Thumb; Urban Ruler; Wazzenme; William Wallace; Zanteca.