Selections, Best Bets and Blackbookers for September 16
Selections and best bets for Randwick and Flemington on September 16.
RANDWICK September 16
RACE 1: (9) Classic Conquest
(Value)
RACE 2: (10) Royal Navy
RACE 4: (7) Comin' Through
RACE 5: (8) I Am Excited
(EW)
RACE 9: (5) I Thought So
RACE 1: 9-6-2-3
RACE 2: 10-3-7-4
RACE 3: 7-3-1-2
RACE 4: 7-3-9-4
RACE 5: 8-1-2-5
RACE 6: 7-9-1-3
RACE 7: 2-1-5-3
RACE 8: 6-11-10-3
RACE 9: 5-15-11-13
FLEMINGTON September 16
RACE 3: (12) Mr Sneaky
RACE 4: (4) Voodoo Lad
(EW)
RACE 5: (2) Jukebox
(EW)
RACE 6: (10) Schism
(EW)
RACE 9: (3) Amelie's Star
RACE 1: 1-5-7-11
RACE 2: 1-4-7-13
RACE 3: 12-14-6-4
RACE 4: 4-3-9-10
RACE 5: 2-6-9-11
RACE 6: 10-11-1-3
RACE 7: 1-9-2-3
RACE 8: 6-1-3-13
RACE 9: 3-9-10-7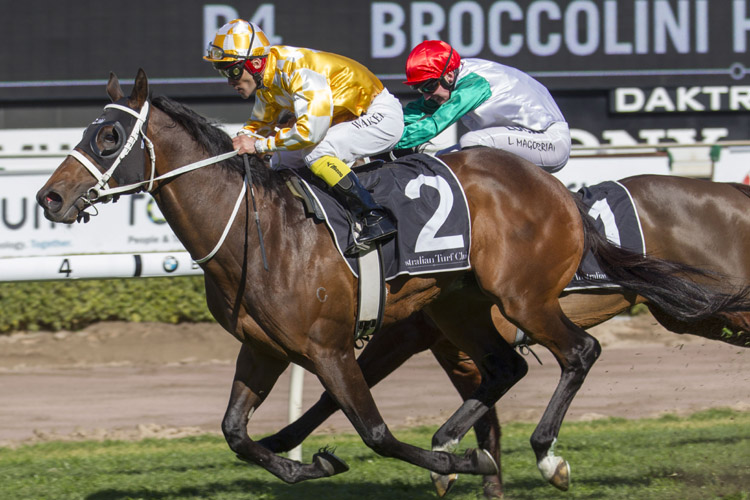 RANDWICK SATURDAY
RACE 2 (10) ROYAL NAVY: Progressive 4YO from the strong Snowden yard gets his chance for a confidence building win after two sound efforts since resuming. He is well placed getting down to the limit weight after carrying 57.5kg when beaten a nose second up over 1600m at Warwick Farm when he just failed to run down a tearaway leader. He was a convincing winner when third-up in his last prep and should be ready to go to a new peak with the benefit of his added fitness from his last start over this trip.
RACE 4 (7) COMIN' THROUGH: Hard to fault the record of this classy 4YO who has only missed a place twice in his eight starts and boasts excellent Group form including his placings in the G1 Randwick Guineas and G2 Hobartville Stakes in the autumn. Returned with a fine first-up win over this course and distance carrying 60.5kg a month ago and has had the typical Chris Waller prep with a strong third in a maintenance trial at Rosehill last week. Clearly at his best on firm ground and is well placed to take on this company with his liking for Randwick and the massive 7.5kg drop in weight from his first-up win.
RACE 9 (5) I THOUGHT SO: Raw talent has been gelded since his last campaign and judging by his strong form in two recent trials it could be the making of him as a racehorse as his record would be so much better if he had been more focused in his early races. He won first-up over this course and distance in February and his recent trials confirm he has progressed and is ready to start his new campaign in similar form. The map indicates a line of early speed that should give him the chance to sit back and have the last run at them.
BLACKBOOK UPDATE
Eligible Blackbook Runners – September 16/17
RANDWICK: Marsupial (R3); Tom Melbourne (R4); No Doubt (R4); Tulip (R5); I Am Excited (R5); Smooth Landing (R5); Foxplay 9R6); Life Less Ordinary (R8); Harper's Choice (R8).
FLEMINGTON: Muraahib (R2); Toga Picta (R2); Violate (R3); So Si Bon (R4); Serenely Discreet (R6); Smart As You Think (R6); Inference (R7); Almandin (R8); Charlevoix (R8); Amelie's Star (R9); Hardham (R9)
DOOMBEN: Denarius (R6).
DUBBO SUNDAY: Crooked Blaze (R7); Schedule (R8).
BLACKBOOKERS - Horses to follow at next three starts. Selected September 9
CAMBAGE
: Genuine improver in something longer.
DANISH TWIST
: Should have been in the finish. Obviously going well.
INTERLOCUTER
: Can make quick amends for protest loss.
ABBEY MARIE
: Will be well placed against own sex.
FOUNDATION
: Poor tactics. Suited on a big track.
RIYADH
: Not much went right. Will appreciate weight relief.
RECENT BLACKBOOK WINNERS Payroll; Deploy; Royal Tudor, Liapari; Hualalai; Lone Eagle; Leodoro; Pakaya Prince; Irish Constabulary; Pick Me Up; Another Bullseye; Suncraze; Fraternater; Kiwia. Chamois Road; Dracarys; Mariquita; Tango Rain; Pariah; Victory Downs; Bergerac; Screamarr; Brave Smash
CURRENT BLACKBOOK HORSES: Abbey Marie; Acatour; Acceaptile; Alegria; Almandin; Aloisia; Amelie's Star; Awesome Pluck; Awoke; Bachman; Blackberry; Board Director; Boom Time; Calculated; Cambage; Chapel Road; Charlevoix; Chauffeur; Clever Blaze; Concealer; Crooked Blaze; Danish Twist; Dawn Wall; Del Prado; Denarius; Dissolution; Dixie Blossoms; Dubaiinstyle; Dubai Sights; Earth Angel; Endless Drama; Esteban; Etymology; Faraway Town; Flow; Foundation; Foundry; Foxplay; Ghostly; Glenall; Gibraltar Girl; Hardham; Harlem; Harlem Lady; Harper's Choice; He's Our Rokki; High Mist; I Am Excited; Impavido; Imposing Lass; Inference; Inspired Estelle; Interlocuter; Invincible Express; Invincible Knight; Jericho; Jimmy Rea; Johnny Ge; Kanga's Eye; Kilimanjaro; Lady Lee; La Luna Rossa; Life Less Ordinary; Loverboy Charlie; Lucky Liberty; Machinegun Jubs; Mahalangur; Mandalay Bay; Man Of Choice; Mandalong Kiss; Marsupial; Miss Siska; Miss Strathallan; More To Gain; Muraahib; Muraqaba My Nordic Hero; Niccanova; No Doubt; Nurse Kitchen; Oberland; Off The Rails; Oklahoma Girl; Onemorezeta; Our Century; Panno Rosso; Presscott; Rebellious Lord; Reneged; River Racer; Riyadh; Ruby Red Heart; Samara Dancer; Sarrasin; Saxton Rock; Selita; Serenely Discreet; Silverhawk; Sin To Win; Sir Moments; Sir Van Dyke; Smart As You Think; Smooth Landing; SoI SI Bon; Sons Of John; St Vaduz; Strictly Legal; Sultan Of Swing; Sunquest; Sylpheed; Tally; Terrorfilo; Tessera; The Virginian; Toga Picta; Tom Melbourne; Top Striker; Tower Of Song; Toy Boy; Tsaritsa; Tucanchoo; Tulip; Turnitaround; Under The Thumb; Urban Ruler; Wazzenme; William Wallace; Zanteca.