Sydney Trial Watch - October Reviews
Chris Scholtz reviews Sydney barrier trials at Warwick Farm on October 19, Wyong on October 22, Warwick Farm on October 23 and Randwick on October 30.
RANDWICK October 30
Good 4; Kensington/Randwick
Kensington 1 Heat: 1 x 850m (Open)
Randwick Grass 15 Heats: 1 x 1200m (Open); 6 x 1045m (2 Open; 4 Maiden); 8 x 745m (4 2YO; 1 Open; 3 Maiden)
Great to see the big guns REDZEL and PIERATA step out and show they are in great shape heading to Melbourne for their clash in the VRC Classic at Flemington on November 10. They met here in the 850m heat on the Kenso with REDZEL
his typical self, cruising in the lead with his blinkers on and proving far too classy for the chasers. The exception was PIERATA
as Tommy Berry showed no urgency early by letting him settle on the fence in the back half and then took his time angling for a split between runners in the straight. Once it came Pierata oozed class as he surged to the line under no pressure with Berry keeping the sprinter's trademark acceleration well in check.
Dual TheEverest champ Redzel too good in his 850m trial on the Kensington track with Pierata a closing third. pic.twitter.com/FfVUSgOR1O

— Racing NSW October 29, 2018
THREE TO FOLLOW
SEASONS
(Les Bridge): Talented Sebring mare looks set for a good campaign after her sharp second in her 1045m heat when she cruised through her gears taking ground off the pacy CHABREET without being put under pressure. She's only had four starts and has a very bright future.
ROCKIN' RUGA
(Waterhouse/Bott); Let off the leash from the start and after holding a big lead on the turn kept running to score by 7.5 lengths. It's not unusual to see Waterhouse/Bott horses trial like this but he did put the time on the board with easily the fastest of the 1045m heats (62.09; last 600m 34.00) and must have prospects considering he is eligible for C1 company after a maiden win at Warwick Farm last season.
SMART CONSORT
(Peter & Paul Snowden): This Smart Missile colt was clearly the pick of the 2YOs, winning in the fastest of all eight heats over 745m and doing it with style. Showed excellent improvement from his first trial when third on the Pro Ride at Warwick Farm on October 19 to travel easily outside the leader and take control without pressure turning for home. From there he was under a big hold when eager to go quicker and could have won by a lot more than a half length.
NOTED TRIALS: Redzel; Pierata; The Promise; Seasons; Rockin' Ruga; Antonio; Shen Gui; Royal Anthem; Creator; Smart Consort; Not A Royal Doubt; Our Belisa; Legislation; Smartedge; Helga; Go For Gold; Mulberry Walk; Maestro; Think It Over.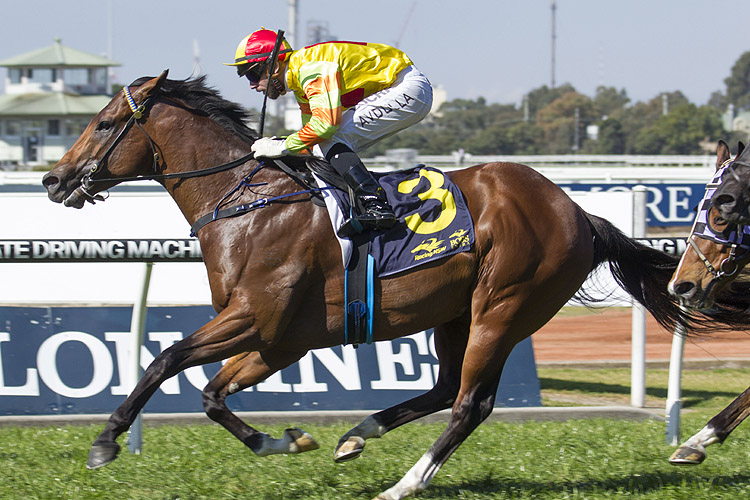 WARWICK FARM October 23
Heavy 8; Inside Grass (best ground middle and wider)/Pro Ride Synthetic
Inside Grass 16 Heats: 3 x 1200m (1 Open; 2 Maiden); 6 x 807m (2 2YO; 4 Open); 7 x 804m (Maidens)
Pro Ride 3 Heats: 1 x 1175m (Open); 2 x 740m (1 Open; 1 Maiden)
Big set of 19 heats due to the weather forcing a back up of horses missing cancelled trials. Tough conditions with the fence chopping out and riders looking for best ground wide. Several better quality horses were good in the conditions including RED EXCITEMENT
, NEW TIPPERARY
, TANGO RAIN
(best trial), KAEPERNICK
, LANCIATO
while previously noted trial stars RONSTAR
and NORDICUS
again showed they are on the boil and ready to win. BLAZING MISS
, BANDIPUR
, MANLY COVE
and VAINITY
ticked the right boxes.
NOTED TRIALS: Red Excitement; New Tipperary; Blazing Miss; Lucicello; Eleven Eleven; Kaepernick; Lanciato; Tango Rain; Monte Ditto; Ronstar; Bandipur; Manly Cove; Nordicus; Vainity; Buoyancy; Rosina Kojonup; Heloise; Above And Beyond; Fabricator; Perigord; Battle Anthem.
WYONG October 22
Soft 5; Course Proper
15 Heats – 1 x 1200m (Open); 4 x 1000m (2 Open; 2 Maiden); 10 x 845m (1 2YO; 2 Open; 7 Maiden)
A good day out for the Kim Waugh, Brad Widdup, Kris Lees and Brett Partelle stables with each producing some smart triallers. The standouts were the quality stayer OUR CENTURY
, the very talented mare NEWSFAN
, LAND OF FREEDOM
(working back from a long time off) and promising maidens LUCKY MISSION
and BUBBLES BALL
.
NOTED TRIALS: Our Century; Cajetan; Newsfan; Mimic; Special Date; Land Of Freedom; Swelt; Marawaka; Lucky Mission; Bubbles Ball; Lagarde; Celosia; Stella Sea Sun; Montana Thunder.
WARWICK FARM October 19
Pro Ride Synthetic
14 Heats – 3 x 1175m (2 Open; 1 Mdn/C1); 11 x 740m (4 2YO; 4 Open; 3 Maiden)
SIX TO FOLLOW
MONSIEUR BRONX
(Waterhouse/Bott); Third trial and his first since June for this unraced Manhattan Rain 4YO who has obviously been given plenty of time to develop. Controlled his 1175m heat easily from the jump and then extended strongly to win by 5.5 lengths with plenty in hand.
GET HITCHED
(Team Hawkes): First trial for stylish Lonhro filly and her professional attitude was evident as she travelled easily outside the lead before forging to the front at the 200m under a good hold from Tommy Berry. Won by only a half length but gave the impression she had plenty to offer.
CARDIFF
(Gerald Ryan): Smart trial by this Snitzel colt and the runner-up MIR
, by Deep Field, was equally as good. Cardiff did it well from the front in the quickest of all the 740m heats and was sharp in the quickest last 600m (43.06/32.80). MIR sat second and let the winner go over the last 300m when he was never put under pressure to close the margin. He was doing it easily to finish a clear second by 2.3 lengths with more than three lengths back to the third horse. Solid trial form.
FISTICUFFS
(Brad Widdup): First trial for well-bred Redoute's Choice juvenile colt and he looked well educated to travel easily in the lead and extend nicely for a soft win despite a slow last sectional (43.28; 34.50). Likely to take plenty of benefit from this experience.
I THOUGHT SO
(Peter & Paul Snowden): Talented sprinter having first trial since the winter and looks ready to produce his best fresh after strong win by a comfortable 2.3 lengths in sharp 43.12 (last 600m 34.60). He was clearly better performed than his four rivals but he was impressive.
BLAZING
(Lee Curtis): Maiden 3YO by Sizzling looked the part in just his second trial and first since a second at Rosehill in June when he took up the running and did it well within himself to record a soft win, putting good time on the clock (43.57; 33.10). Should be fancied in a provincial maiden.
NOTED TRIALS: Mister Sea Wolf; Monsieur Bronx; Get Hitched; Cardiff; Mir; Fisticuffs; I Thought So; Chess Star; Blazing; Sazavee; Charretera.
RECENT TRIAL WATCH WINNERS: Wolfe; Espaaniyah; Intrepidacious; Evict; Wild Kingdom; Adana; Restrained; Time To Reign; Havenot; Brazilica; Shadow Bridge; Stampede; Anaheed; Segalas; Colombina; Roheryn; Rare Impulse, Catesby, Mahalangur; Tactical Advantage; All Stand; Diplomatico; Maid In Milan; Soir De Lune; Evalina; Spending To Win