Alysha Collett rides Countofmontecristo in Lion City Cup
Freshly-licensed jockey Alysha Collett has not ridden in a Kranji race yet, but that has not stopped the newcomer from landing a plum ride in one of the most prestigious races in Singapore next week – Countofmontecristo in the $1 million Group 1 Lion City Cup (1200m) on May 26.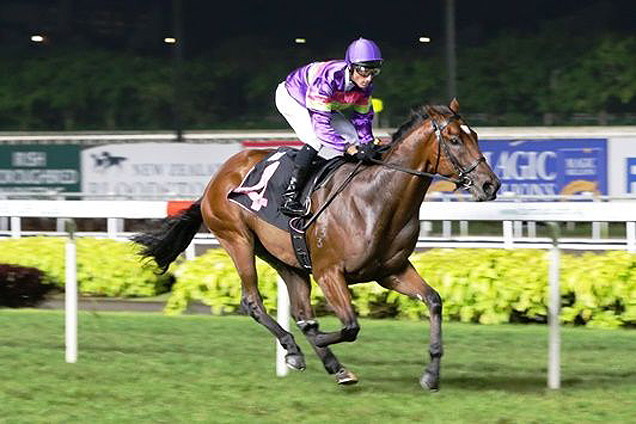 Licensed for six months, the 23-year-old New Zealander and winner of 400 races in a seven-year-long career will make her Kranji riding debut this Friday.
She is booked for six rides, including Makkem Lad for fellow Kiwi Donna Logan in the first Leg of the Singapore Golden Horseshoe series for two-year-olds, the $90,000 Kranji Nursery Stakes (1000m) on Friday and two rides on Sunday.
But Countofmontecristo
's trainer Michael Clements didn't need to wait and see how she fared at her maiden outing to secure her services on his Singapore champion three-year-old.
The ride on the son of Echoes Of Heaven became vacant after Michael Rodd, his partner at the first two Legs of the Singapore Sprint Series (both second), switched to trainer Cliff Brown's smart three-year-old Mister Yeoh.
In an unexpected twist (many thought Mister Yeoh was heading for the paddocks after he won the second 1400m Leg of the Singapore Three-Year-Old Challenge), Brown, for whom Rodd gets first refusal, declared the son of Wanted was a starter in the Lion City Cup – the third and last Leg - two weeks ago.
Collett was still pinching herself that the ride aboard one of the star Singapore horses she had followed on TV had fallen on her lap.
"He's a horse I've seen on TV and I'm so rapt with the opportunity to ride him in the Group 1 sprint," said Collett, who only began riding trackwork at Kranji on Friday.
"I was surprised when I was approached for the ride on Thursday, as he's such a good horse.
"It was only confirmed yesterday, and I'm more than happy to take it and give it my best shot.
"The trainer (Clements) and owner (Joe Singh) have also put me on another horse (Theagenesofthasos) of theirs on Sunday. It's actually a good surprise to see the good support I got at my first week – six rides on Friday and two on Sunday.
"Besides Makkem Lad for Donna in the 2YO race, I've got two rides for Leslie Khoo on Friday – Kubera's Chief and Come And Take All. I rode them this morning and they both look well and gave me a good feeling.
"I also ride Burkaan at 49kgs in the Restricted Maiden for Mark Walker and another horse for Theo Kieser."
Clements said he was all for giving the Kiwi lass her chance. To him, Collett may be a newbie in Singapore, but her glowing credentials had preceded her.
"We've been looking at a few options, Corey Brown and even Joao Moreira. In the end Corey couldn't make it as he's riding in Brisbane on that day, and if Joao was not able to ride, Alysha was on standby," said the Zimbabwean-born conditioner.
"Her track record in New Zealand is very good and I'm sure she has a bright future here. She is well up to holding her own here.
"She will gallop Countofmontecristo tomorrow. The horse is straightforward and easy to ride, and I'm sure she'll acquit herself well."
Clements, who will also saddle Alibi (to be ridden by Nooresh Juglall) in the Lion City Cup, reported that Countofmontecristo was peaking at the right time for Singapore's premier sprint event.
"He ran super in the two Legs (JBBA Rocket Man Sprint and Merlion Trophy). He probably needed the run in the Rocket Man and he also gave weight all round, but he was unlucky in the Merlion Trophy," said Clements.
"He probably hit the front too soon, but Michael had no other choice but to take the gap when it came up at the top of the straight.
"It was still a great run on Polytrack but it's not his preferred surface. I think the return to turf in the Lion City Cup will suit him better.
"He has come on nicely after those two runs from a break, and Alibi is also in great shape and I expect a good run from him, too."