Boss aiming to strike Gold again with King Louis
Top jockey Glen Boss certainly remembers how Risky Business snuck up along the rails to emerge through the quagmire as the surprise winner in the Singapore Gold Cup back in 2010.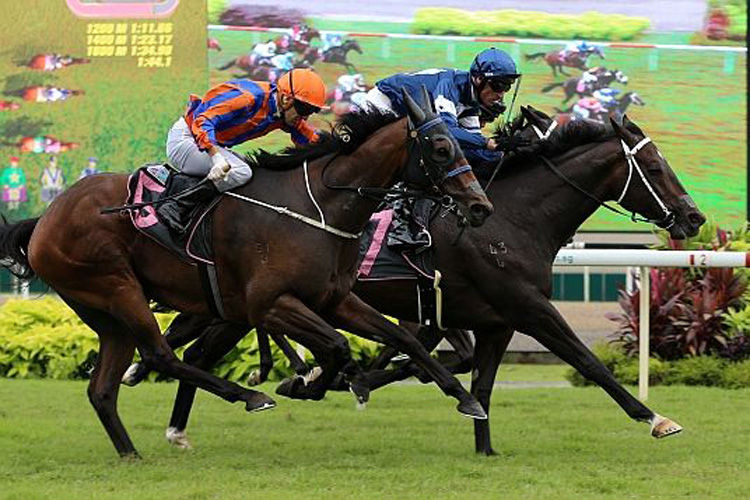 But the Australian Hall of Fame jockey is not drawing too many parallels between that win and the 2018 renewal he is hoping to turn into a second hurrah this Sunday.
Definitely not the part where the mud-splattered jockey stood high in the irons a few strides before the wire, an over-the-top jubilation which lightened his pockets of $1,000 later in the Stewards' room!
The three-time Melbourne Cup-winning jockey (Makybe Diva in 2003, 2004 and 2005) rides likely favourite King Louis in this year's $1.35 Group 1 showpiece, but many things have changed since 2010 – other than the sponsors (Longines got on for the first time in 2010 with Dester the new sponsor since 2016).
The most significant difference is the trip. The Singapore Gold Cup was considered as the most gruelling stamina test in those days when run over 2200m, and certainly the last stumbling block for many horses bidding for the Triple Crown – unclaimed to this day - but it has been cut back by 200m for the first time this year.
It's still a handicap race, but weights have been compressed. With one point being halved to half a pound, topweights don't give as much lead to the ones down the bottom.
But to Boss, perhaps the main difference about this Sunday's Gold Cup is the fact he knows what he has underneath him better this time.
He was then flown in from Melbourne for a hit-and-run mission on the Steven Burridge-trained Risky Business, a horse he had never ridden before.
King Louis
is a horse who is also relatively new to Boss, but the now Kranji-based hoop has had a lot more time to suss him out after getting on at his last two starts – for a perfect record of two wins, including the Group 3 El Dorado Classic (2000m) on September 23.
Since then, trainer Ricardo Le Grange has asked Boss to ride the Medaglia d'Oro four-year-old in trackwork – for that all-important follow-through en route to the main mission.
"I only flew in for the ride, but I sure remember Risky Business winning the Gold Cup eight years ago. It was very wet that day!" said Boss.
"There has been a copious amount of rain here lately. It just tumbled down last night, so who knows what will happen on Sunday.
"But I'd rather it stays dry, as I'm not sure if King Louis handles the wet. I've only ridden him on firm tracks.
"King Louis has had an ideal prep to the Gold Cup, and all credit to Ricardo and his team for that. He will get in at a low weight – 50.5kgs, which is a huge advantage, especially to these younger horses with a low weight like Sky Rocket or Lim's Magic.
"Debt Collector is not in the Gold Cup, but King Louis actually ran faster sectionals than Debt Collector on that day.
"Yes, it's true that Debt Collector had 58kgs and King Louis had only 54kgs, but it gives you idea of the turn of foot my bloke has."
King Louis ran in a Class 2 race over 1800m that day on QEII Cup day on October 21, running on from an untenable position along the fence to get up in a driving finish, beating Sky Rocket by a head.
From barrier No 10 (from 13 after scratchings), another rails-hugging journey may be tougher to pull off, but with a touch of luck – and wizardry from the Boss – anything is possible.
"He will drop down to 10. We'll be right," said Boss.
"I'll just ride him quiet wherever he is comfortable."
Boss has another leading hope in a feature race on Friday – Zac Kasa (x Reset) for trainer Cliff Brown in the $500,000 Group 2 EW Barker Trophy (1400m).
"Michael (Rodd) can't make the weight (50kgs). It'll be my first time riding Zac Kasa," said Boss.
"I haven't ridden him in work, but I've seen his races and I know how good he is.
"I don't have a ride in the three-year-old race (Saas Fee Stakes) which is a shame. I thought Siam Blue Vanda was a chance, but they've decided to run him in the Class 3 race over 1200m on Sunday instead."
The Echoes Of Heaven three-year-old is undefeated in three starts (from Restricted Maiden to Class 3 company, all in sprint races), all under Boss, and will take some beating in Sunday's $80,000 Tsim Sha Tsui Stakes Class 3 Division 2 race over 1200m.
The $200,000 Saas Fee Stakes (1200m) will be run on Friday and will garner plenty of attention with the much-awaited showdown between Bold Thruster and Lim's Lightning.