Clements Eyeing off higher goals for Eagle
Trainer Michael Clements has high hopes for his new Argentinian charge Eagle Eye following his promising first-up second at his first start under his care one month ago.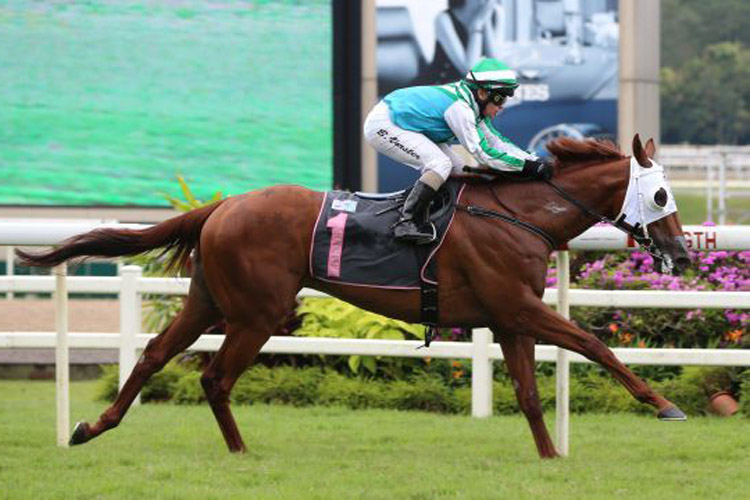 The four-year-old son of one of Singapore's most successful Argentinian stallions, Pure Prize (sire of Quechua, Pennywise, Streetwise, among others), looked all poised to make a winning comeback in a Kranji Stakes C race over 1200m on Polytrack on March 24 when he came with a storming run at the 200m under Vlad Duric.
But a bit of bumping duel with Miss Dusty inside the last 100m eventually cost Eagle Eye the race by a short head. Duric fired in a protest for alleged interference, arguing that his mount lost momentum when struck by Miss Dusty's jockey Ben Thompson's whip, but it was overruled.
Eagle Eye
certainly came close to adding on to that maiden win recorded over 1400m in Class 3 company last August when then prepared by trainer Ricardo Le Grange. He gets another chance to improve his score in this Sunday's $85,000 Class 2 race over 1100m.
Clements was still happy with the way the Thai Kajorn Petch Racing No 6 Stable-owned chestnut galloped despite losing the race in the inquiry room.
"He's come through that run very well. I was very pleased with that first-up run," said the Zimbabwean-born conditioner.
"He's a horse that doesn't show you anything in training. So that was a concern going into his first race for us.
"We were told that with the blinkers on, he really picks up, and he really did in his race.
"Moving forward, we'd be looking at 1400m races for him, but at the moment with the Polytrack racing, we had no other choice but to run him in a Class 2 race over 1100m over the weekend."
Clements is obviously still getting to know Eagle Eye better, but going with his past performances under Le Grange – one win and two seconds from eight starts, and three unplaced runs at Group level – he had every reason to believe he could aim a bit higher at some stage.
"He's a quality horse who showed ability as a yearling. He showed good form in Argentina," said Clements.
"He ran in Group races here, which goes to show how they had a high opinion of him before he came to our yard.
"We're pretty excited about him and we think he should be competitive on the Polytrack this Sunday.
"After that, we will race him on turf over 1400m before he heads for the first Leg of the Singapore Four-Year-Old Challenge, the Group 3 Silver Bowl (1400m) on June 9.
"I don't think he will have any problem going for the whole series, but we'll still take it one Leg at a time."
The recently reinstated series then proceeds to the Group 2 Stewards' Cup (1600m) on June 30 before culminating with the Group 1 Singapore Derby (1800m) on July 21.
With only 51kgs allotted in Sunday's assignment, Duric was ruled out for the ride, and besides, the two-time Singapore champion jockey is currently sidelined after a leg operation. Clements had no hesitation in entrusting the reins to his in-form apprentice jockey Shafrizal Saleh.
The Malaysian apprentice jockey booted home a double on Friday – Pennsylvania and Hee's Forte – to bring up his present score to four winners, none of whom have been for his boss yet.
"I've always had faith in Shafrizal. He's getting many more opportunities these days and deserves a good opportunity like this one," said Clements.
"He's riding very well, and the recent results proved it. I'm sure he'll give Eagle Eye a good ride."