Conflight ready to take off again
Jockey Oscar Chavez is looking forward to reuniting with his only 2016 Group-winning ride Conflight this Sunday.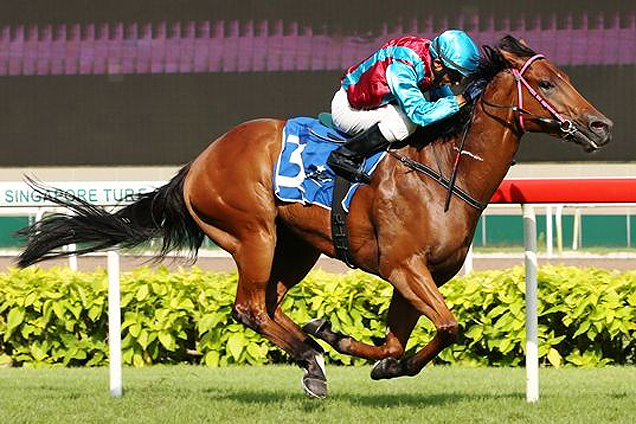 Last year's Group 3 Dester Singapore Three-Year-Old Sprint (1200m) has not raced since the last Leg of the Singapore Three-Year-Old Challenge, the Group 1 Singapore Guineas (1600m) in which he ran a distant last.
The son of Host is more the jump-and-go sprinter archetype, as evidenced by the $269 upset he sprang in the 3YO Sprint when he burst out of the gates to hit the lead and hold off all comers.
A touch suspect over the 1400m of the second Leg, the Group 2 3YO Classic, Conflight hung in there until the last furlong before running a brave seventh to Debt Collector
. Trainer Alwin Tan pressed on towards the mile of the Guineas, knowing it might be a bridge too far while still holding on to a faint hope, but they certainly did not expect a 27.5L beating.
The Malaysian-owned gelding's run was just too bad to be true, but it turned out he had excuses. Scans revealed he had knee chips, and that meant a long rest on the sidelines straightaway.
Tan has patiently brought Conflight
back to a level of racing fitness which Chavez was happy enough with.
"We have done the best we could do with Conflight. He's had plenty of work and barrier trials and he's fit and ready," said the Panamanian-born rider.
"He's had five barrier trials and he has improved with each one of them. He won one and won the last one, beating his stablemate Nova Swiss.
"I would have preferred a 1000m or 1100m race on Polytrack for his comeback, but we couldn't find any. He had to start somewhere and that 1200m race on turf was the only once available.
"It's always a concern when a horse comes back after problems after such a long absence. He had a floating bone in his right knee, but he has overcome that problem now.
"He's to me ready for his comeback but we'll have to see how he goes first-up. The Merlion Trophy on Polytrack remains his main objective, and regardless of what he does on Sunday, it will bring him on towards that."
To be run in a fortnight on March 5, the Group 2 race over 1200m is a feature race Chavez has a close affinity with, having captured it twice, the first time with the Don Baertschiger-trained Tuxedo Moon in 2011 and then two years ago with his other pet horse, the recently-retired El Padrino, also prepared by Tan.
Conflight has drawn well in barrier No 3 in Sunday's $80,000 Class 3 race but will meet with some serious opposition made up of the likes of Lightning Fast, Distinctive Darci, Grand Cross and another resuming talent, Cyborg.
"It's a handy field, but I couldn't be happier with the way my horse has progressed in the last month or so," said Tan, the reigning Singapore champion trainer.
"As you know, he doesn't really show much in trackwork, especially if he works alone. He's the sort who prefers to catch up with a horse in front, but Oscar is happy with his work.
"We would have preferred to run him on Polytrack first-up, but there was no such race that suited him and we had to run him somewhere.
"The good point is his barrier No 3. He can go forward from there, and Oscar will then have to save him for as long as he can."