Dragon hopes Whistling Win can deal another blow
Trainer Leticia Dragon could not be happier with the way Whistling Win has come along since his winning debut in the second Leg of the Singapore Golden Horseshoe series three weeks ago.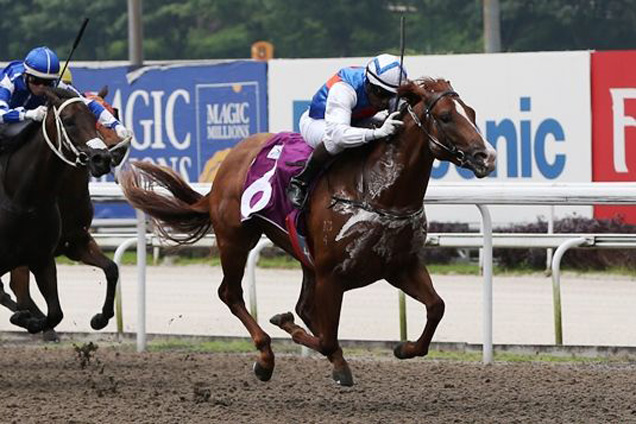 The Golden Archer colt took many my surprise that day in the Singapore Silver Horseshoe (1000m) when after being one of the best away, he went to match motors with favourite Bringer Of War on his outside for the best part of the race before dashing clear for a two-length win upon straightening.
From Day 1, Dragon said she had a feeling the Tan Kay Chuan-owned galloper was not without ability, and the former air stewardess daughter of late trainer Douglas Dragon is now looking forward to another bold run this Sunday in the third Leg, the $90,000 Magic Millions National Yearling Sale Stakes over 1100m.
Being the second-leg winner, Whistling Win
will carry 57kgs, along with the first-Leg winner Charger, both giving two kilos to the others except for filly Glamour Eclipse who is on 53.5kgs.
"He has pulled up very well after his first win. It was always the plan to set him for the third Leg as well," said Dragon.
"I feel he has improved from that first run. What I really like about him is his professionalism.
"At his first race, he looked like he was getting all excited with all the sweat, but he is actually very focused and does whatever you ask him to do.
"At the barrier trials yesterday, John (Sundradas) told me he was very relaxed behind the barriers even though he was in a lather of sweat, and did everything right in his trial.
"We just gave him a quiet trial and he ran very well (second to Evertrust)."
John was the winning rider at Whistling Win's debut win, but by default, as he only picked up the ride after John Powell was stood down. In the spirit of fairness, Dragon has decided not to change a winning formula.
Dragon, who is enjoying one of her best starts to the season with 11 winners from only 87 starters, the third lowest after Tan Hor Khoon (79 starters), for a healthy strike rate of 12.64%, will be counting on another three from her eight horses who contributed to the current haul, to pad up her score this weekend – Wonderful Era
and Lucky Six
on Sunday, and one lone runner on Friday, Super Six (the other four runners; Balkan Challenger, Dragon Fury, Probo Chandroso and Bellus Wonder, have yet to salute this year and they all race on Sunday).
Dragon expects all three to run in the money. Of the trio, Super Six
seems to have the most scope, and though the cattle in the $100,000 Open Benchmark 83 race over 1400m is slicker, she saw no reason why he cannot score again.
A six-year-old by Kaphero who used to be prepared by ex-Kranji trainer Sam Chua, Super Six came with a well-timed run under Alan Munro to blouse out Group 3 winner Conflight in a Class 3 event over 1000m at his last outing on April 30.
"It will be a tougher race for Super Six this time with the better horses and the wide gate (11), but I expect him to still give another good account of himself," said Dragon.
"We've managed to fix his leg issues, like that knee chip that he had. We decided not to operate and it's worked out good; he's won four races for us.
"He's pulled up very well after his last run, and Alan will ride him again. He's a genuine horse and I hope he puts up a good fight again."