Draw no stress as Duric Masters his own destiny
Vlad Duric is not losing sleep over what number he pulls out for Elite Invincible's barrier draw in Sunday's $1.15 million Group 1 Emirates Singapore Derby (1800m), but he would still hope for a luckier hand than at his last dismal try.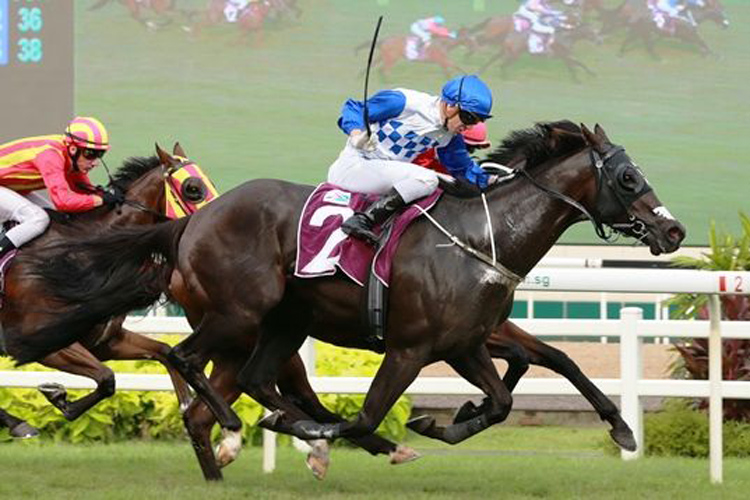 The reigning Singapore champion jockey has been tasked with the responsibility of drawing the Irish-bred's stall number at the Post Position Draw ceremony at Raffles City on Thursday.
Duric usually dodges those protocols, more concerned about the race itself, but he had no problem in fronting up when Elite Invincible
's owners headed by Aloysius Chew insisted he did the honours.
The last time the Australian jockey went for the lucky dip for a barrier draw was eight years ago - for his Melbourne Cup ride Master O'Reilly in 2010. He fared poorly – gate 17 from 24, and his 2007 Caulfield Cup winner (to-date his highest acclaim), then eight years of age, ran 15th.
"The draw wouldn't make any difference for Elite Invincible. But you still hope you pick a number where you wouldn't be using too much petrol and just hope for a bit of luck," said the current leading hoop.
"I've been asked to go up and do the draw. I didn't have much luck the last time I did this for Master O'Reilly, I remember we drew out.
"I'm not too fussed over that to be honest, it won't dent my confidence if we draw a bad barrier. It's a long run from the 1800m start and he has enough tactical speed to put himself in a forward spot if we have to.
"What matters more to me is the horse is healthy and 100% fit. He's in a perfect condition, his energy levels are very good."
Duric has not sat on the son of Archarcharch since he made it two-from-two in the second Leg, the Group 1 Giovanni Racing Charity Bowl (1600m) on June 24 until Wednesday's blowout on Track 6.
But he could see that the engine had been kept ticking over as a historic first Triple Crown in the current format of the Singapore Four-Year-Old Challenge beckons, not to mention an attractive $150,000 bonus.
"He galloped really well this morning, it was my first time jumping on him since his last win. Zawari (Razali) is the one who's been riding him in work and he told me he's really come on," he said.
"He pulled up hardly blowing. He worked with (trainer) Mark's (Walker) other runner, Kingsman, who also worked very well.
"We basically cantered off at three-quarter pace on Track 6, did evens at the 800m and quickened up in the last 600m. I was really pleased with that last hit-out.
"He feels great and he's been beautifully prepared by Mark for this race. We can now only hope for a bit of luck on the day."
Duric acknowledged he needed a good dose of it in the second Leg when they could have been found wanting when they hit the front a little too soon. Kingsman loomed as a big threat, but the winning post came up in time with a short head going his way.
While some saw the scrappy win as a slight stamina query over 1800m, Duric rubbished the thought.
"We went too early. Mark had told me his other horse Lim's Regard might give us the slip and that's why I came out early when he took off," said Duric.
"He will definitely get 1800m, don't you worry about that. He will get a patient ride in the Derby."