Dutrow hands leading Kiwi owner first Kranji win
The well-known lime green and navy blue sleeves colours of Kiwi owner Thomas Heptinstall made their first appearance at the Kranji winner's circle on Friday night.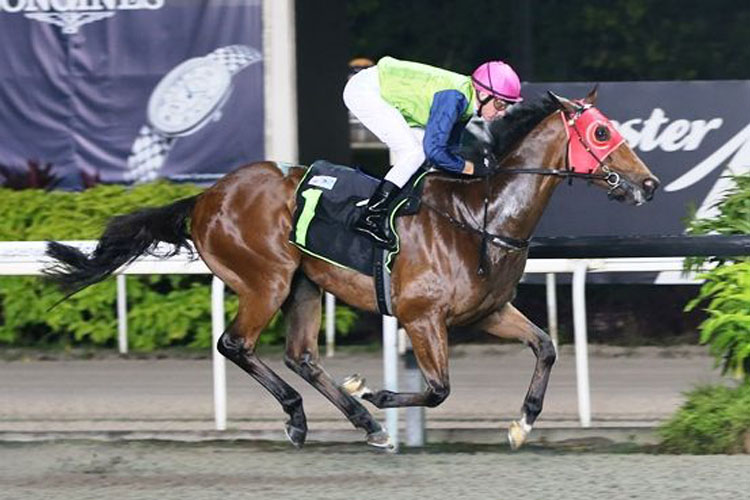 The Melbourne-based horse owner races horses across both sides of the Tasman Sea, and is better remembered for the likes of Werther (before going to Hong Kong where he was crowned Horse of the Year last year), Sangster and also popular New Zealand stallion Tavistock.
Dutrow
is the first horse Heptinstall has ever raced in Singapore, and if that impressive win from the Beautiful Crown four-year-old at only his second run is anything to go by, there is every conceivable chance the name Heptinstall will find its way into Kranji racebooks more often.
Lined up in the $65,000 Initiation race over 1100m one month after a sterling debut second to Gran Torino, Dutrow was a class above once jockey John Powell got on his bike at the top of the straight.
In one fell swoop, Dutrow ($20) shot past weakening leader Satellite Fighter (Nooresh Juglall), opening up to a commanding break which he comfortably preserved all the way to the finishing line.
Odds-on favourite Sattar (Oscar Chavez) tried valiantly to bridge the gap, but Dutrow was undoubtedly the best horse on that night, falling in by two-and-a-half lengths from Sattar with Satellite Fighter hanging in for third place, a super result for a debut.
The winning time was 1min 4.8secs for the 1100m on the Polytrack.
"It's Tommy's first win here. It's great," said winning trainer Shane Baertschiger who actually races Caulfield Guineas prospect Wassergeist with Heptinstall.
"Tommy is behind a lot of good horses like Sangster, Werther and even Tavistock, both as a racehorse and as a stallion. Dutrow is his first horse here and I hope there'll be more on the way."
The Australian handler said Dutrow greatly benefitted from his first start, and put himself in a winning position the moment he landed in the box-seat.
One of the best away, Dutrow had to jockey for position early as Satellite Fighter and Stay With Me (Manoel Nunes) disputed for supremacy upfront. The opportunity to slot in for a ground-saving run came shortly after putting the 700m marker astern with the two leaders advancing further ahead and Black Quail (Vlad Duric) easing off a touch on the rails.
Once Powell had Dutrow snugly tucked away on the fence, he just had to wait for the point of the turn to peel off his mount across the leader before releasing the handbrakes.
Dutrow exploded away hard up against the rails, looking unbeatable as he showed no letting up even if Sattar came late onto the scene to make things interesting, but it was just too big an ask.
"Dutrow had improved a lot since his first run. He showed it in his trackwork," said Baertschiger.
"He may have put on five kilos tonight, but he still looked a beauty in the ring. His race fitness was good and he proved it in the way he won."
Powell concurred with Baertschiger that the first run had brought on the fitness level of the previous four-time New Zealand starter (second at his last start as his best result).
"He was a lot fitter tonight. He travelled well and we were lucky to get a good spot behind the leader," said the Australian jockey.
"At the top of the straight, all I had to do was wait for the gap and he quickened really well. I just rode him hands and heels to the line, it was a very good win."