Fantaisie Four or Chopin's prelude of better things to come
Chopin's Fantaisie saw his unblemished record stay right on track after he recorded a fourth win from as many starts on Sunday.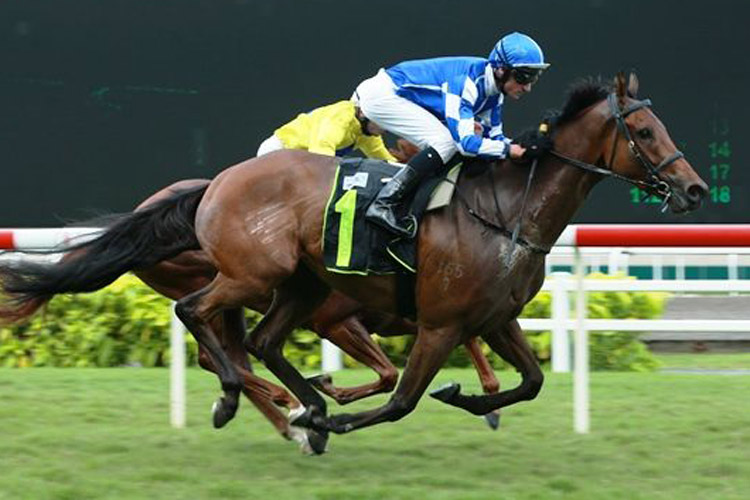 Granted the Pins three-year-old had to stretch every sinew of his body to get the better of an extremely combative Aotearoa (Manoel Nunes) for the best part of the home stretch in the $60,000 Open Benchmark 67 race over 1400m, but jockey Glen Boss, who was standing in for the suspended Vlad Duric, played down the toiling style as the gelding's nature to just do the bare essential in order to get the job done.
The Michael Clements-trained and Jubilant Racing No 4 Stable-owned gelding certainly looked a moral to spreadeagle the field when he popped off his cosy run in fifth on the fence as he jogged through a gap at the 300m mark, seemingly after not having spent a penny in transit.
Boss was seen just cuddling up his mount while the leader Oxbow Sun (Wong Chin Chuen) and the chasing pack looked like they would have to settle for the battle for the minors.
Except, however, for Laurie Laxon's smart filly Aotearoa who would not allow Chopin's Fantaisie
to give the slip so easily.
The Sakhee's Secret three-year-old even looked like she could overthrow Chopin's Fantaisie as she ranged upsides along the rails, but unfortunately for her, the $7 hotpot was in no mood to settle for second best.
Boss obviously still had something up his sleeve as he kept riding hard on Chopin's Fantaisie: Most of it a touch of class that came to the fore inside the last 50m as he gamely held his ground all the way to the line, even edging away to a fairly comfortable margin in the end – half-a-length.
Such was the superiority of the duelling duo that the next best, Oxbow Sun, was relegated to more than four lengths astern in third place. The winning time was 1min 21.88secs for the 1400m on the Short Course, which is 0.10 second outside the Class record held by Iking.
"He will never win by a space, that is not his caper. It's more cat-and-mouse style with him," said Boss after he jumped off.
"But he's got a lovely long action and has a great attitude. He will grow and mature further as he's not the full product yet – he is coming along quite well and will be even better in six months' time.
"I sat on his back in the last 10 days, and he's such an unassuming horse. But he has so much energy and he can run time.
"Mike will have a lot of fun with him as he will continue to improve for sure."
Clements, who also trains the other boom three-year-old Tannhauser for Jubilant Racing's owner Joshua Tan, said "class" saw Chopin's Fantaisie through.
"He had every chance in the straight and class came through in the end," said the Zimbabwean-born handler.
"It was the same at his last run when he had to dig deep to score, but he's come on a lot in training since his last run.
"Everything he does suggests to me he is stepping up every time. Considering he has a well-related sibling (full-brother is former Hong Kong champion Ambitious Dragon), we were quite happy to get him at such a price (NZ$150,000).
"He will go towards a Class 3 race in four to five weeks' time and I may look at a feature race late in the season for him, like the Committee's Prize."
The Group 3 Committee's Prize is a handicap race run over 1600m on September 17.