Flying start for Julie Burridge the syndicator
Julie Burridge's first foray into syndication was met with instant success when former Sydney galloper Salvador made a victorious debut in the $20,000 Open Maiden race over 1200m at Kranji on Friday night.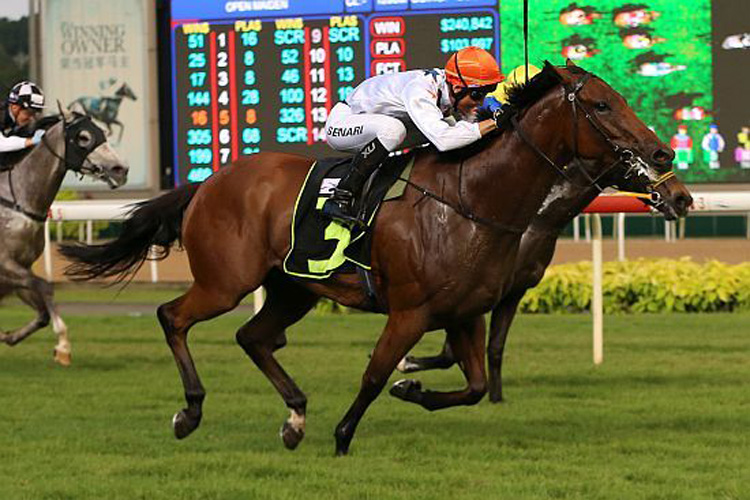 Trainer Steven Burridge's English wife is well known in local racing circles as a major cog in the wheel of her husband's yard from Day 1 – but hitherto, more as a senior track rider-cum-foreman-cum-overall administrator.
Beginner's luck it may be, the former amateur jockey (when known by her maiden name Barnicott) was certainly adding another string to her bow, but modestly said her dabbling into that new venture all happened quite fortuitously.
She explained that she did not know any of the four main shareholders – Cem Azak from Turkey, Mr and Mrs Sebaaly from Lebanon and Jonathan Rees, probably the only racing fan from the lot, having been a point-to-point racing fan in his native UK – until she met them at an event.
After a quick friendship was forged over drinks, she said the group were quickly won over by her proposal to buy into a horse, even though most of them had never set foot on a racecourse before!
"I met them at an event I organised. They are from Club 1880, a good bunch of people from all walks of life, and who are both from overseas and based here," said Julie.
"Unfortunately Cem, who has the majority of shares at 51% is not here, and neither is Jonathan, but I'm sure they'll be thrilled to bits.
"They are all very enthusiastic and want to support Singapore racing. It's great they got a winner with their first horse, which I bought after Lou Liparota, the bloodstock agent from Melbourne outfit Number One Bloodstock recommended him to me."
While Azak and Rees were not on hand to celebrate, the Sebaaly's were certainly there to lap up every second of the 1min 10.68secs Salvador
, a three-time runner-up in New South Wales when prepared by Warwick Farm trainer Wendy Roche, took to complete the 1200m-long victory lap.
"It's fantastic. It's a Lebanese horse with a touch of Australia!" said a euphoric Mr Sebaaly.
An Australian-bred four-year-old by Magic Albert, Salvador had worked reasonably well for his Kranji debut, but arguably faced a stiff task first-up, compounded further by the wide gate (nine).
The neophyte owners, however, had the in-form Noh Senari in their corner. The young Singaporean once again displayed a polish that had been simmering for too long, and was finally blossoming to its full glory this year.
Smothered up in mid-division from the get-go, Salvador ($17) emerged as the fresh legs on the scene when exposed for his run to the line at the 400m.
Launched at the same time, Japanese newcomer Wind Trail (Marc Lerner) could be the only nemesis to Salvador, but the night well and truly belonged to the happy new owners of J Racing Bloodstock.
Salvador finished a touch better to go and post a gutsy three-quarter-length win from Wind Trail with another debutant, Well Deserved (Ben Thompson), a gallant third another 1 ¾ lengths away.
"It's the first horse Julie has syndicated out. It's good for her," said Burridge.
"I didn't think he could win from the bad draw to be honest. I thought he would be three or four wide, would struggle to get in and would run out of gas, but he got a very good ride from Noh.
"He trialled well enough and was fit enough to win tonight."
With that 10th win, Noh joins Michael Rodd at the top of the jockeys' premiership, but still stays in second place on a countback for seconds.
"I rode this horse in a trial (January 24) and he was a bit keen. I was scared he would do the same thing tonight," said Noh, who turned senior this year.
"But 100m out of the gates, he came back underneath me quite well. He was relaxed and I was able to sit back in a nice position.
"A big thank you to Mr Burridge for getting this horse right for me on the night, and of course Mrs Burridge and her owners for the support."