Four-timer vaults Nunes to Top 3
Champion jockey Manoel Nunes showed that class never dies after he won at his first four rides on Sunday, with four more rides still to come.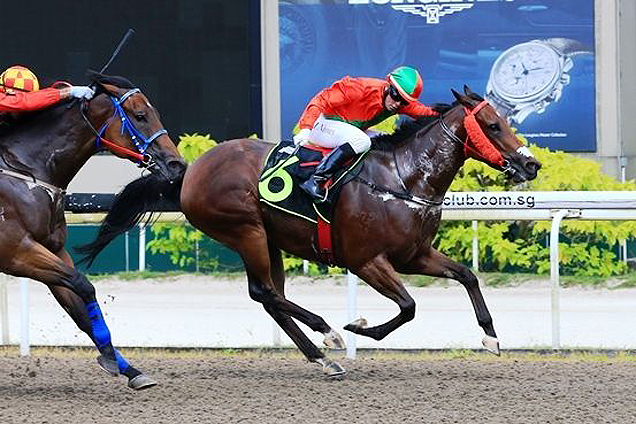 In 11th spot on nine winners before the weekend's meetings got underway, Nunes has after his tour de force, leapfrogged no fewer than eight jockeys to catapult to third spot on the Singapore jockey's premiership – a place he was more familiar with in the last three seasons.
Indeed, after claiming his third consecutive title last year, the Brazilian jockey went through a noticeable slump this year. No doubt, suspensions incurred last year did account partially for the slow start, but things did not really pick up even after he came back.
A change in the support dynamics was probably the main reason behind the sluggish start. Gone were the days when Nunes commanded the picks of the rides week in, week out, not to mention the slight drop in the backing from leading trainer Mark Walker, who was not putting all his eggs in one basket this year, with Shafiq Rizuan the biggest beneficiary.
Nunes had to adapt, and through dint of hard work, the level of support has gradually picked up, and so did the wins, but on Sunday, he really exploded onto the scene in a way that harked back to his halcyon years.
After opening the haul with outsider Darci's Boy
(see other report), Nunes went on to add three more wins in quick succession between Race 4 and 6 – Pure Justice
, Destiny Knight
and Rich Fortune
.
The first two winners (the Mark Walker-trained Pure Justice on $41 and the Stephen Gray-trained Destiny Knight on $39) had only lukewarm support, with Nunes having to pull out all the stops in the concluding stages to gain the verdict in the $38,000 Kranji Stakes D Division 2 race over 1200m and $35,000 Class 5 race over 1800m respectively.
The Alwin Tan-trained Rich Fortune had a lot more admirers, jumping as the $15 favourite in the $60,000 Class 4 Division 2 race over 1100m, but again, it was Nunes' savoir-faire that won the day – and kept his hot run going.
"Competition is getting tougher and tougher. Riding one winner is already great, to get four feels amazing," said Nunes.
"Of the four, I thought Rich Fortune was my best chance. I know him really well as I've won one race with him before.
"He's got a bit of class, but you can't ride him upside down. You can't be too forward with him, but at the same time you can't drop him too much either.
"He was in a good spot travelling really well. I know Sure Win is a horse who will hang out when he weakens, so I took a risk by staying on the rails and waited for the gap.
"The gap came and he gave a nice kick to win the race."
Tan was glad Nunes' purple patch of form did not stop at his turn. The last time Rich Fortune scored was actually that very same race Nunes mentioned about – back in April 2016 in a Graduation race
"In the parade ring, the owners were hoping Nunes did not start losing with their horse!" said Tan.
"We joked with him he must give one win to us as well, and we're glad he delivered. Nunes is in top form and luckily, he brought it to our horse.
"This horse has always had ability but lost his confidence for a while. He was on and off, but he's been slowly coming back to form.
"The field was not that strong, There were two unknowns in the two new horses (Justice Fair and Royal Diwan), but he was the best horse on the day.
"His ratings have dropped (from a high of 69 to 55 in one year) and he was in the right race today."
A four-year-old by Keeper, Rich Fortune has now taken his record to four wins and six placings from 24 starts for prizemoney in excess of $220,000 for the Eight Eight One Stable.