Gilt Complex scores thriller in Dester Singapore Gold Cup
In a nail-biting drive to the wire, Gilt Complex snuck up on the inside to poke his nose in front where it mattered in the $1.35 million Group 1 Dester Singapore Gold Cup (2200m) on Sunday.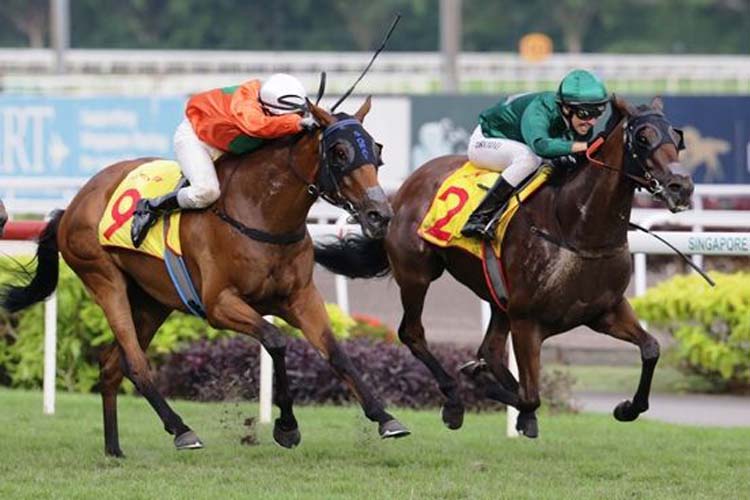 By landing the third and final Leg of the Singapore Triple Crown series, the Gold Centre six-year-old, who captured the second Leg, the Group 1 Raffles Cup (1800m) three weeks earlier, also took home a bonus of $50,000.
After coming close a few times, trainer Cliff Brown was savouring his first victory in the time-honoured race, which was incidentally the last of its kind being run over 2200m as it will be shortened to 2000m from next year onwards.
Long touted as a trainer of stayers, even back in Australia where he holds the record of most South Australian Derbies – three, Brown was his usual self-effacing self at the winner's circle, but did admit that winning the most coveted race at his new stomping ground in the last 10 years was a moment he would treasure forever.
"It means a great deal to win the Singapore Gold Cup, especially after I've had a few placings in that race," said Brown whose closest placings include Deep Pockets' third and Tenzing's fourth in the 2012 renewal won by Better Life.
"The kids at home will be rapt. I was like a kid myself when they called for the photo, I was walking up and down, up and down, and I let out a big roar when No 2 went up."
Brown was actually plumping for another horse inside the last furlong of the staying test – Elite Excalibur, the much-vaunted former Coolmore stayer from the Gai Waterhouse yard who was being the hailed the winner when he came locking horns with last year's winner Bahana (William Pike).
At that juncture, favourite Infantry (Manoel Nunes) was running on courage. In spite of all his will, the Tavistock five-year-old just could not find that extra length in the straight, while Gilt Complex (Michael Rodd) also seemed to be making heavy weather of it one-and-a-half-length astern of stablemate Elite Excalibur.
Just when gold was being tossed up between two horses, Gilt Complex, who had bronze around his neck then, suddenly turned into a live contender as Rodd came up with the brilliant inspiration to steer back to the inside running rails.
Maybe it was the uninterrupted run that suddenly resurfaced for him, but Gilt Complex grew another leg when it mattered as he lunged at the line to make it a three-way photo right at the death.
One did not need to have infrared vision, but it was quite obvious Elite Excalibur on the outside was out of the equation for first place, but the judge still had to hand out the final verdict between Bahana and Gilt Complex for one of the tightest finishes to the Gold Cup ever seen in decades.
The proverbial pimple split the pair in the end, with Elite Excalibur having to settle for third another short head away. Majestic Moments
(Barend Vorster) ran fourth another 2 ¼ lengths away, 1 ½ lengths clear of a gallant Infantry, who unfortunately was one of a few horses who got caught in the backwash when Newlands (Karis Teetan) took a bad check at the 600m and quickly lost ground to run last.
Sent out as the second favourite ($33), Gilt Complex completed the 2200m trip in 2min 14.37secs to bring up his eighth win at Kranji for New Zealand owners Graham Mackie and Trish Dunell for stakes earnings that have now edged past the $1.5 million mark.
"Michael said he found a second wind at the 600m, I actually thought he wouldn't stay the trip," said Brown.
"Elite Excalibur
was fantastic, but Bahana
is such a natural stayer. It was a fantastic result."
Rodd, who is at his third season in Singapore and has already captured big races such as the Group 1 Emirates Singapore Derby, the Group 1 Panasonic Kranji Mile, the Group 1 Raffles Cup, the Singapore Three-Year-Old Challenge Triple Crown, can now add the Dester Singapore Gold Cup to his glowing resume.
Usually the epitome of coolness at the winner's circle, the Australian jockey could barely keep his composure this time around as the enormity of having won the Singapore Gold Cup took a while to sink in.
"I thought he was gone at the 600m. I was just tacking up behind the horse in front and I thought I would run a nice fourth," said Rodd.
"But he found another gear when I took him to the fence, he was just pushing himself to get there and it's just so amazing to win the Gold Cup.
"I'm lost for words. I've been so lucky winning all the big races, earlier on for Laurie Laxon with Stepitup, then there was Well Done, Debt Collector for Cliff and now this, the Gold Cup – for Cliff again.
"The relationship I have with Cliff is so special. He's a very good trainer and of course I have to mention Timmy (assistant-trainer Fitzsimmons) who doesn't miss a beat every day at the stables, the horse comes first for him.
"Chris Bock does so well in the office. It's a beautiful team effort, and I'm so blessed to be part of that ride."
While Rodd was feeling on top of the world, the other 15 riders would not be feeling quite the same way, but Nunes for one was extremely proud of Infantry's effort despite his fifth place, just under four lengths off Gilt Complex
.
"I'm very proud of his run. Things began well for him as I had him in a lovely spot, but I took a bad check at the 600m and was pushed out," said the Brazilian jockey.
"That cost us a few lengths and with him having the top weight (57.5kgs), it's very hard to regain the momentum. He still did a great job to run fifth.
"His preparation towards the Gold Cup had not been ideal with his injury (cut his hind leg in the Kranji Mile, which made him miss the Raffles Cup and weeks of work), but to do what he to do today goes to show how big his heart is."
Most Read