Julius Caesar takes no prisoners in last
Trainer James Peters and leading jockey Vlad Duric made their only assignment for the night count when they combined in Friday's last race to career away with the top prize with even-money favourite Julius Caesar.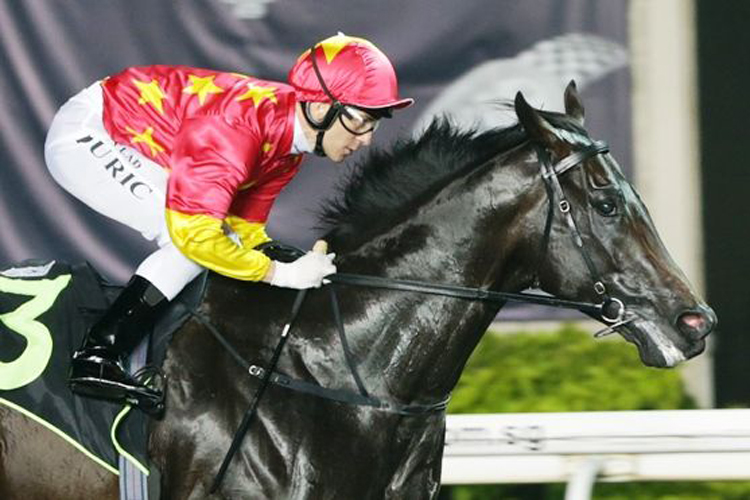 The two men normally have quite a few engagements on any give raceday, but by coincidence they had only just one on Friday, and it was shared with the China Horse Club-owned I Am Invincible four-year-old in the $60,000 Class 4 Division 3 race over 1200m.
Always within striking distance from the start, Julius Caesar
was simply unstoppable once he went through his gears shortly after straightening up.
In one fell swoop, he dashed past Trigamy (Oscar Chavez) and Lucky Giant (Zawari Razali) before racing away to an emphatic 4 ¼-length win from Star Invincible (Manoel Nunes) with Sun Seeker (Wong Chin Chuen) third another 1 ½ lengths away. The winning time was 1min 10.75secs for the 1200m on the Polytrack.
Peters said the gelding operation Julius Caesar underwent after his disappointing second run after his brilliant debut win was a major factor in the form turnaround.
"He was a lot better behaved after the gelding operation," said Peters.
"At his last start, he was all wound up in the parade ring. He had already run his race before the start.
"He showed ability from Day 1 and there is still some improvement to come for sure.
"Tonight was by far his best performance. He settled nicely in a good position and he quickened really well even if it was against only Class 4 horses.
"I think he'll get better over more ground. Vlad's always told me he will be more of a 1400m-1600m horse."
Peters said he would not get too carried away at this stage given the moderate opposition Julius Caesar has taken care of thus far.
"I haven't set any target for him. No doubt, he is well-bred and was an expensive buy, but he will still have to go through his ratings," said the Englishman.
"On tonight's win, he is definitely heading in the right direction."
Julius Caesar has now seen his bank account swell past the $60,000 mark for the China Horse Club.