Kieser keeps chin up as Bright skies loom
When Supersonicsurprise opened Theo Kieser's 2017 account back in January, time did not fly and the South African trainer has certainly not had a lot of fun.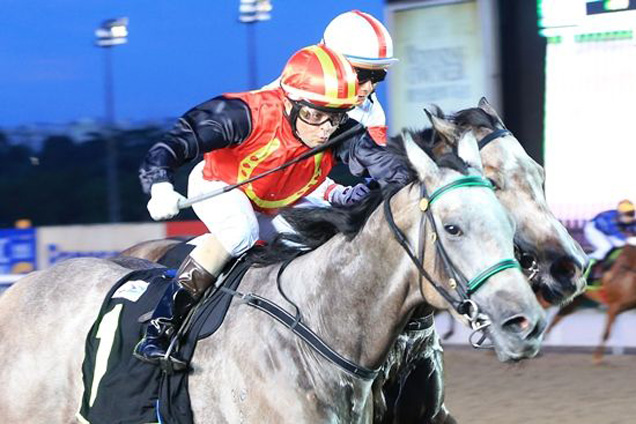 If anything, it feels more like it has come to a standstill. Not a single winner has come his way since, but such scenarios are not unfamiliar to Kieser.
Laurie Laxon's former assistant-trainer went through a sluggish start like this year's in 2013. By the end of May, he had only two winners to show for, Rappor and Super Spur, but he picked up the bit and scrambled up 19 winners by year-end.
The eighth-season handler, whose best seasons came in 2011 and 2012 during the Kaiser era, is of course not the envy of his fellow trainers (only Steven Lam is worse off as he has yet to win this year), but Kieser remained upbeat about the future, especially as he had something to smile about in a department long considered as his forte – two-year-olds.
Kieser, noted for having prepared smart juveniles like Kaiser, Yin Xin, Yin Jie and Rappor, saddled his first "babies" in the Kranji Nursery Stakes (1000m), the first Leg of the Singapore Golden Horseshoe series, last Friday.
While rank-outsider Monster Energy
(Ng Choon Kiat) never had things going his way to run last, his other runner Hun Yeang Road
(Vlad Duric) was a ray of sunshine that rekindled Kieser's hopes his season could turn around soon.
Kieser was smiling but neither was he getting too carried away, bearing in mind there are five more Legs coming up and other trainers are yet to roll out their best juveniles.
"Hun Yeang Road ran very well. Vlad was more than happy with his run," he said.
"He said he presented himself very well in the run, and if he had gone to the inside, he could have finished closer to the winner (Charger)."
Kieser's pair actually brought up the rear in the small seven-horse field, but while Hun Yeang Road, a son of Sidereus, stayed in touch for his charge to the outside when the leaders upped the tempo at the 600m, Monster Energy was already a beaten horse.
But it was also a case for conjecture for Hun Yeang Road which path he could have opted for at the same point as there was an opportunity to duck back to the inside and hope the gaps would open up, especially as there was not much chance of traffic with so few runners.
Still, Kieser could not have been more pleased with that debut run, and was looking forward to his next assignments, even if again, he was wielding the caution card.
"I will need to speak to the owners (Mas Stable) whether he is going to the next Leg," said Kieser in reference to the Singapore Silver Horseshoe (1000m) on April 30.
"He was not 100% ready for that run, but we thought he would just treat it as a trial, use the race as some experience.
"But he will definitely have come on from that run. As for Monster Energy, he also needed some racing experience, and hopefully, he will improve from that."
The chestnut by Wanted and raced by Kieser's biggest supporter, the Titanium Racing Stable, did not make his presence felt at his debut, but did get mentioned more than once in the Stewards' report.
After beginning awkwardly, his saddle slipped back, and he also returned lame in the off-fore leg, which means he will have to pass a barrier trial test before being declared fit to race again.
Kieser is not one to dwell on such setbacks that are part and parcel of racing, especially when it comes to two-year-olds, as he gears up nine other juveniles, incidentally all raced by the Titanium Racing Stable towards the remaining Singapore Golden Horseshoe legs.
For now, he was pinning his hopes on Halo Bright
, himself a former two-year-old who only broke his maiden status when he turned three. The Tycoon Ruler grey (also a Titanium ward) has kept improving since that spectacularly awkward win in October when he was dragged off the track by Kratos, but still somehow managed to get the upperhand.
Halo Bright ran on for third to Savage Storm at his last race in a Class 4 race over 1100m on March 19.
Ridden by Oscar Chavez for the first time, Halo Bright came out for a barrier trial on Tuesday and ran third to Eden Garden, around three lengths astern. To Kieser, that run will top him off nicely ahead of his next outing on Sunday in the $60,000 Class 4 race over 1000m, but did express some misgivings about the sharp trip.
"Halo Bright is in good form and had a nice trial today," he said.
"Oscar rode him but it is Manoel Nunes who will ride him on Sunday. The 1000m is a bit sharp for him, though.
"He had gate speed early in his career, but as he's got older, he's not as quick. I think he's more of an 1100m-1200m horse now.
"But if he gets a good draw and gets luck in the running, I expect him to run well.
"It's been a while since my only win. I'd rather not to look back, just focus on the tomorrow and get that next winner, and hopefully, Halo Bright could be one of them."